How to uninstall multiple programs at once on Windows PC
Have you ever wondered why you can't remove multiple programs in Windows? Programs have their own uninstallers, so you have to launch uninstallation for each program separately. Unfortunately, the process takes time and doesn't guarantee complete uninstallation. Some leftovers may be overlooked, and removing them will require even more time and attention.

It would be much more convenient to choose all programs you want to get rid of and uninstall them in one go. Guess what? You can do it with CleanMy® PC Multi Uninstaller.

How to use CleanMy® PC Multi Uninstaller
Multi Uninstaller is an updated CleanMy® PC's module for the program removal. With its help, you can remove multiple programs in bulk. The process of uninstallation is quite easy: you just choose the programs you want to remove and start the uninstallation. CleanMy® PC Multi Uninstaller will guide you through the simple steps of the process.
Step 1. Uninstall
Multi Uninstaller launches the uninstallation for selected programs one by one. You can monitor the progress of uninstallation in real-time.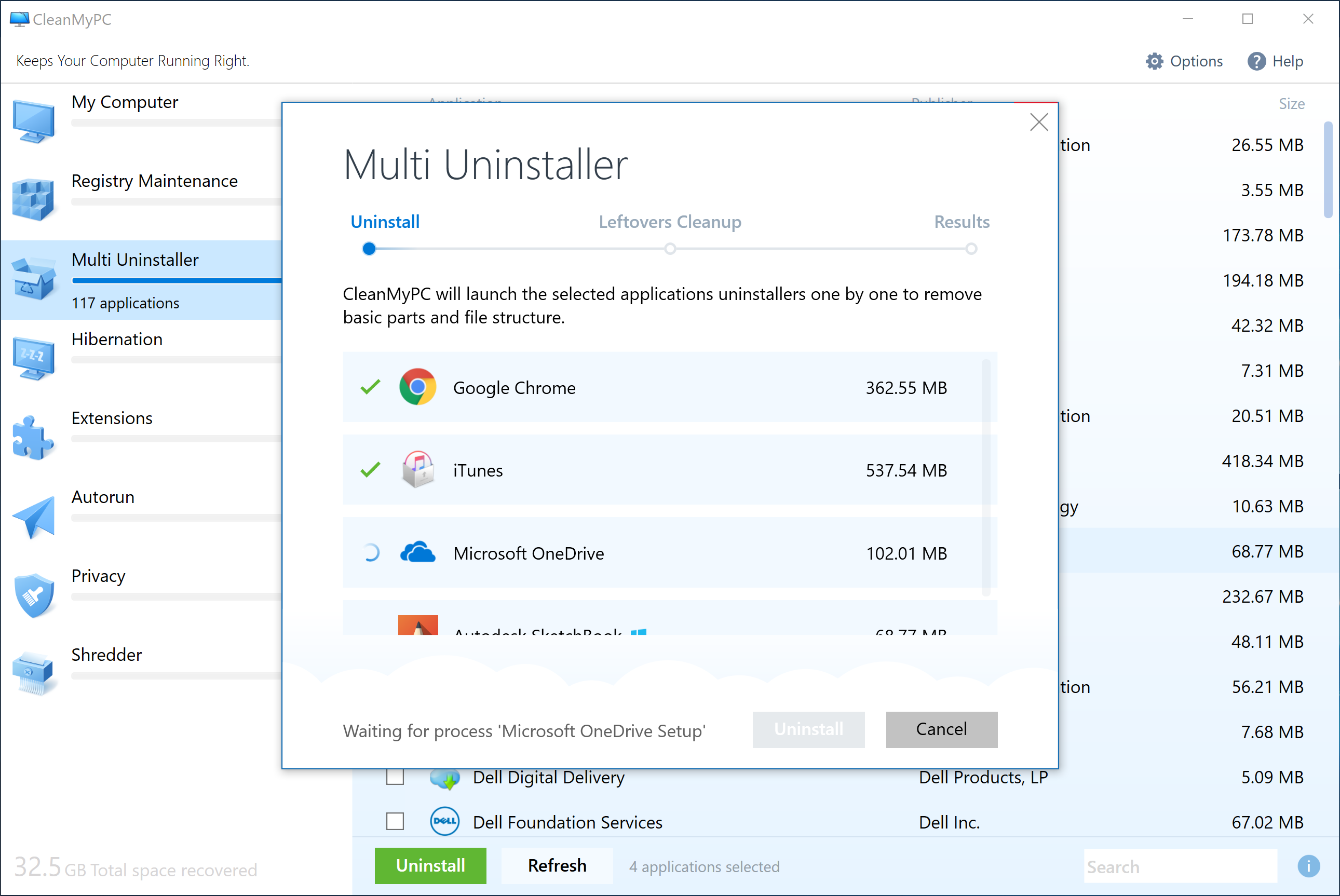 Step 2. Leftovers Cleanup
CleanMy® PC Multi Uninstaller searches for any items that could be left behind after uninstallation. You can choose whether you want to delete all of them or uncheck the box for the items you want to keep. As soon as you click the 'Clean' button, you may be sure that Multi Uninstaller will leave no traces of unneeded apps.
That's it! After successful uninstallation, you'll get the result screen with the list of apps removed from your PC and the amount of space freed up.
Benefits of removing multiple apps at once
Apart from saving you time, CleanMy® PC Multi Uninstaller offers many other benefits for you. Removing several programs at once helps you:
Declutter your hard drive
If you want your PC to run smoothly, you should keep your hard drive clean and don't let it clutter with useless items.
Free up space for new programs
Using new software is better for PC's security and performance. However, if you don't delete old and unused programs, you won't be able to install new apps. Multi Uninstaller helps you keep track of all apps installed on your PC and remove those that you don't use to free up space for new ones.
Prevent freezes and system crashes
Programs you install and don't use may cause conflicts with other software. Getting rid of unnecessary software improves your PC performance and prevents system crashes.
CleanMy® PC Multi Uninstaller is more than just app removal. It helps you solve the issues with PC's speed, lack of space or poor performance. What's more, Multi Uninstaller saves your time and makes mundane program removal easy and effortless.
Try Multi Uninstaller right now. Download the latest CleanMy® PC version.