8 Easy Ways to Speed Up a Slow Computer and Make it Run Like New
When working on your PC, is it so slow that you spend half your time looking at your watch or staring at the ceiling instead of at your monitor?
This presents lots of time to ask important questions like "why is my computer running so slow?" and "how much would it hurt if I punched my monitor?"
The answer to the second question: a lot.
The answer to the first question is more complicated. There are many factors that conspire to make your PC slow down over time.
Before you bite the bullet and splash on a new PC, try these simple tips to speed up your computer. They may just make your old PC feel as good as new.

Speed up computer by freeing up disk space
You may not know this, but free space is not being "wasted" in Windows. Depending on your settings a lot of that free space is going to be used by Windows for updates and the reading and writing of data. Microsoft recommends at least 20% of your system drive be free for Windows to perform at its peak. The more free space you have on your disk, the faster Windows will operate.
There are three main ways to free up space
Deleting duplicate and junk files
Uninstalling unused programs
Storing data on an external disk drive or in your cloud storage
Delete duplicate and junk files
Have you ever found the same file in multiple locations and not known how it got there? Yup, it's the great mystery, right up there with missing socks. Maybe they're connected somehow?
You may not be able to do much about your socks, but you can look through your photo and video folders, as these are the natural habitat of the duplicate file. Find them and delete them. It feels good, and you may be surprised at how much space you can save.
Junk files are files that are generated by apps and software that contain temporary data. Even though they are not used frequently by their respective programs, they will take up disk space. Junk files are stored in different locations on your computer, so they can be difficult to find.
To remove junk files, use the Windows app, Disk Cleanup.
Uninstalling useless programs
We all like to try new things. There's certainly nothing wrong with that, and we encourage it. The problem is that many people will try a new app, use it once or twice, and then forget about it. Multiply that every month for a couple of years and you've now got a lot of wasted space and resources.
There is also the matter of branded systems that came pre-installed with (mostly) useless bloatware. These apps are seldom used and mainly just sit in your system, taking and never giving. Sort of like the visiting college buddy from hell. To remove programs that slow your computer, navigate to:
Programs and Features (Windows 7)
Uninstall a Program (Windows 8)
Apps & Features (Windows 10, 11)
Now identify the programs you hardly ever use and uninstall them.
Add more storage options
We live in a time of choice. Let's use it to expand our set of storage options. You don't necessarily even have to buy a new HDD or an external drive; you can move files to cloud storage options like Dropbox, Google Drive, Microsoft Onedrive, and Box.
Once you've moved data from your internal drives to somewhere else, the extra space will help speed up your computer.
Disable startup programs to make your PC boot faster
When Windows starts it first loads all startup and system tray programs. Some of these programs are essential, while others may just be unnecessarily wasting your system resources. How many of these programs do you need running the whole time?
Normally you can lose half of them, and you won't even notice they're not running in the background. However, you will notice that your PC has now sped up.
To remove startup programs simply:
Press Control + Alt + Delete
Open the Task Manager and click on Startup.
Unselect the programs you don't want running at startup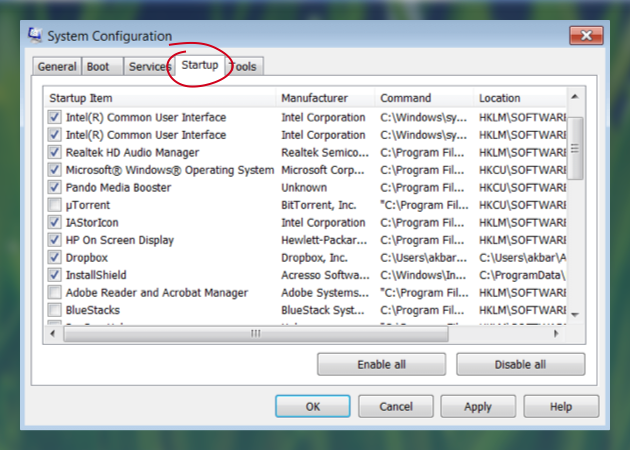 Speed up slow computer with CleanMy® PC
If you want to fix a slow computer, CleanMy® PC is a lightweight app that downloads and installs quickly. The beauty of the app is that it is a hub for many different system cleaning tools. In fact a lot of what we talked about, CleanMy® PC can do, and it does a better job.
Want to remove a program and make sure not files are left behind? Go to the Uninstaller tab.
Need to remove junk files that are wasting space? Go to the My Computer tab for a quick scan and clean up.
How about cleaning your registry? Removing startup programs? Uninstalling browser extensions?
There are solutions for everything.
Still no sock finding function, though.
Instead of wasting your valuable time running process after process, this one step solution makes maintenance of your computer easy. CleanMy® PC simply does what it says - it cleans your PC quickly, boosting your PC's speed and extending its life. Try it for free!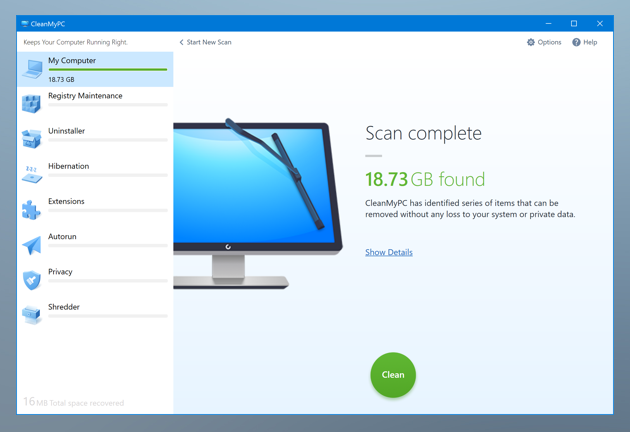 Use defrag to optimize your drives
If you've been following along, you probably now have a lot of free space on your drives. As we said before, free space is used by Windows, so it's important that the free space is organized on your hard disk in a way that is easy for Windows to access.
That's exactly what defrag does. It moves your data around on the physical disk to make your computer efficient and faster. It's not always a quick process but it can help fix a slow PC, so it's worth it.
To find the defrag app, in Windows 8, 10, and 11 just type "defrag" into the search field. In Windows 7 it is found under All Programs > Accessories > System Tools > Disk Defragmenter.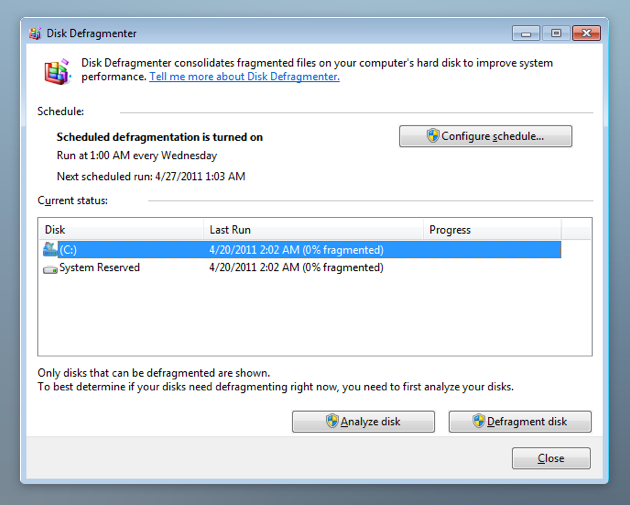 Important note: Defrag should not be performed on Solid State Drives (SSDs).
Turn off animations
Windows animations look cool on a fast new system. Like icing on top of cake. On an old and slow PC, they are just annoying. To get your cake, I mean PC, speeding up you should turn off the animations for a boost.
It will only take a moment, so here's what you do:
In Windows 11 - hold down the Windows key + I key for Settings menu. Click Accessibility on the left panel. Now, choose Visual effects to the right. In that pane, use the toggles to turn off the Animation effects.

Windows 10 – Go to Control Center > Ease of Access Center and check "Turn off unnecessary animations."
Windows 7 and 8 – Go to Control Center > Ease of Access Center and click on "make the computer easier to see." Now check "Turn off unnecessary animations."
Put your web browser on a diet
We live in our web browsers. Because we spend so much time using them, it's no surprise that we lack discipline. There's always a new cool sounding add-on to install or a new site (or nine) that we want to open in a tab to check out later. The problem is that the more tabs you have open and the more add-ons are installed, the more resources your web browser will take up, and the slower your PC will be. So take a look at your add-on or extension manager and uninstall anything that isn't adding to your web browser experience.
For open tabs, it's a matter of discipline. If you can't bare to close them, you could instead bookmark them to view later. Another option is One Tab, a free browser add-on for Chrome and Firefox that converts your tabs into a link list, freeing lots of memory to help your Windows computer speed up.

Don't let viruses slow you down
These days you have to be on your toes when it comes to what you click on online. Behind a lot of enticing links, you'll find viruses and malware. Even when these programs aren't directly harmful, they will often use your system resources and slow down your PC.
This is why one of the key elements to help your PC speed up is to have a protected system that remains clean of these dodgy programs. Make sure your anti-virus and anti-malware programs are always up to date, with real-time protection turned on.
Reinstall Windows for the ultimate fresh start
There's nothing quite like a new beginning. If your computer is still working slow, a more dramatic option would be to reinstall Windows itself. Reinstalling Windows will speed up your computer by removing junk files and apps that you no longer want. It also removes viruses, malware, and adware. In short, it will return Windows to its most clean state.
In Window 11, you can reset your system to day one using Recovery panel.

1. Open the main Settings app: you can press Start and type in "settings" in the search bar.
2. Click on System > Recovery.

You'll have 3 helpful options:

Reset
Go back (to Windows 10, for example)
Advanced startup

Windows 8 and Windows 10 users have two options:
1) Refresh (keeps your personal files and reinstalls Windows)
Go to Settings, and then click Change PC settings
Click Update & Security, and then click Recovery
Under "Refresh your PC without affecting your files," click Get Started
Follow the instructions on the screen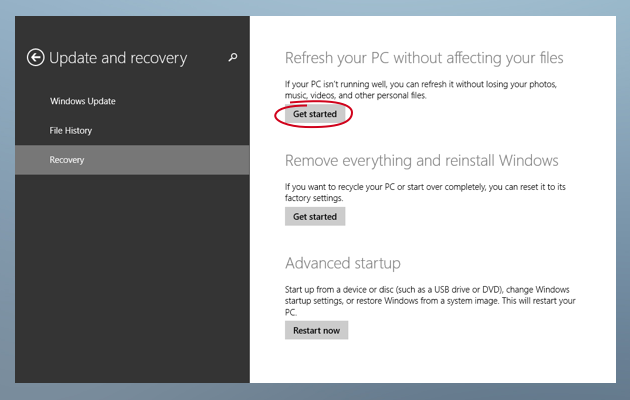 2) Reset your PC (Deletes all your files, so make sure that your important data is backed up)
Go to Settings, and then tap Change PC settings
Click Update & Security, and then click Recovery
Under "Remove everything and reinstall Windows," click Get Started
Follow the instructions on the screen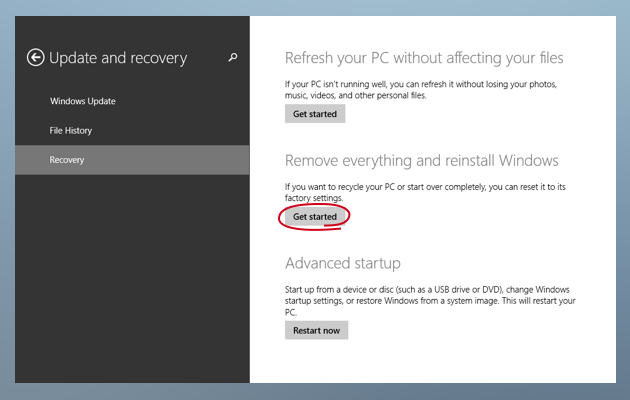 For Windows 7 users, the process is a lot more challenging and time-consuming. Instead of doing a reinstall of Windows 7, we'd recommend upgrading to the latest Windows version (you'll have to eventually anyway). It's faster, more user-friendly, and if your PC starts to slow down again, you can do the quick and easy refresh that we outlined above.
What's the verdict?
Have you worked through our hints? Did they fix your slow PC?
If these tips didn't turn back the clock and you still have a slow PC, then you may have to wave the white flag and head down to the computer store. But even if you get a new computer, save these methods because one day your new PC won't be new anymore.
When the slow-down starts, stop it in its tracks by using the power of CleanMy® PC, Disk Cleanup, Defrag, and all the other tools at your disposal.
Life is too short to be staring at the ceiling, waiting for your PC to finish a simple task.