Happy Birthday, CleanMyMac X!
Wow, it's been a whole year since we've introduced CleanMyMac X and marked the new era in Mac care. Thank you for being by our side — we couldn't have reached this far without you!
Now let's take a step back and see how CleanMyMac's evolved over the last decade.

As you see, CleanMyMac has come a long way since it has been released in 2008. We've been listening to your feedback and have worked endlessly to improve the app. The first CleanMyMac version was a good cleaner, removing caches, trashes, and other system junk. Its successor, CleanMyMac 2, was way faster and smarter, and contained a long-awaited Uninstaller module.
We didn't stop and improved everything from the cleaning algorithms and scanning speed to stylish design solutions. The next version — CleanMyMac 3 — met the world in 2015. It included new modules and tools: Privacy, Maintenance, iTunes Junk, Mail Attachments, and much more. CleanMyMac 3 was a top tool for optimizing your Mac until ...
One year ago, marking the MacPaw's 10th anniversary, we introduced CleanMyMac X. This anniversary edition won the hearts and minds of Mac users from all over the world.

"Amazing how fast CleanMyMac X is. I haven't gotten up from my seat to stand and it has already finished scanning."
"Guys, I must say I am impressed. The level of care and detail in this new version is outstanding. Great work!"
"Very useful, greatly extends the life of your Mac."
With the 10th anniversary edition, CleanMyMac has completed its transformation into a comprehensive cleanup, protection, and speedup tool. We have completely redesigned the app and added tons of brand new features:
Smart Scan: All-in-one center for your Mac optimization. Remove junk, malware, and speed up your system in just a click.
CleanMyMac Assistant: It's an intelligent helper that guides you, provides useful explanations, and reminds about cleanups.
Malware Removal: Protecting your Mac has never been easier. Check your system for thousands of threats and neutralize them easily.
Updater: Always stay up-to-date! Updater will deliver the latest and the most reliable versions of all your installed apps.
Reinvented Menu: Now you can check your internet speed, see the available Dropbox space, and control resource-consuming apps — all without opening the main app.
Lightning speed: CleanMyMac has never been that fast! Its Smart Scan is 3X faster than its previous version.
Leading-edge design: Fluid animations, subtle shapes and sounds — everything to keep you glued to the screen while you're optimizing your Mac.
See how we designed CleanMyMac X:

But we decided to go further and amplify CleanMyMac X's power. Guided by your suggestions, we started developing new features and tools and took it as a rule to roll out regular updates. We can't believe it ourselves but in a year we managed to deliver a dozen new features and improve more than a hundred of things. Space Lens tool, new junk locations, VoiceOver improvements, malware database expansion … just to name the latest additions to the already perfect app. See for yourself!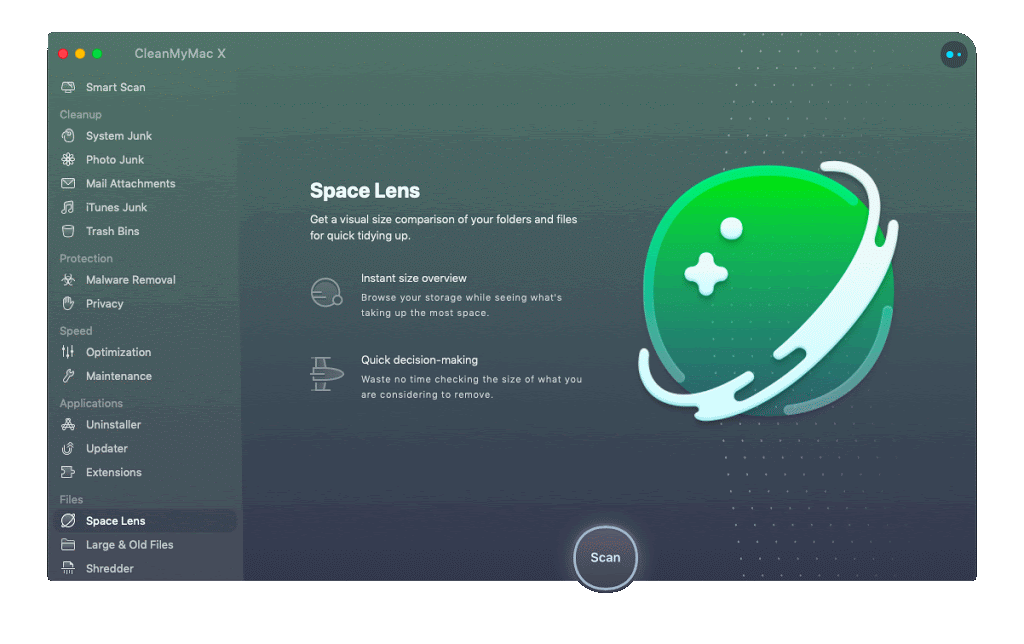 We also introduced a great tradition of naming updates after you, our best advisers and friends. Every CleanMyMac X update is dedicated to a user who's sent us valuable feedback. Alex Zambrano, Bradley Spence, Michael Lee — thank you guys for great hints on improving the app. Together we'll be able to build a super cool utility for solving all your Mac issues.
Over the year, we've been through so much together — updates, improvements, fixes, and whatnot. Oh, and holidays, of course!

No doubt, that was a busy and lively year. How about summing up the good times we've had together?

So, what now?
We'll continue implementing your ideas, so feel free to send us feedback. Who knows, maybe the next CleanMyMac X update will be named after you!
Meanwhile, we're getting ready for the upcoming macOS Catalina to make sure that CleanMyMac X fits it like a glove. Check out the unofficial Catalina guide we've prepared — it contains a lot of tips and Q&A about the new macOS.
P.S. Join our Facebook group and Twitter to get the latest news and share your opinion.
Your CleanMyMac Team ❤️