Clean trash on Mac with CleanMyMac 3
When you use CleanMyMac 3's Trash Bins module, you know that you're removing all of the trash on your Mac, not just some of it.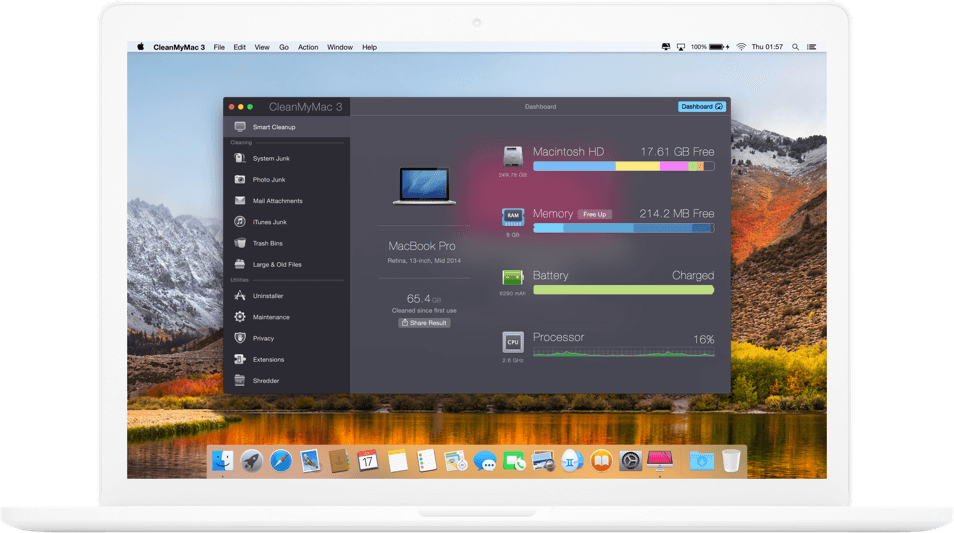 How does the Trash Bins module help me?
Well, first of all, you should know that your Mac has more than just one Trash. Certain apps, like Aperture and Photos, have their very own trash bins. These other application-specific trashes can be a pain to find and clean out. CleanMyMac 3's Trash Bins cleans up all the trashes on your Mac, not just the main Trash in your Dock.
What exactly does Trash Bins do?
With the Trash Bins module, you can empty all your trashes on your Mac, including all the app-specific or drive-specific trashes. Plus, if there's ever an error when it comes to emptying your Trash, CleanMyMac 3 lets you empty it without restriction — it's cleanliness at a moment's notice.
What else can CleanMyMac 3 do?
CleanMyMac 3 speaks:
English

Deutsch

Español

Français

Українська

Русский

Italiano

Polski

Português do Brasil

Nederlands

繁體中文

日本語
Industry experts talk about CleanMyMac 3
CleanMyMac targets the useless stuff that piles up on your computer, like old log files, unused language files, iTunes backups, outdated caches and other items to help free space and tidy up broken files.
CleanMyMac 3 comes with new utilities for maintenance. You can ask the app to run maintenance scripts, reindex Spotlight, or repair disk permissions.
CleanMyMac 3 comes in handy in a world filled with incredibly fast but still relatively small solid state drives, where regaining a dozen or so gigabytes of space certainly isn't a bad thing.
As someone with an SSD laptop as my primary computer, storage space is always limited and I've been using CleanMyMac for a few years to get a little extra space.
I'm normally wary of 'system cleanup utilities' because, to be perfectly frank, they don't do that much and can cause more damage than good. But for a long time I'd been hearing good things about CleanMyMac 3, so after taking a backup of my system -- just in case -- I decided to see what it could do for me. And I have to say that I'm impressed.
CleanMyMac 3
products-cleanmymac.product_closer_copy.features_title
products-cleanmymac.product_closer_copy.features_description
System Requirements:
macOS 10.9 and higher, 62 MB
*4.9 - rating for all versions, based on 539 user reviews.
Subscribe to know first
Our delivery owl will bring you our best deals and news about MacPaw apps.
Thanks for signing up!
You're almost done. Now, please check your email.