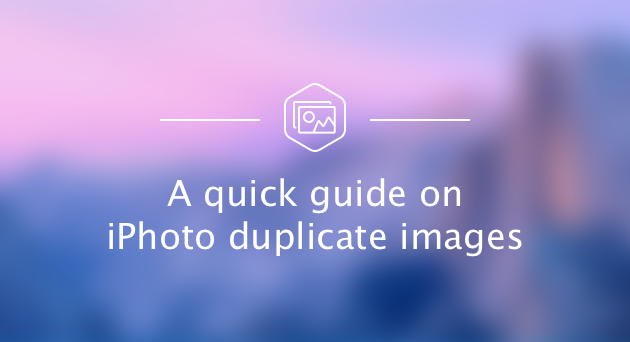 If you frequently use iPhoto, you definitely have plenty of duplicates hidden in the depth of it. Since iPhoto is a default program on every Mac, anyone who uploads pictures usually stores them there. Sometimes, more than once, as we'll see in this article.
Duplicates in iPhoto appear of two different kinds: the hidden and the visible. Let's take a look at how to delete duplicate pictures in iPhoto to free your gallery from both.
---
Finding and removing hidden duplicates
After you crop, resize, rotate, or otherwise edit your photos, iPhoto stores the original unedited photo for safe keeping — and hides it in the depths of your iPhoto library. These copies are kept hidden from you, the user, and they significantly increase your library size.
Luckily, it's a common problem, so there is an iPhoto duplicate finder CleanMyMac 3 that can get rid of them in an instant. CleanMyMac 3's iPhoto Junk looks through your entire iPhoto library to locate unneeded, original copies of images. To remove image copies in your iPhoto library right now, just:
Download CleanMyMac 3 (click here to download for free).
Launch it and select iPhoto Junk in the left menu.
Locate your library and click Scan.
Click Clean.
---
How to remove duplicates from iPhoto with a duplicate cleaner
If you'd like to see CleanMyMac 3 in action, here's a video tutorial that guides you through cleaning iPhoto with CleanMyMac's iPhoto Junk. We also included a text version below.
From the start, your default photo library is pre-selected to be scanned. However, if you have multiple libraries, you can click Change Library and locate the one you need in Finder. Once you've got the library selected, go ahead and click Scan to get started.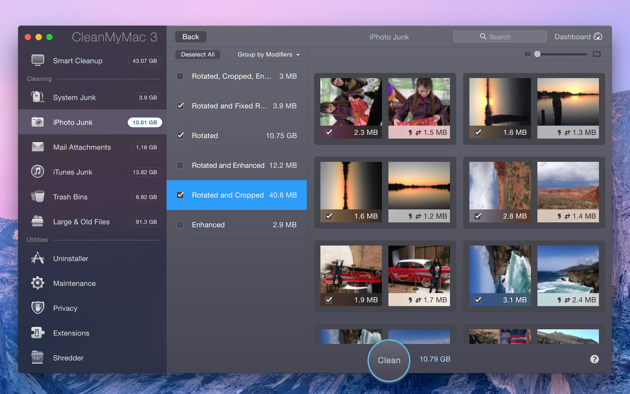 When your scan is complete, you get a summary of the scan results, including items that have been smart-selected. iPhoto Junk module only smart selects those photos that you won't miss, such as pics that have been rotated. Images with effects applied to them, where you may actually want to keep the original photo, are never preselected for cleaning.
Next, you can proceed with an easy one-click cleanup, or click the Review Details button to check out all the found items, including those that are not smart-selected. For easy navigation, the photos are all split up into categories based on their edits. Once you're done reviewing which photos to remove, go ahead and click Clean to begin dusting off your photo library.
---
Finding and removing visible duplicate photos
Now that you've gotten rid of the hidden space-wasters, it's time to deal with a more visible threat — the usual duplicate files. These are simply exact duplicates that could've ended in your gallery for a number or reasons. For one, there's syncing. When you sync galleries on different Macs, or migrate them from one to another, or sync it with a device you're taking pictures with, and the device re-downloads some images for the second time. Then, there are also duplicate folders that you could copy and forget about, there are duplicate images that you created to move or edit, and forgot about them, too.
Just as with hidden duplicates, it's a quite popular issue, so there's also an app for that. Gemini Classic deals with duplicates in iPhoto (and iTunes, and your whole Mac if you want) in a matter of minutes.
Important: before you get Gemini, make sure you actually have iPhoto, not the new Photos app that came with El Capitan. If you're running OS X 10. 9 and lower, then you're good. You have iPhoto and you'll see a banner on the download page, offering you Gemini Classic, not Gemini 2.
If you have OS X 10.10 (El Capitan) or higher, you need the newer Gemini 2 that cleans Photos app instead of the Classic version. Gemini Classic only cleans iPhoto.
---
How to delete duplicates in iPhoto with a duplicate finder
Download Gemini Classic.
Open the app.
Click on the plus symbol and choose iPhoto.
Hit Scan.
Choose the files to remove.
Click Remove selected.
Done.
Regardless of the app version you got, the flow is pretty similar. You pick a folder with your iPhoto (or Photos) gallery for a scan in the main menu of the app.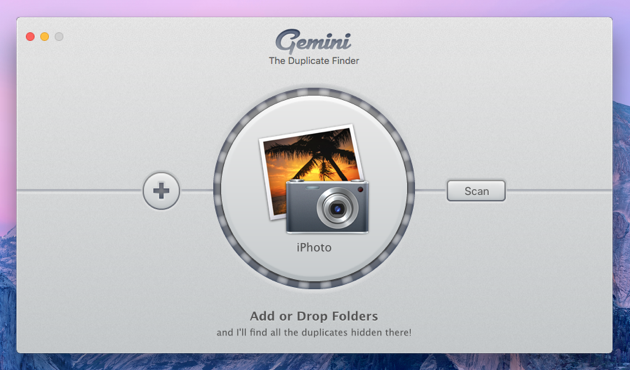 Then you simply get rid of the files the scan has found. You can do it in two ways: choose the type of selection (which of the two identical files to delete) or click Automatically select all files and let the app decide which copy can be removed from your iPhoto library.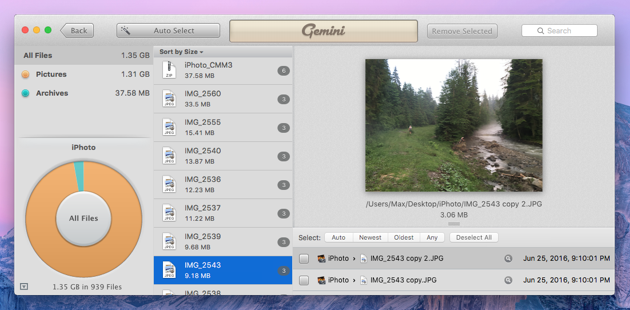 That's it, you're done with duplicates in your gallery! It's a good idea to repeat duplicate search and cleanup every now and then, to make sure you're not wasting your Mac space on the useless files. Cheers.
---