How to delete messages on your iPhone and retrieve deleted ones
For most of us, the general sentiment is that phones are for texting. You read a text and can respond at your convenience. And just as quickly as you respond to it, you forget about the text altogether.
But there are probably cases when you'd want to delete a message or two. Keep reading, and we'll get into how to delete text threads, individual messages, and what to do if you deleted something by mistake.
---
How to delete text messages on iPhone
Deleting a text message thread is as simple as a swipe:
Open the Messages app.
Go to the Conversations screen.
Swipe on the conversation you want to delete from right to left.
Tap Delete.
If you want to delete multiple threads, it's quicker to do the following:
On the Conversations screen, tap Edit in the top left-hand corner.
Select the texts you want to delete.
Tap Delete in the bottom right corner.
---
How to delete a single message, not the whole thread
If you only want to delete a single message:
Open the conversation this message is in.
Tap and hold on the message until the menu pops up.
Now tap More.
Finally, tap the Trash icon in the lower left corner.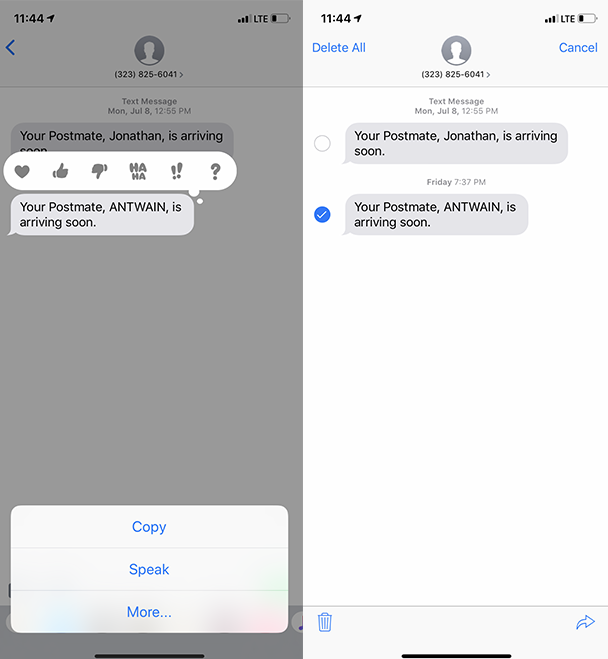 ---
How to find deleted messages on iPhone
Unfortunately, once you delete a message or conversation from your iPhone, there's no simple way to search for and find it. However, a little later in the article, we'll go over how to recover and restore old messages.
How to delete message attachments
If you don't want to part with the messages themselves, but want to free up storage and generally unclutter your iPhone, another option for you might be deleting your message attachments. To do that:
Go to Settings > General > iPhone Storage > Review Large Attachments.
Tap Edit.
Select the attachments you want to delete.
Tap the Trash icon in the upper right corner.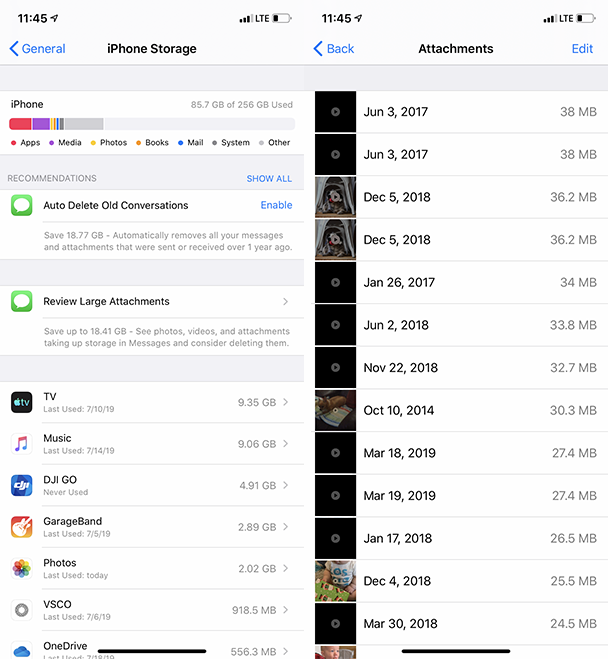 If you're not getting the prompt to Review Large Attachments, you can still review your attachments. Here's how:
Go to Settings > General > iPhone Storage > Messages.
Tap on any of the categories:

Review Large Attachments
Top Conversations
Photos
Videos
GIFs and Stickers
Other

Select the attachment you want to delete.
Tap the Trash icon.
---
How to retrieve deleted messages on iPhone
Retrieving the messages you've deleted is not unlike recovering deleted photos — it can be done either with a backup or directly from the device with the help of a third-party app. While the backup is the most secure way to recover those messages, it does require restoring your phone, meaning you'll lose anything new on your phone since your last backup. Another thing to keep in mind is that any texts that came in after your most recent backup, won't have been backed up. So, unfortunately, restoring your phone won't be of any help.
Recover deleted texts on iPhone from a backup
Whether you backed up your iPhone to iCloud or iTunes, you can recover texts from those backups, just in different ways.
To retrieve a deleted text from an iCloud backup:
On your iPhone go to Settings > General > Reset > Erase All Content and Settings.
Tap Reset.
After a few minutes, your iPhone will reboot. Continue through the setup screens.
When prompted to restore your iPhone, choose iCloud Backup.
Select the most recent backup.
Note: Before you restore your iPhone you should verify the last time it was backed up to iCloud by going to Settings > Your Name > iCloud > iCloud Backup.
If you're restoring text messages from an iTunes backup:
Connect your iPhone to your computer.
Open iTunes.
Click on the phone icon in the top left-hand corner.
Choose Summary from the menu on the left.
Click Restore Backup.
---
Can you recover deleted text messages without a backup?
While there is no Apple-supported way of recovering text messages without a backup, there's still a chance you'll be able to with the help of third-party apps. There are a handful of apps out there that claim to be able to retrieve deleted messages. iMyFone D-Back iPhone Data Recovery is one of the more popular apps online that are supposedly able to help recover texts.
---
With hundreds of texts coming to and from our phones, it's not a surprise you might want to delete and then restore deleted messages. Whatever your reason for deleting conversations, it's as simple as a swipe and a tap. And hopefully, this article will help if you do accidentally get a little purge-happy and delete something you wanted to keep.