How to download photos from iCloud to iPhone
Did you recently get a new iPhone? Perhaps you upgraded, or your last one had an untimely demise. Either way, in this situation you'll be grateful for iCloud backing up and syncing all of our stuff. Especially your pictures. But now you're probably wondering how to get those photos from iCloud.
Well, keep reading, and we'll go over all that — and cover some things you should try to avoid.
How to retrieve photos from iCloud
If you just want to download select images from your iCloud library, you can actually do so from the Photos app on your iPhone:
In Photos, go to Shared Albums
Open an album
Select the image(s) you want to download
Tap the Share button in the bottom left corner
Tap "Save Image"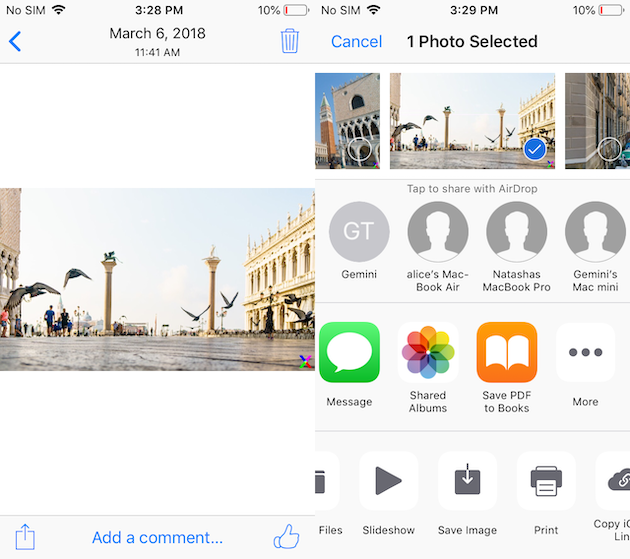 The picture(s) you just saved should now appear in your Camera Roll. You might have to scroll up to find them, as the Camera Roll saves pictures in chronological order with the most recent at the bottom.
---
Before you download all photos from iCloud to your iPhone
In the scenario where you want to download your entire iCloud photo library to your iPhone, make sure you have enough storage first. If you've been using iCloud for a while, then there's the possibility that your photo library is too big to fit on your iPhone. A good practice before attempting to download all your iCloud photos is to scan them for redundant pictures, like similar shots, old screenshots, and the like.
To do that, download Gemini Photos for iPhone and run a scan. Gemini will analyze the previews of your photos, stored locally on your phone, and help you quickly delete unwanted duplicates. When you delete the preview, it will also delete the original from iCloud. Here's how it works:
Allow Gemini Photos access to your photo library
After the app scans your library, it will group your photos into categories: Similar, Clutter, and Other
Tap on any of the categories and review the photos the app suggests deleting.
Move all unwanted pics to the Trash
Tap Empty Trash
---
How do I download all my photos from iCloud?
If you're reading this to learn how to get all your photos from iCloud on to your iPhone, then you're in luck — it couldn't be easier.
Go to Settings > Photos
Toggle on iCloud Photos
Select Download and Keep Originals
Note: If you opt for Optimize iPhone Storage, it will reduce the resolution of your photos.
Downloading pictures from iCloud to iPhone couldn't be simpler. Whether you're retrieving only one photo or your entire library, you'll be glad you had everything backed up to iCloud. And if you're trying to figure out how to upload your photos to iCloud, we've got a guide to that as well.