Burst mode does us all a big favor by taking a bunch of pictures with a single (long) click. However, a burst photo only serves the short-term purpose of capturing every split second so you can pick the best shot later. Once you've done that, you're better off without a couple dozen identical images that do nothing but clog up your storage.
This article is going to straighten out what burst mode is, how come there are bursts in your Photos even though you've never used the thing, and, most importantly, how to manage and delete unwanted images from a batch. We're going to speak about manual methods you can use right on your iPhone and also dig into solutions for photo bursts on Mac, such as the duplicate finder app Gemini 2, so read on.

What is burst mode?
A photo burst, also known as continuous shooting, is an ingenious way to make sure you catch all the action on camera. What it basically does is rapidly shoots an increased number of photos, creating a sequence of images condensed in what appears to be one picture. Through this continuous shooting, you'll get enough photos to select at least one good shot from. It's a bulletproof method of photographing those once-in-a-lifetime moments, especially if they involve a lot of action.
How come you have photo bursts?
Using burst mode is extremely simple. Actually, it's so simple that you might just do it by mistake. To make a photo burst you just hold the shutter button in the Camera app, and if you do it by accident, you end up with groups of photos tagged "Burst". Deleting redundant pics inside one is possible, but non-intuitive and a bit of a drag.

How to delete extra burst photos on your iPhone
Photo bursts fall under a separate category in the Photos app. To delete photos from a burst, you'll have to select your favorite ones for keeping. All the photos you don't select will be sent to the Recently Deleted folder. Here's a breakdown of the process:

Find the photo burst
Double tap on it
Tap Select… below the photo
Select your favorite burst shot
Tap Done
When prompted, select Keep Only 1 Favorite
How to delete photos from a burst on Mac
If you've already moved everything from your iPhone to your Mac, chances are a few bursts have been left the way they were. They gobble up vital space on your disk, so consider hunting them down.
To automatically weed out unwanted images from photo bursts, you can use an app like Gemini 2. It helps you clean up your Mac by searching for and deleting unwanted duplicates, which is exactly what you need in the case of photo bursts. Here's how this works:
Open the app and hit the big plus in the middle
When prompted, select the Pictures folder
Click Scan for Duplicates
When the scan is done, dive deeper into Review Duplicates
Your bursts will be neatly grouped under Similar Files. To get a closer look, double-click on a burst and you'll see previews of every photo for handy selection. Check mark the shots you don't like all that much and hit Remove.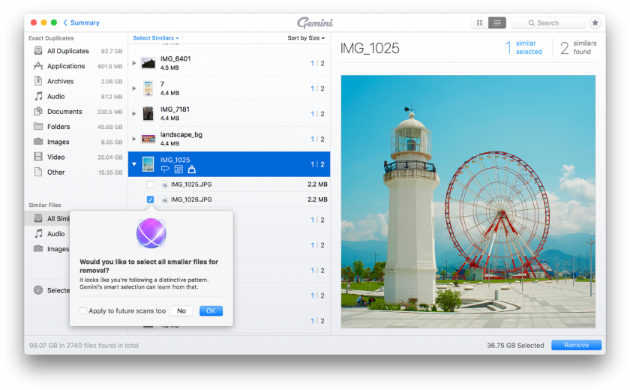 That's about it, and the best thing is that by following this quick tutorial you can get rid of not only burst photos, but also other useless similar pictures — like a dozen retakes of your friend posing by the Leaning Tower. Download Gemini 2 for free and give it a go, it's an indispensable app for those who take a lot of pictures.

---
Now you know everything there is to know about burst photos. From here on, you'll be able to easily manage bursts and make sure no unwanted duplicates stay on your Mac taking up precious space.