How to remove Chrome extensions
Google's Chrome browser is hugely popular among Mac users because of its speed and its integration with Google accounts and other services. Like most other modern browsers, it's also highly extendable, thanks to the wide range of third-party extensions available.
Some of these extensions are add-ons for tools like Evernote or Pocket. Those allow you to 'clip' pages or articles, others allow you to download video from streaming sites. However, there is a third group: malware.
Browser extensions are a common way for hackers to distribute adware or other nasty pieces of code. They hide it inside a seemingly legitimate extension manipulating you into downloading it. That's just one reason you may want to uninstall Chrome extensions. There are others, such as old or out-of-date extensions slowing your Mac down or making Chrome unstable. Here's how to get rid of them.
How to remove extensions from Chrome via settings
To use this method, you need no extra software or tools, but it takes a little longer than the quick way I'll show you in a minute. So here is what you do:
Launch Chrome and click on the three vertical dots at the top right of the Chrome window. Then choose Settings > Extensions.
As an alternative, type chrome://extensions into the address bar to land directly on the Extensions page.
Locate the extension you want to remove. Click Remove.
Click Remove again to confirm you want to remove the extension from Chrome.
Repeat steps 3-4 for every extension you want to remove. If you're not sure what an extension does or why you downloaded it, click "Details" to find out more about it.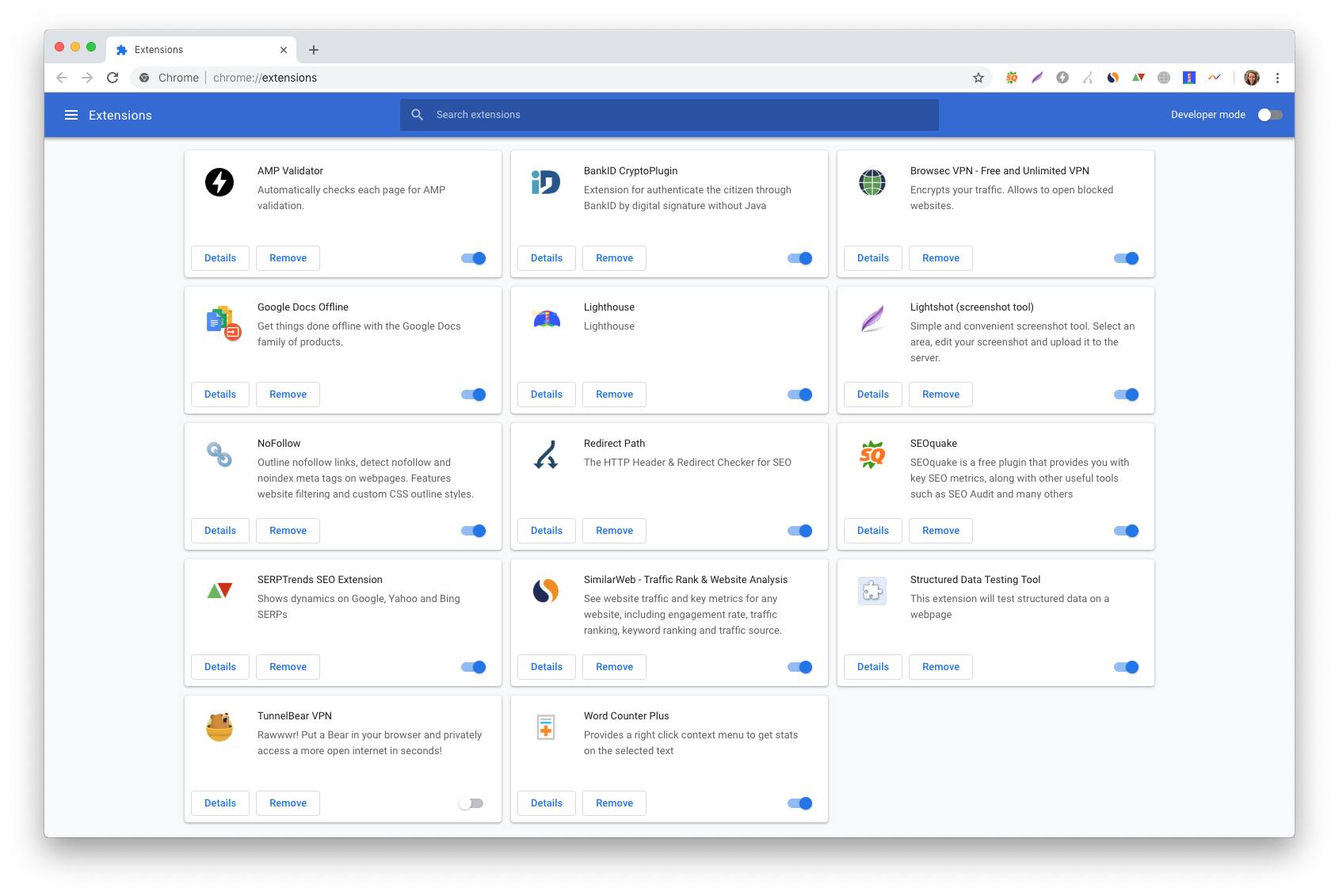 How to uninstall Chrome extensions with CleanMyMac X

This method is much quicker if you need to remove multiple extensions. It uses CleanMyMac X's Extensions module and you don't have to go rooting around in the Finder to locate the right extension or navigate Chrome's Extensions page. To use it, you'll first have to download and install CleanMyMac X.
Tip: As we said above, browser extensions are a favorite way for hackers to hide malware so that you inadvertently download it onto your Mac. CleanMyMac X also has a malware module that can scan your Mac and alert you if it thinks it has a virus, adware, or any other malicious code lurking on its hard drive or SSD.
Launch CleanMyMac X (Chrome doesn't need to be running).
In the left-hand sidebar, click on the Extensions module.
Choose View all Extensions.
Select Chrome and click on the extensions you want to remove and press "Remove."
How to remove malware with CleanMyMac X
Deleting a malicious extension won't help if it has already put adware or other nasty code on your Mac. You'll need to remove that separately. Here's how to do it.
Launch CleanMyMac X.
Select the Malware tool.
Press Scan.
If CleanMyMac finds nothing, it will tell you your Mac is clean. If it finds malware, it will list it. You can press Clean to get rid of it or switch to a detailed results page to find out more.
It's a good idea to scan your Mac regularly for malware. CleanMyMac X's malware database is updated frequently and will be able to spot even the newest malicious extensions and other malware.

Tip: CleanMyMac X can also remove other browser elements such as cookies, your browser history, and autofill data, to improve your privacy. Click on the Privacy tab and then press Scan. When the results appear, click on a browser, say Chrome, and then check the box next to the item you want to remove and select Remove.
Deleting browser extensions in Chrome isn't too difficult. But there are a number of different ways to do it. The manual methods can take longer while doing it in CleanMyMac X is quick and easy. CleanMyMac X also scans your Mac for malware to remove it. What's more, it improves your online privacy by helping you get rid of cookies, autofill data, and other information collected and stored by web browsers on your Mac.