How to trim a video on iPhone
Shooting videos on iPhone has never been easier or more fun. Whether you took a video of the stupid thing you thought was really funny when you were bored at home, or captured the moment Dad got crazy on the dancefloor at your cousin's wedding, you might be wishing you could trim the video a little bit. And that's where the Photos app comes in.
While iOS Photos has way fewer editing features for videos than it does for photos, Apple has put in the single most important video editing tool. You can cut videos on your iPhone without any other specialized software.
How to trim a video on iPhone using Photos
After re-watching the video you just shot, you might be wishing you could cut 5 seconds off the end. Or maybe drop the boring stuff at the beginning. Here's how to cut a video on your iPhone:
In the Photos app, select the video you want to trim
Tap Edit
Tap and hold on either side of the timeline at the bottom of the screen until you see a yellow box surrounding it
Drag the sliders on either side to select the start and end time on your video. If you hold on either arrow, the timeline will expand allowing you a more precise edit.
Tap Done in the bottom right corner of the screen
Choose "Save as New Clip" or "Trim Original" to replace the original clip
GEMINI TIP

If you use your iPhone to take photos, not just videos, chances are you have lots of unneeded ones — like those ten similar selfies with only slightly different facial expressions. An app like Gemini Photos can help you quickly and easily clean those up. Download and try it for free.
How do I cut a video on iPhone into 2 parts?
Now, maybe you watched the video, and you don't exactly want to trim it, but rather cut it down into two clips. That's equally easy to do.
Open your Photos app and select the video
Tap Edit
Tap and hold the right side of the slider on the timeline
Drag the slider to the point in the video where you want the first part to end
Tap Done
Select "Save as New Clip"
Repeat Steps 1-6, except select the other part of the video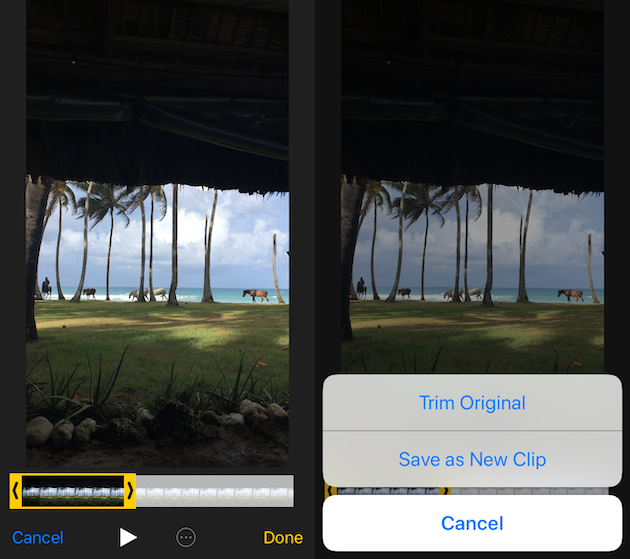 Once you've done that, you should then have 3 videos, one for each half and the original all put together.
How to trim a video for Instagram
If you're shooting a video to post on Instagram, there are a couple time limitations to keep in mind. If you want to post to your feed, your video can only be 60 seconds. If you're going to post to your Stories, your video will be broken up into 15-second clips.
Instagram doesn't have any time editing tools for videos, meaning that the first 15 seconds or the first 60 seconds of your video is all it will upload. So before you post anything, you'll probably want to trim your video for Instagram and post the most interesting part of it. Just follow the steps we outlined above, but keep the timing in mind. Unfortunately, when you trim a video in Photos, you don't see how long the end result will be. So what you can do is check the original length of the video and note down which frame the 60-second or 15-second clip would end with.
Now that you know how to shorten a video on your iPhone, you'll only be keeping the good stuff. Sharing and re-watching your videos is so much better when you're jumping right into the action of your home videos.