All You Need to Know About Free Mac Cleaners
Do you feel safe using free Mac software?
Sticky notes and bubble screensavers aside, think of software that digs deep into your Mac system and fixes it where it needs fixing. Can you be sure free Mac cleaners are safe? Taking it on trust is a bit like buying a house built by a group of lego enthusiasts in their free time. It might work, or not. No guarantees.
I'm not bringing up cheese and mousetraps; there are plenty of wonderful free apps for Mac out there. Yet most of them are for small tasks and little enhancements to your everyday life. While heavyweights that do serious job and do it right — always come with a price tag. There's a reason for it, we named it quality.
Quality: do free cleaners do their job?
It's pretty obvious what you expect from a Mac cleaner when you're looking for one. You need a faster, better running Mac and, probably, more free space on drive. You'd also prefer your app of choice to work quickly and have a clear interface. And, you expect your Mac to feel better right away.
Well, with free cleaners none of that can be promised.
Free cleaners are usually mainly good for system optimization and are only usable if you're on friendly terms with words like dyld's shared cache (whatever that is). That's why some of them come with a footlong User Agreement that asks if you know what you're doing.
Also, free cleaners, for the most part, have a rather scant variety of cleaning features and options. Either because they have a paid version with their best part hidden in it, or because they weren't even meant to do much in the first place. After all, they're free, so you can't expect a lot of them.
Things free cleaners will always lack
Free stuff, like healthcare or public transport, only make sense if people who run them get compensated by the state. You can hardly imagine a smooth system with full-time volunteers in charge. Same goes for software development.
We spent years refining CleanMyMac. We have a whole department of developers and quality testers making sure it works right and doesn't go messing up your Mac. In the end, it's an app a dozen times as powerful and efficient as free analogues. But first and foremost, it's safe.
Besides, we know what a good Mac cleaner should be like. We know it should have a one-button Smart cleaning because you have no time to waste on figuring settings out. We know it should ask you about any file you might find important before deleting it. We know it should be intuitive, handy, and fast.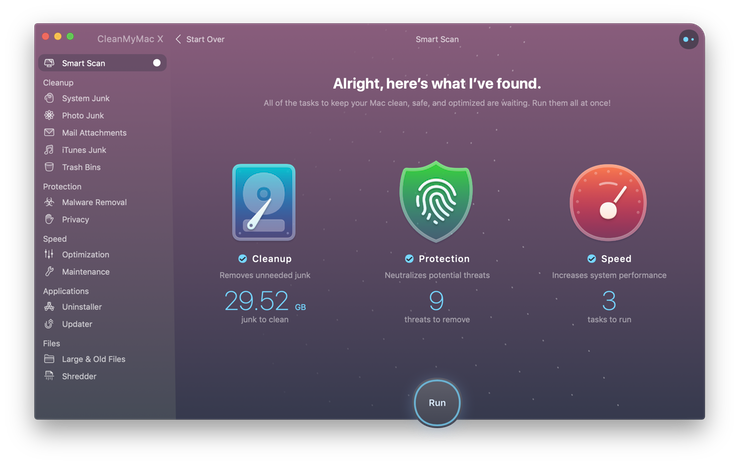 That's why CleanMyMac X is exactly that ideal cleaner. Just try it, you'll see what I'm talking about.