The App Store version of CleanMyMac X slightly differs from the versions you'll find on other marketplaces. This means some features described below may be not available from the App Store due to its guidelines. Read more about different versions of CleanMyMac X.

CleanMyMac is accepting the challenges of macOS environment and gains both a dedicated Malware Removal module and AntiMalware Laboratory.
Malware Removal module
Malware Removal is part of CleanMyMac's Smart Scan and also a separate module that finds and eliminates viruses, miners, spyware, loggers, and so on. You should use it periodically to make sure your Mac is healthy and safe. Here you can find more about how to remove malware.
Real-time protection
(not available from the App Store)
CleanMyMac X can keep an eye on all new installations on your Mac to detect dangerous software or potential vulnerabilities. Its real-time protection monitor runs in the background and warns you when there's a malware threat.
Current protection status is displayed in CleanMyMac X Menu, where you can also start a full malware scanning.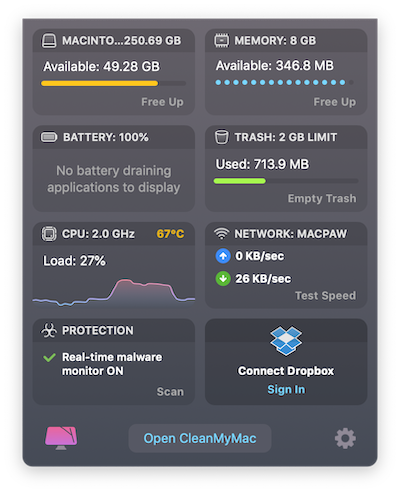 Here you can find out more about the real-time protection and how to disable it.
CleanMyMac's AntiMalware Laboratory
Researchers from AntiMalware Laboratory monitor emerging cyber threats, improve the ways of detecting them, and constantly update the Malware Database of CleanMyMac.
However, maleficent apps may change too fast to be spotted, that's why the researches cooperate with CleanMyMac users closely on this subject.
AntiMalware Support Tool
To speed up malware investigations, we've created a simple Support Tool that collects technical data from a Mac and puts it into a single archive. Our support engineers share this tool with users who spotted some malware symptoms on their Macs.
No worries, the tool works with data related only to processes and configurations of the system and apps, in particular:
Launch agents and daemons
Login items
System preferences
System configuration profiles
Chrome/Safari extension list
Chrome/Safari preferences
Executables in user directories
Processes list.
By the way, you can always review the contents of the archive by yourself and make sure there's nothing private inside.
Dealing with "non-removable" malware
Now, if CleanMyMac won't help, that's what you need to do to score off the unwanted -ware:
1. Contact CleanMyMac's support engineers to get the Support Tool.
Please provide a short description of the problem and specify a version of your macOS and related app (if any).
2. Open SupportTool-Malware.app.zip received from CleanMyMac's Support Team.
3. After extracting the contents of the archive, run SupportTool.app.
When asked to confirm your intention, click Open.
4. Now, select the "Include System configuration profiles information" checkbox.
It is required to scan your system thoroughly and check if your macOS preferences are intact.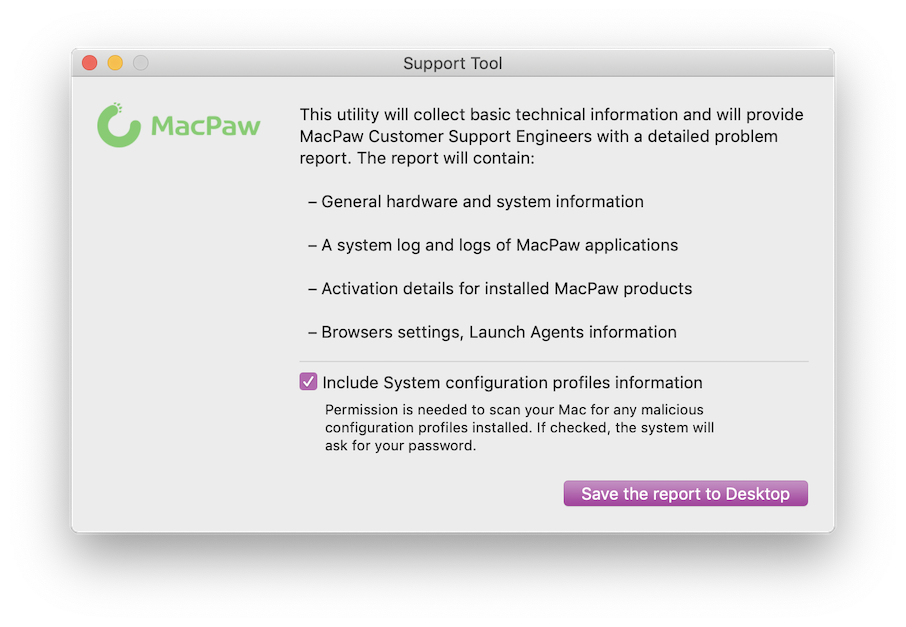 5. Click "Save the report to Desktop" to start the export of troubleshooting data.
6. If asked, please enter your system credentials and click OK.

NOTE
Admin credentials are required to get access to secured locations of macOS where malware may hide its data. For example, if you entered the admin password while installing a maleficent app, the Support Tool won't have a chance to find all malware data without the same access rights.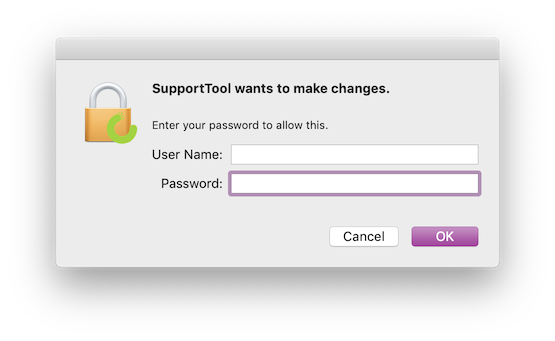 After the export is over, a ZIP archive named after your macOS user appears on the desktop.


7. Now, please attach the archive generated by the Support Tool to the email and send it to CleanMyMac's support engineers.

That's all, the researchers will study your logs and shape up the Malware Database. Also, we'll reach you when the solution is found.
Thanks for cooperation!