Go on with this article only if you got your CleanMyMac X from the MacPaw Store.
To find out more about different versions of CleanMyMac X and places of their distribution, read this article.

A basic CleanMyMac X license, whether one-time purchase or subscription, covers one Mac only. Owners of a double license can use CleanMyMac on two devices, while a "family" pack keeps maintained up to 5 Macs.

But what if you have a basic license and multiple Macs? First, you can move your CleanMyMac license to another Mac manually. Second, you can benefit from your special 30% discount and purchase as many CleanMyMac X licenses as you need.
As an owner of CleanMyMac X, you just need to apply your loyalty discount following this way:
Visit MacPaw Store and scroll down to the Special Offers section.
Click on the "Get a 30% Discount" link.
Specify the email address you used to purchase your previous CleanMyMac license and click Verify.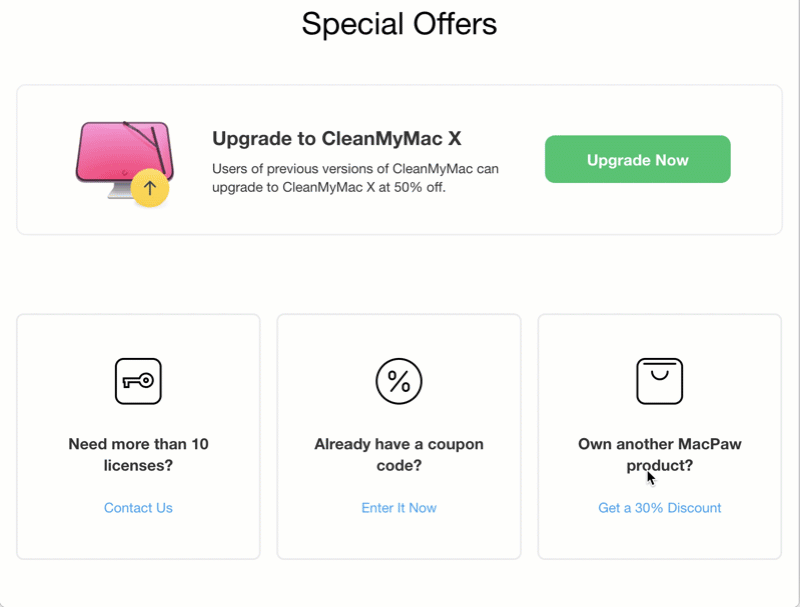 Done! If the email is correct, all prices are reduced automatically.
NOTE
Your loyalty discount is valid for all purchases at MacPaw Store. So be you can choose, for example, a "family" pack of CleanMyMac X and share it with your friends.