The real-time malware monitor checks newly installed software and notifies you if there are any suspicious activities or dangerous components. You can find it in CleanMyMac X Menu. Normally, the Protection instrument just informs that the monitor is on, but if there's a threat, you see an alert: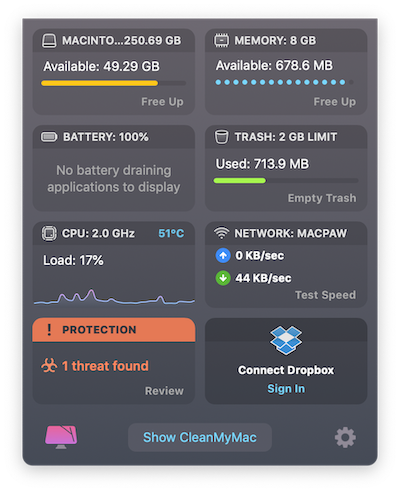 Also, you get a notification from CleanMyMac that prompts you to check and neutralize the issue. In this case, click Review to open CleanMyMac X and start a detailed scan for malware.
The real-time monitor runs in the background and ensures the safety of new installations while using only a tiny bit of the system resources. However, you can turn it off in CleanMyMac X Preferences whenever you want:
Click on the gear icon of the Menu and choose Preferences.

Switch to the Protection tab and deselect the "Enable real-time protection" checkbox.

By the way, even if you use the real-time monitor, you shouldn't neglect full periodic malware scans. You can start it right from the Menu by clicking Scan in the Protection instrument.
Keep your Mac safe and contact our Customer Care Team if you need some help with the malware monitor.