How to fix Wi-Fi not working on Mac
Wi-Fi problems on Mac & how to troubleshoot them
In the 21st century, Wi-Fi must be added to Maslow's hierarchy of needs as a necessity for humankind, don't you think?
I'm joking, of course! But the truth is, it's almost impossible to imagine our world without the internet anymore. So when it stops working… we feel lost and out of control.
There could be numerous reasons your Mac won't connect to Wi-Fi: a new software update, wrong Wi-Fi preferences, or several networks conflicting with each other. Below I'll explain what you can do when your Wi-Fi doesn't connect, or your connection is constantly dropping off.
The most common symptoms of Wi-Fi problems on Mac are the following:
Mac doesn't connect to the internet, but other devices do.
Mac is connected to Wi-Fi, but there is no Internet access.
The Wi-Fi connection keeps getting lost.
The Wi-Fi connection on Mac is slow or unstable.
Ways to fix Wi-Fi on Mac
1. Run Wireless Diagnostics
Running Wireless diagnostics is a good place to start. You can do that with the native tool your macOS already have.
Press Option and click the Wi-Fi icon in the top right corner.
Click Open Wireless Diagnostics.

2. Reset Wi-Fi network settings
This step will reconfigure your existing Wi-Fi settings and launch the network experience from scratch. But before you begin, I recommend backing up your Mac with the Time Machine.
Turn off Wi-Fi and shut down your browsers.
Apple menu > Go > Go to Folder.
Paste in the following line:
/Library/Preferences/SystemConfiguration/
Select the files listed below (as shown on the screenshot)
preferences.plist
com.apple.wifi.message-tracer.plist
com.apple.network.eapolclient.configuration.plist
com.apple.airport.preferences.plist
NetworkInterfaces.plist
4. Lastly, move these files to a new folder on your Desktop. Restart your Mac

After that, you will have to revisit Wi-Fi preferences (Click Open Network Preferences under the Wi-Fi icon). Turn Wi-Fi on and select your Wi-Fi network again.
The path above proved to be a good remedy when the Wi-Fi connection drops off after upgrading to the latest macOS. If the issue persists, consider reinstalling macOS.
3. Reset Wi-Fi sleep mode settings
In some cases, sleep mode settings cause Wi-Fi drops on Mac so it wouldn't turn on again. Try this simple fix which many users found helpful:
Go to System Preferences > Battery > Power Adapter.
Disable the Wake for network access.
Now, check your Wi-Fi (cross your fingers). Did it do the trick? If not, let's move on to the next step.
4. Flush DNS cache
Another way to fix Mac Wi-Fi not working is to flush your DNS cache. DNS service helps your Mac find IP addresses, much like a phone book. It even has a cache folder of its own. Removing these cache files is helpful when your Wi-Fi slows down, or you can't access certain websites.
Here's a quick workaround to save you from meddling with critical system folders:
Download CleanMyMac X (you can get it here, it's free).
Go to the Maintenance tab and tick Flush DNS cache.
That's it! This solution is 100% free and takes no more than a minute.

By the way, CleanMyMac X is pretty much an indispensable tool if you want to keep your Mac clean and junk-free. It removes up to 74 GB of junk files on an average Mac, giving it a spin, just in case.
5. Reboot your Wi-Fi router
Plug off your router and leave it for a minute or two. Then plug your router back in and try to connect other Wi-Fi devices in the room. This way, you can find out if the problem lies in a router.
Additionally, try placing your router in a different place. You can lose your Wi-Fi signal due to neighboring networks or catching a "dead zone" in your house.

6. Switch off the Bluetooth
Bluetooth devices often interfere with Wi-Fi, especially if the Wi-Fi signal is weak. It's because both rely on radio frequencies to work. So another hack to help you fix your Wi-Fi on Mac is to inspect the Bluetooth settings.
Try disconnecting the Bluetooth and see if the problem persists.
Go to the Apple menu > System Preferences.
Select Bluetooth.
Then click Turn Bluetooth off.
7. Update your router firmware
If you are using an Apple Airport router, you'll need Airport Utility to perform the update. This step requires an internet connection. Connect via cable if your Wi-Fi doesn't work on Mac.
Go to Applications.
Type Airport Utility in the search bar.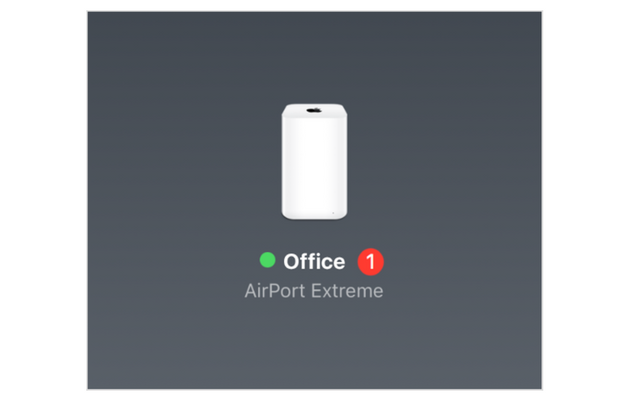 You'll see your Airport base station. If you see a red notification badge next to the base name, click it for more details. The app will show you the Update button if the update is available.
8. Customize MTU and DNS settings
MTU stands for Maximum Transmission Unit and describes the packet size exchanged via the network (measured in bytes). The solution described below implies lowering MTU size, making your WI-Fi connection less laggy. While customizing DNS location has also proved effective in solving even the most bitter Wi-Fi problems on Mac.
But don't let these geeky terms put you off. The path takes just about a minute, and you'll be proud to have fixed your Mac Wi-Fi not working, the Apple Genius way.
Step 1.
Go to System Preferences > Network.
Select Wi-Fi in the left panel.
Click the lock button and type in your user password to unlock.
In the Location menu on the top, click Edit Locations…

Step 2.

Now create a new location by clicking the plus button. Name it anything you like. Click Done.
Step 3.
Then choose your standard Wi-Fi connection under Network Name.
Click Advanced.
Go to TCP/IP tab and click Renew DHCP lease.
Step 4.
Go to the DNS tab, and by clicking + button, enter 8.8.8.8 and 8.8.4.4 as IP addresses, each in a separate line. These two are Google's alternative DNS servers that the company recommends using — they are safe. But before you do this, make sure to copy your current DNS address on paper.
Step 5.
Go to the Hardware tab from the previous step.
Under Configure dropdown menu, select Manually.
Click MTU and set the custom size of 1453.
Click OK.
Well done!
Still no Wi-FI connection on Mac?
Maybe all this time, you've been digging in the wrong place as the problem is in your Mac itself. It might need some basic tidying up and maintenance to run faster. Try giving it a complete clean with CleanMyMac X (it's my favorite among similar Mac tune-up apps — here's the official free download from the developer site). Hopefully, your Wi-Fi should get back to normal once your Mac is clean and up to speed.
May the Wi-Fi be with you! Thanks for reading.