The best iPhone 11 cases to protect your new shiny iPhone
There's no doubt that iPhone 11 is one of the most durable iPhones to date, but no one would blame you for wanting some added protection. Whether you tend to be a little clumsy from time to time or you've got little ones who want to play games, accidents happen. Even though iPhone 11 is the more budget-friendly iPhone model, it's a good idea to protect it.
Keep reading to see which case offers the most protection while also taking into consideration everything from design to functionality.
---
The best protective cases for iPhone 11
When it comes to iPhone cases, most people ask which one will give them the most protection. But the answer isn't as straightforward as you might think. Some cases offer more protection against drops, while others offer more water and liquid resistance. So here are three of the most protective cases for iPhone 11.
---
OtterBox Defender Series: Most rugged case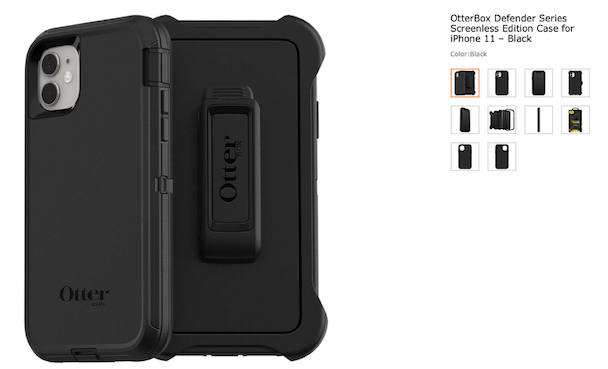 As far as protective cases go, OtterBox is arguably the most well-known brand, and for a good reason. The Defender Series is the first case from OtterBox not to come with a screen protector, which is partially due to iPhone 11's new scratch-resistant screen. But the multilayer case offers a hard inner shell and outer slipcover to protect it from drops of up to 6.6 feet.
The defender case also has a bezel around both the screen and rear camera to help prevent scratching, which is one of the reasons it's bulkier than other iPhone cases.
OtterBox Defender Series on Amazon
---
LifeProof FRĒ Series: Waterproof iPhone case
LifeProof is another popular protective case brand, making products that are comparable to OtterBox. The FRĒ Series case is a little more expensive, but it offers a complete case around your entire iPhone 11, screen protector and all.
Even though Apple has taken great steps to make iPhone 11 more water-resistant, the FRĒ Series gives it an extra layer of protection, allowing you to use your iPhone up to 6.5 feet underwater for up to an hour.
LifeProof FRĒ Series on Amazon
---
Speck Presidio Grip: Highest drop rating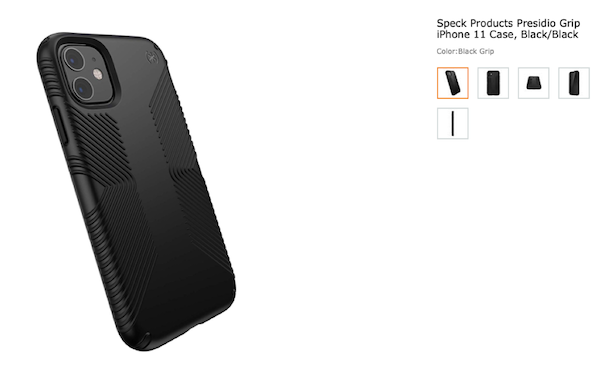 The Speck Presidio Grip is the most affordable case of the bunch, and it's also the sleekest. While the previous two cases will add extra bulk to your iPhone, this case does the best job of maintaining the iPhone's minimal profile. In fact, it's thin enough that you can still wirelessly charge without having to take off your case.
Similar to the OtterBox, the Speck Presidio Grip has two layers, which gives it an impressive drop rating of up to 13 feet. And the case is designed with ridges to help you maintain a better hold on your phone while using it.
---
The best clear cases for iPhone 11
One of the fun things about iPhone 11 is the variety of color options it comes in, so no one would blame you for not wanting to cover it up. Fortunately, there are clear cases available for your iPhone. Here are some of the best clear cases for your brightly colored new iPhone 11.
---
Spigen Ultra Hybrid: Sleek and crystal-clear hard case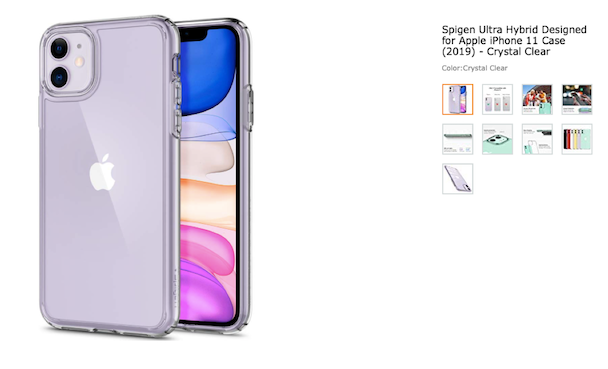 The Spigen Ultra Hybrid protects your iPhone without being in the way. It's super thin, so you can still use it with your wireless charger. It also has a bezel around the rear camera to help prevent scratches. And, sure, it doesn't offer the same amount of protection against drops or liquids, but it still helps prevent the daily wear and tear your iPhone 11 would be susceptible to without a case.
---
Speck Presidio Stay Clear: Strong protection in a clear case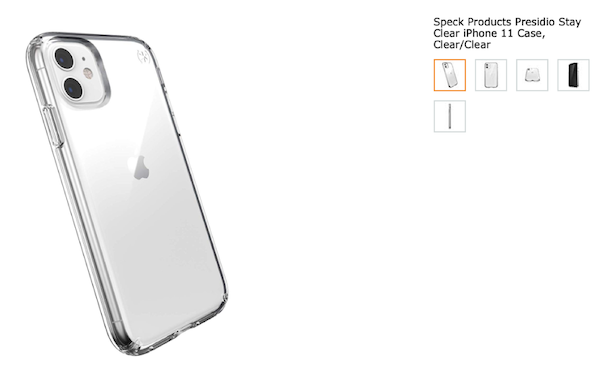 The best part about the Speck Presidio Stay Clear is how many protective features it has in common with the Speck Presidio Grip, which we mentioned earlier. While the Stay model is a little thinner, it still has two layers in the hard shell but is fully functional with wireless charges. It also has a bezel around both the rear camera and the screen to prevent scratches, while offering impressive drop protection of up to 13 feet.
Speck Presidio Stay Clear on Amazon
---
The best iPhone 11 wallet cases
Most people are never out of arm's reach of their iPhone. If that describes you, you might be looking for a case that can provide protection for your iPhone and double as your wallet. Here are the best wallet cases that do it all.
Nomad Rugged Tri-Folio: Carry everything with your iPhone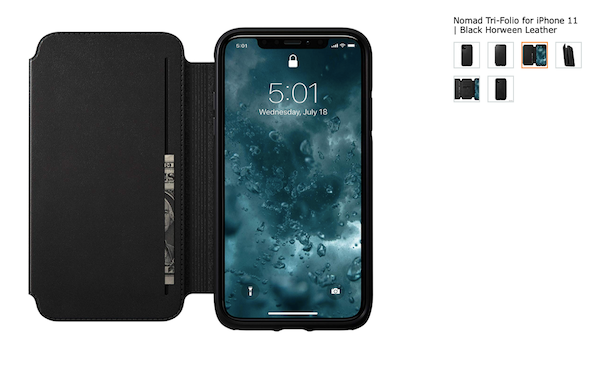 The Nomad Rugged Tri-Folio is proof that you can have your cake and eat it too. It's a well-designed leather case with a magnetic tri-fold that covers the screen of your iPhone and features pockets for cash and up to four different cards.
Nomad Rugged Tri-Folio on Amazon
---
OtterBox Strada Series: Sleek wallet and iPhone case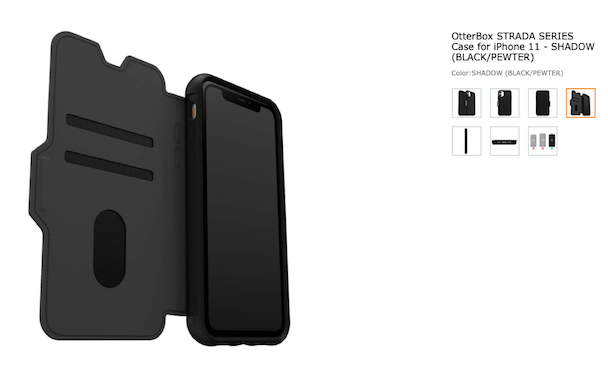 While OtterBox is typically thought of as being synonymous with large, bulky protective cases, the Strada Series proves otherwise. This sleek, modern case holds your iPhone and has a magnetic cover to protect the screen while also holding your credit cards, ID cards, and even cash. And, living up to its OtterBox reputation, it offers drop protection of up to 6.5 feet.
OtterBox Strada Series on Amazon
---
Choosing a case for your iPhone 11
At this point, you're probably realizing that there are multiple factors to take into consideration when it comes to choosing a case for your iPhone 11. You might want a case that offers the most protection without making your phone too bulky or heavy. A case that's too thick might not allow you to wirelessly charge your iPhone without removing it.
The right case for you will depend on how you plan to use it. If you want to use your phone while jumping out of an airplane, you'll need a more durable case than if your phone rarely leaves your pocket.
Is iPhone 11 the same size as iPhone XR?
Yes, the iPhone 11 and iPhone XR are the exact same dimensions. But since iPhone 11 has the extra lens on the rear camera, you can't use an iPhone XR case on iPhone 11.
---
Which is better, LifeProof or OtterBox?
LifeProof is going to offer the most all-around protection for your iPhone. Because it comes with a screen protector, it completely encapsulates your device, protecting it not just from being dropped but also provides protection from liquids, whether something is spilled on it or it gets submerged. That said, you are paying for that extra protection, as the LifeProof case is slightly more expensive.
---
What is the most protective iPhone 11 case?
Again, the answer here is the LifeProof FRĒ Series case. It offers complete protection from falls and liquids. It can even allow you to use your iPhone while underwater — if you ever find yourself in a situation where you need to do that.
---
There are a lot of great cases out there for your iPhone 11. The right choice for you depends on whether you want to keep your phone protected during daily usage or if you need something a little more heavy-duty. Or maybe you want a phone case that's more of a utility and can double as a wallet. Whatever prerequisite you have for an iPhone case, accidents do happen, and you would be smart to ensure that your iPhone 11 is protected.