The App Store version of CleanMyMac X slightly differs from the versions you'll find on other marketplaces. This means some features described below may be not available from the App Store due to its guidelines. Read more about different versions of CleanMyMac X.
When CleanMyMac X has done its job, you quit it. But, if you wish, you can keep its Menu active in the status bar. It'll both inform you of critical changes in your Mac and provide useful features.
The Menu icon appears in the Apple menu bar when you start CleanMyMac for the first time. So, you need to click the CleanMyMac Menu icon to access it.

Here's what you can do in the Menu:
Monitor available disk space
All internal drives are present as separate instruments in the Menu, each showing total capacity and free disk space.

Click Free Up: the Menu will offer you to open CleanMyMac and start a new Smart Scan.
Set a threshold for the minimum free disk space in CleanMyMac X Preferences and receive a notification from the Menu when it's reached.
Click on a drive icon to open the drive in Finder.
Free up RAM (Optimize)
If your Mac experiences a performance drop, click Free Up (or Optimize for the App Store version of CleanMyMac) in the Memory instrument. It'll optimize RAM to make way for more urgent processes.
Receive notifications when your Mac is running out of RAM. Or, turn off these notifications on the Menu tab of CleanMyMac X Preferences.
Clean up Trash
Get rid of the junk in all Trash folders, both the system and external ones, with a single click on the Empty button in the Trash instrument.
Set a threshold for the system Trash and get a cleanup reminder as soon as it's reached.
Get real-time protection
(not available from the App Store)
Be sure that every app you install is safe and get an urgent notification if some malware tries to infiltrate into your Mac.
Click Scan to start a thorough scanning for malicious software, or
If a threat is found, click Review to check it and then remove it.
Read more about the real-time protection and how to turn it off.
Control resource-consuming apps
(not available from the App Store)
Easily detect the apps extensively using your system resources, in particular, RAM, CPU, and battery: click the info-button in the upper-right corner of a corresponding instrument or, for the battery, look at the instrument.
Click Quit next to a demanding app to shut it down.
Find out your download speed
Define how fast your Internet connection is by clicking Speed Test in the Network instrument.
Then, try to click "Good for" to make sure the current speed suits your purposes (e.g., messaging, streaming, playing gaming).
Check current upload and download traffic.
Click the current traffic indexes to review the total amount of data received since the uptime.
Keep an eye on iOS devices
(not available from the App Store)
When you connect an iPhone or iPad to your Mac, the Menu shows it as a separate instrument with the storage and battery state details of the device.
Check occupied space in Dropbox
The Menu automatically shows the current level of available free space in your Dropbox if you're signed in with your Dropbox account.

Receive useful notifications
While the Menu is active, you receive useful tips and reminders. CleanMyMac X Menu:
Offers to completely uninstall an app when you drag it to the trash
Sends weekly cleanup reminders
Reminds about the overfilled Trash folder and cluttered drives, including external ones
Warns when your Mac is low on RAM
Helps you quit hung apps
If you'd like to review and configure a list of all CleanMyMac notifications, go to CleanMyMac X Preferences → Notifications tab: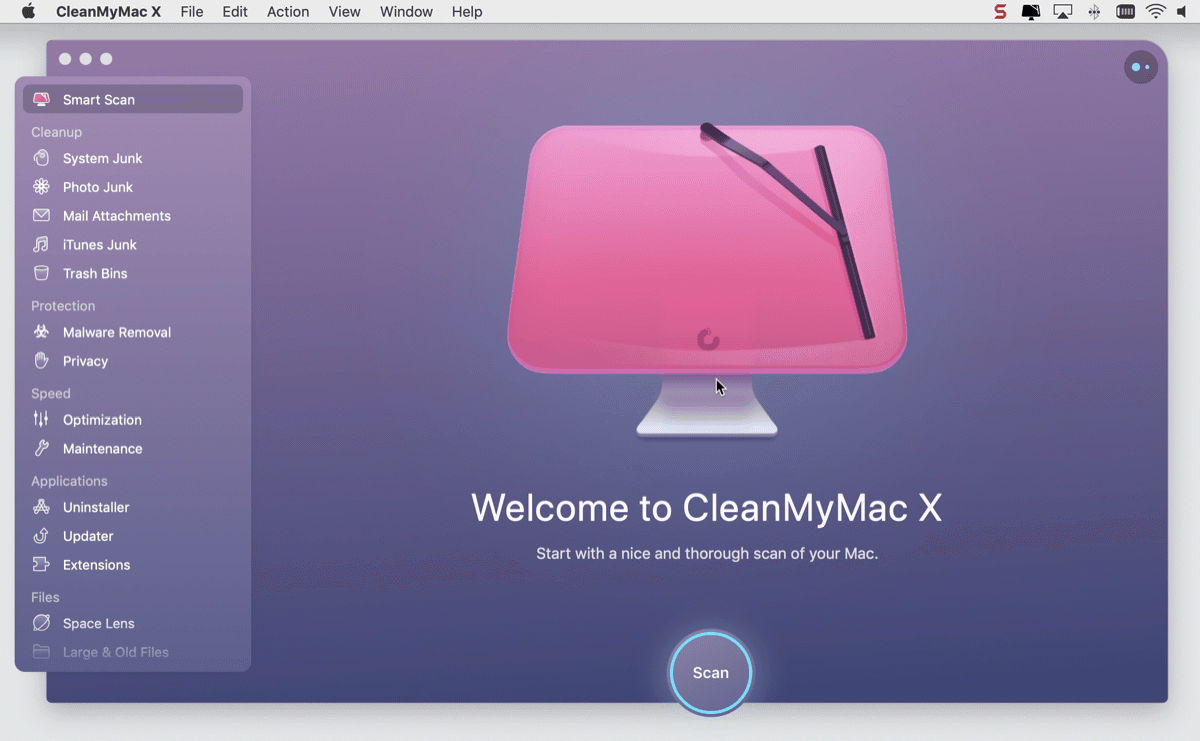 Customize the Menu
You can disable some instruments of the Menu or even turn it off completely on the Menu tab of CleanMyMac X Preferences. Just deselect a checkbox next to a corresponding option.
If you have any feedback, please share it with us.