CleanMyMac goes far beyond detecting malware and reveals potential cyber security threats too. Our researchers pay special attention to apps that are widely known as "potentially unwanted."
What is a "potentially unwanted application"?
Unlike malware, "potentially unwanted applications" (PUA), also known as "potentially unwanted programs," are usually downloaded willingly, can look good and do some useful stuff. However, they can do harm with their hidden maleficent functionality intended to track online and offline activities, hijack a browser, alter search results, and so on.
How does CleanMyMac identify PUA?
While analyzing a particular application, our malware researchers compare it with unwanted software behavior patterns. If the application works in a "tricky" manner or has some unsafe functionality, it can be identified as a threat.
Here are only some of the criteria that designate unwanted software:
Intrusive, obnoxious, or deceptive advertising
Running pop-up ads, overlays, and ad replacements
Aggressive or deceptive distribution, high-pressure selling
Applying scare or threatening tactics
Excessive, illegal, or deceptive modifications of system, security, and third-party application configurations (including changes in browser settings and installing various add-ons, toolbars, helpers that bring doubtful value)
Using fake installers for popular software to promote or distribute other apps
Malicious components or promotion of potentially unwanted software
Missing information about brand ownership, licensing policies; invalid digital certificates
Applying scam techniques
Making software hard to remove completely
Misleading or exaggerated claims, abusive content
Using private information without the explicit consent of the user, and so on.
To be more precise in the analysis and detection of cyber threats, CleanMyMac researchers improve and extend these criteria. However, we realize that there's always a chance to make false conclusions. So if you have another opinion and solid facts on some apps that CleanMyMac marks as unwanted or malicious, please let us know.
Also, if CleanMyMac offers to remove an app you trust, you can add it to the ignore list:
Control-click the application you want to keep and choose Add to Ignore List.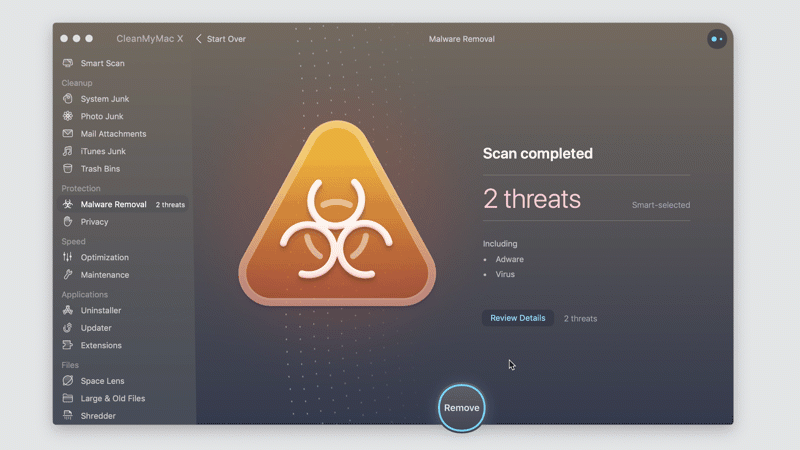 CleanMyMac won't show you this app in the scan results anymore.
Stay safe and contact us if you need assistance.