In today's world of high-end cameras, advanced applications and console-quality games, it's so easy for your iPhone to fill up storage very quickly. Even users with massive 64 GB storage models can find things get out of hands fast. So, if you're using the 8 GB or 16 GB model, chances are you'll see that pesky "Storage Almost Full" message much sooner.  
Luckily, there are lots of things you can do to make room on iPhone. Let's look at some ways that will allow you to clear space without deleting your favorite apps.
How to check what's taking up iPhone storage
Your iPhone may be full of things you don't really need. Since they may take a lot of valuable space, it's important to find out what actually eats up your storage.
Here's how to check what takes up storage on iPhone:
Go to Settings > General > iPhone Storage
At the top, you'll see how much space you've used and how much you have available. Below, there is a list of your apps ranked by how much space they take. You may tap the app's name to get more information about its storage.
Don't worry if your apps take much room on your phone. We realize that no one likes to be forced to delete applications, so we've prepared a few ways to free up space on iPhone without taking such drastic measures.
How to free up storage on iPhone
Here are seven easy ways to save your iPhone running out of storage. You're welcome!
Did you know?
In iOS 11, Apple brings storage management tools to your devices. This means that you get storage saving suggestions, uniquely based on your iPhone. This includes things like Reviewing Large Attachments and Conversations, Offloading Unused Apps, saving Messages to iCloud, and others. Therefore, if you're running iOS 11, go to iPhone Storage and check out the recommendations.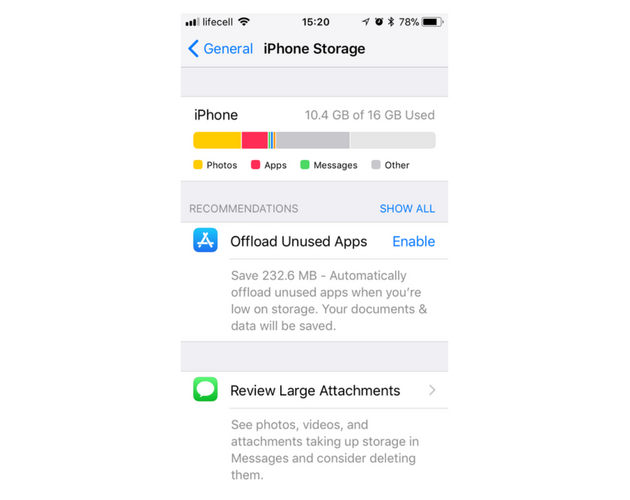 Transfer your photos and videos
If you use iPhone camera daily, you probably have too many photos and videos on your device. As technologies improve, the quality of images increases, files become larger, so your iPhone storage is being filled up more quickly than ever.
What to do? Transfer your photos and videos to your computer. If you have a Mac, the easiest way is to connect your iPhone and sync all media files. Then you can delete the original ones from your phone.
You can also upload them to an online storage service like iCloud. It's very convenient as iCloud Photo Library automatically keeps every photo and video you take in iCloud, so you can access your library from any device, anytime you want.
Here's how to upload photos to iCloud:
Sign in to your iCloud.com account. If you don't have one, create it.
Go to Setting on your device and select Photos.
Turn on iCloud Photo Library.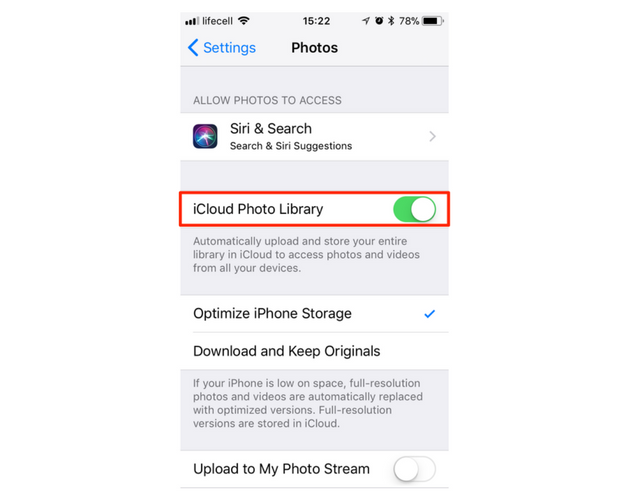 Now when you make edits on your iPhone or your Mac, the photo will update automatically across all of you devices.

Note that when you sync photos with your Phone, some pics stay cached on your Mac. This data only wastes space on your computer after the sync is done, so it's better to clear the iOS photo cache. A utility like CleanMyMac 3 is a good fit for the job (it's free to download). In just two clicks, you'll remove all the junk files from your Mac.
Please note that by default, you have 5 GB of free iCloud storage. And if you wonder how to manage it, check out a guide "How to clear iCloud drive."
Clear the "Recently Deleted" folder
Your iPhone has the "Recently Deleted" album which stores all photos you deleted in the past 30 days. These photos can quickly clog up storage space on your iPhone without you knowing. Moreover, let's face it — you meant to delete those photos forever.
Here's how to free space on iPhone by removing the recently deleted photos:
Open the Photos app and tap Recently Deleted.
Tap Select and choose all photos you want to delete by single-tapping on each one.
Then tap Delete.
Confirm that you want to delete the photos.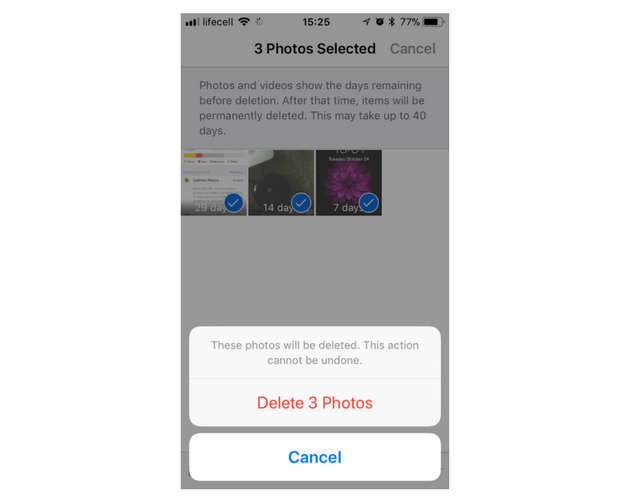 The selected photos will be removed from your iPhone.

Disable saving duplicate photos when shooting in HDR
When you take photos in HDR, your iPhone saves two shots: the original picture and the processed one. You will free up a lot of iPhone storage if you disable saving duplicates. Just do the following:
Go to Setting and choose Camera.
Enable "Keep Normal Photo."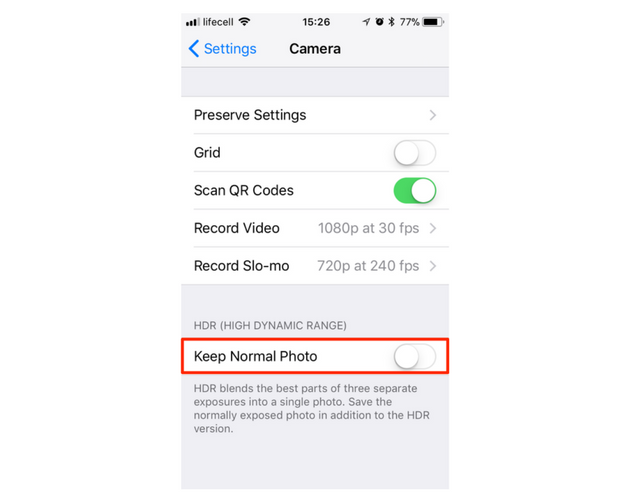 From now, only the HDR version of your photos will be saved.
Clear your browser cache
If you are used to surfing the internet via Safari or Chrome, beware that your phone may be storing caches and other data that you don't need. And you may be surprised when you see how much space you can free if you clear your browser cache.
Here's how to clear Safari cache:
Go to Settings.
Find Safari.
Choose Clear History and Website Data.
If you use Chrome instead of Safari, follow these steps:
Open Google Chrome on your iPhone.
Tap Options > Settings.
Scroll down and tap Privacy.
Tap Clear Browsing Data.
Choose which browsing data you want to clear (browsing history, cookies, cached images and files) and tap Clear Browsing Data.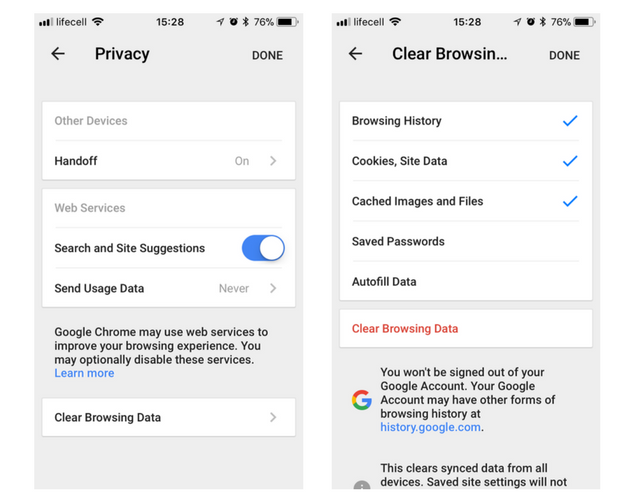 Delete "Documents and Data"
Documents and data are cached files stored by individual apps. As these files take a lot of your iPhone storage space, it's better to get rid of them.
Here's what you should do to delete documents and data of specific apps:
Go to Settings.
Tap your profile picture.
Tap iCloud.
Tap Manage Storage.
Choose the app which data you want to remove.
Tap Delete Documents & Data.
Tap Delete to confirm.
That's how you can remove the cache of some apps from your device and reclaim more free space.
Stop storing messages forever
By default, your iPhone stores all the messages you send and receive … forever. This is convenient if you want to read your 2-years-old conversation, not so convenient if you need to free up some space on your device.
To stop your phone from saving messages forever, follow these steps:
Go to Settings and tap Messages.
Scroll down to Message History and tap Keep Messages.
Change Forever to 30 days or 1 year.
You'll see a pop-up message asking if you want to delete the older messages, tap Delete to proceed.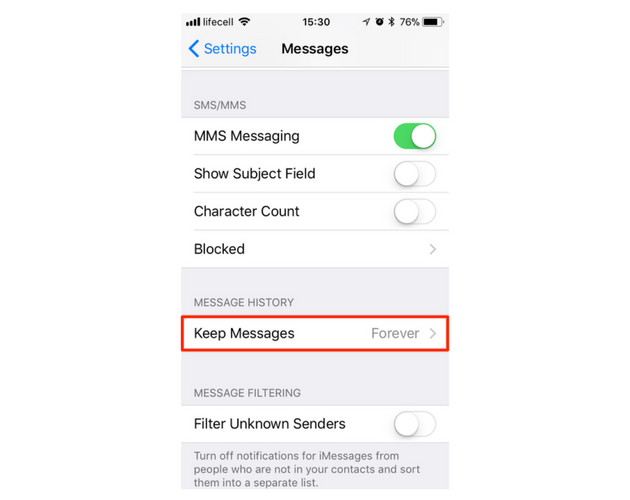 Delete downloaded music
You probably have many songs on your iPhone you don't listen to, which is why you should clear your playlists and albums a bit. Don't worry, it's as easy as pie. Open the Music app, go to the list you want, and swipe with your finger from right to left. Tap on the Delete key and the song will be removed.
If you want to delete all of your music, do the following:
Go to Settings > General > iPhone Storage.
Find the Music app, then tap it.
Under Documents & Data, swipe left on All Songs.
Tap Delete.
All the songs will be removed from your phone, so you'll have more space available.
Clear all voicemails
Likewise, your voicemails may take up a lot of storage, especially if you are a business person who gets tons of calls every day. You may think that when you delete a voicemail message, it's gone from your iPhone forever and you release some additional space. However, similar to the Recently Deleted folder, it doesn't work that way.
Voicemails that you "delete" are not erased; instead, they are marked to be deleted later and moved out of your inbox. They still exist until you "empty the Trash". To delete them for good and get more space on iPhone, follow these steps:
Tap the Phone icon.
Choose Voicemail in the bottom right corner.
Tap Edit and choose all voicemails you want to delete.
Tap Delete.
Go to the Deleted Messages folder and tap Clear All.
That's it. All your voicemails are permanently deleted from your iPhone.
---
We hope you found our troubleshooting guide helpful in tackling that annoying "Storage Almost Full" message. Enjoy taking new photos and don't worry about lack of space. Cheers!