How to delete files and folders on a Mac for good
If you're encountering any of these problems - including your Mac being warm to the touch and the fan making more noise than normal - you might need to delete some files and folders to create more space on the hard drive. In this article, we cover what you need to know to delete files, folders, and apps on a Mac.
How to delete files on a Mac
macOS provides 4 main ways of deleting files:
Trash bin
Terminal
Using software
Keyboard shortcut

Caution: Are your files backed up?
Using Time Machine, an external or third-party cloud-storage service, you can back-up your files and folders. Before you start deleting files, folders, apps, photos, videos, and anything else that is taking up too much space, have you given much thought as to whether what you are deleting is backed-up? You might want to keep a copy, just in case something later proves useful. So if you're using Time Machine, now is a good time to store everything in an external or cloud-based hard drive. Or if you're using a third-party storage system, now is a good time to get everything stored securely.
Unless everything is backed-up for any future use, once you've dragged files and folders into the Trash and emptied it — which you can do straight away or it will automatically empty after 30 days - you won't be able to retrieve what is taken to the Trash.
Dragging files to the Trash
Once everything is backed up, go through your Files, Folders, Desktop, Dock, Applications, and iCloud Drive. Drag everything you don't want to keep into the Trash. Another way to put something in the Trash is to press Command + Delete.
Can't delete a file? Unlock it first
If an item is locked, it will ask if you want to continue to put it in the Trash. Click Confirm. Or to unlock it first, select the item by going to File > Get Info (or press Command-I), and the deselect Locked tickbox. If you aren't logged in as an administrator it won't let you do this; it may require Mac's admin username and password to unlock a folder or file that is being moved to the Trash.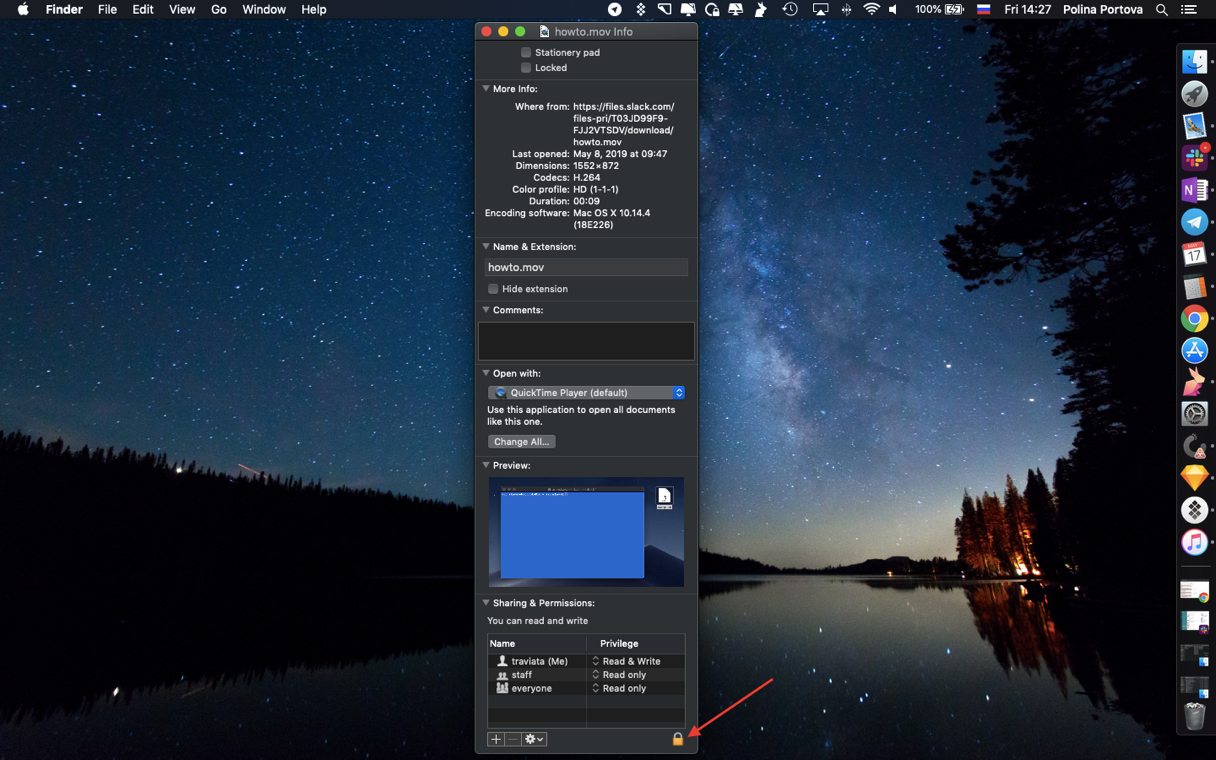 Now that you've got everything that needs to go, you can either empty the Trash straight away or wait for 30-days for the Trash to empty itself. Only once the Trash is empty will you gain the space your Mac needs to operate more effectively.
---
How to empty the Trash?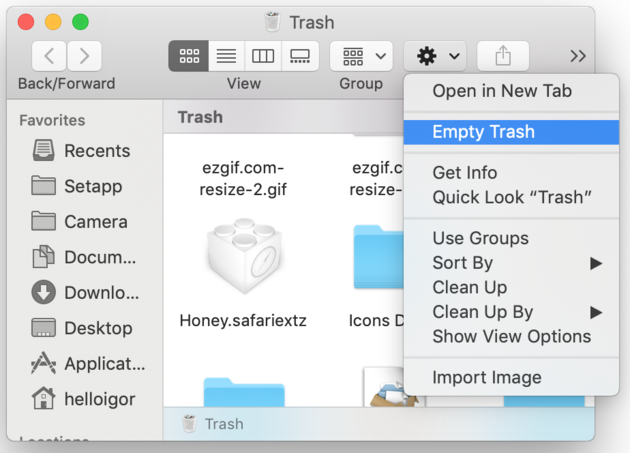 Open the Trash at the right-hand side of the Dock
If you only want to delete one item, select that item using Control-Click, then choose Delete immediately
A warning message always appears when you are going to delete anything. Make sure you do want to delete the item as it can't be retrieved once this is done. Select Delete.
To delete everything in the Trash - again, make sure you do want to do this, or that the items your deleting are backed-up. Click the Empty button in the upper-right corner of the Finder menu.
A warning icon will appear again. Click Empty Trash to accept and delete everything that is taking up too much space.
How to find and delete the unseen files?
Some files on your Mac were intentionally hidden by the operating system. They could be critically important Library files or invisible folders created by malicious apps. And besides that, any Mac has folders tucked away so deep they are impossible to dig out.
Recently, CleanMyMac X came up with a tool that solves this problem. The instrument is called "Space Lens" and it builds the entire storage map of your Mac. You can see the "visualized tree" of all your folders and how big they are. For example, I was able to find a 30 GB backup folder that was (as it always happens) titled "dfdfd" that had been stored away somewhere deep in my Docs.

You can try searching for your own hidden files with Space Lens:

Download CleanMyMac X — a link to the free edition
Run the app and click Space Lens in the sidebar
It looks like this: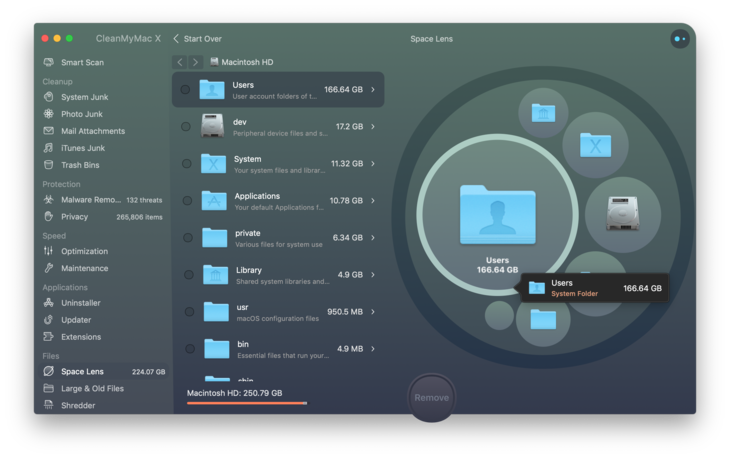 CleanMyMac X's Space Lens quickly identifies what is taking up so much room on your Mac.


Delete Mac files immediately bypassing Trash
If you have OS X 10.11 El Capitan or a more modern macOS, Apple introduced a quicker way to delete anything you don't want immediately. Highlight the file or files you want to delete, then hold down the Option-Command-Delete key. Caution: there's no way back!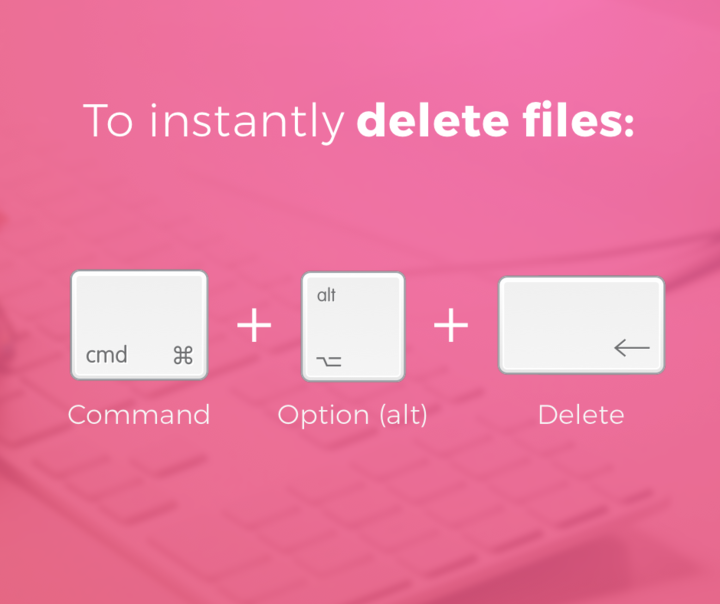 More shortcuts for deleting files
To select folder contents: Cmd + A
To delete a group of files after selection: Cmd + Delete
To empty the Trash: Cmd + Shift + Delete

How to delete files on your Mac forever?
Whether you're deleting files, folders, apps, or videos, the process is the same for whatever is being deleted.
But even after you empty your Trash it's still possible to retrieve the deleted data. The only reliable way to fully eliminate the data is to write new information over it.

If you want your folders gone without a trace, use a shredder application. It overwrites the deleted files with random ones and zeroes so they become unretrievable.

This Shredder tool is a part of CleanMyMac X and is 100% free.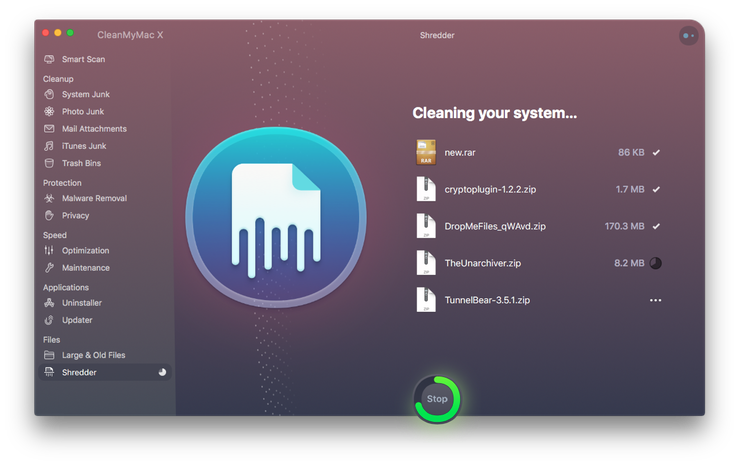 Click Shredder in the sidebar
Now, drag the unneeded files onto the Shredder

Be careful: you're about to destroy your files for good.
---
Now you know everything about deleting files on Mac. Hope you found this article helpful.