How to get rid of adware on your Mac
Adware is an unwelcome intrusion in many browsers. It attempts to trick or force you into clicking through to a website you weren't planning on visiting to generate revenue for the company that produced it. Some versions of ad software also contain hidden viruses, posing a serious risk to your Mac and the data it contains.
Fortunately, there are ways to remove this rogue software manually via your browser and your system files, and with a cleaner tool like CleanMyMac X. We'll take you through each of these methods to help you get rid of adware on your Mac for good.

What is adware, and what does it do to your Mac
Adware is not necessarily a virus. It is a type of malicious software responsible for those unwanted pop-up ads you see when you're online. Adware may turn your browsing experience into complete chaos opening pages you didn't intend to visit and showing ads non-stop. It may even sell your data to third parties and put your computer at risk.
The symptoms of an adware infection
Take a look at these symptoms to see if any are familiar:
Several pop-ups appearing when you click on links that advertise fake updates or software
More ads than you're used to in search results and webpages — particularly banner ads or in-text advertisements in content
Your homepage redirects to another website
The link that you click in search results redirects to a different website
Mac performance seems much slower than usual
Unwanted toolbars appearing in your browser
If you've noticed any of the things happening when browsing the internet on your Mac, you're almost certainly dealing with adware. In which case, you need to take action.
---
This is how adware actually looks like
This string of code is an example of an adware program on Mac. As you can see in the third line, it "loads offers" for the user, which to you look like intrusive banners and pop-ups.

How to remove adware from your browser
To remove adware from your Mac, you need to change your browser preferences and dig into your system files to find and remove the culprit.
Let's start with the browser. How to stop adware in your browser:
1. Block ads with ClearVPN
We've created the perfect solution to help you block ads and protect you from irritating adware while browsing. MacPaw's ClearVPN is the first effortless VPN for a personalized and secure online experience. The app's "Block ads" shortcut will protect your internet session from ads with just one tap. Furthermore, you won't have to worry about tracking from ad companies anymore. So enjoy your clear internet with ClearVPN!
2. Disable unrecognized extensions
Extensions are an important part of the browsing experience, but you shouldn't have anything that you don't recognize. For example, if the name of a pop-up isn't familiar or you don't know what it does, disable it.
Disabling extensions in Safari
Go to Preferences > Extensions.
Select an unfamiliar extension from the list and click Uninstall.
Disabling extensions in Chrome
Go to chrome://extensions.
Find any unfamiliar extensions in the list and click Remove.
3. Check homepage and search engine settings
Finally, make sure adware hasn't changed your browser homepage or search engine settings.
This can be done in the General tab of the Safari browser preferences or the On Startup and Default Browser sections of the Chrome browser settings.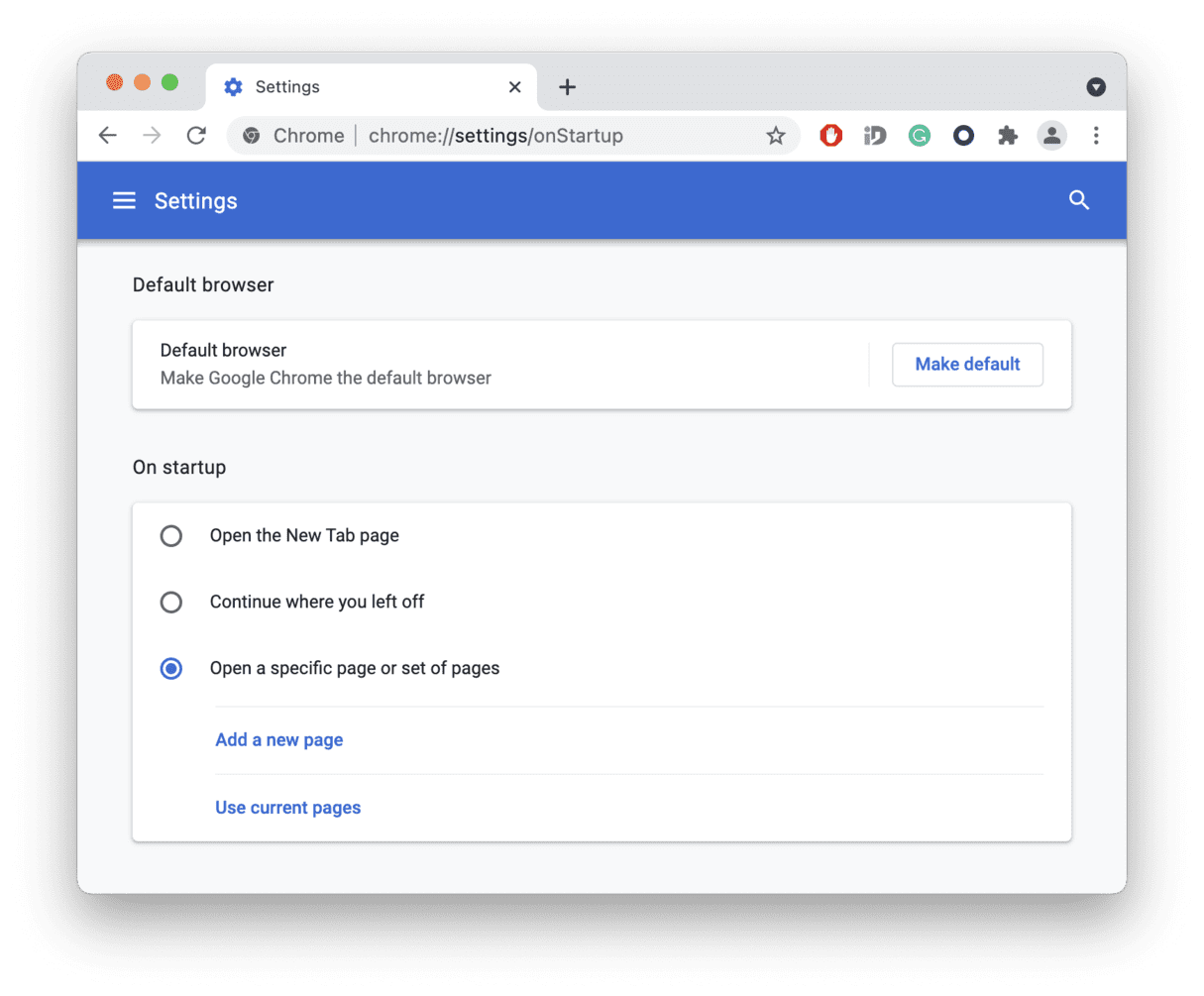 ---
How to remove adware from your system
Tackling adware in your browser will help to improve your browsing experience, but it doesn't guarantee to free you from the virus completely.
Adware often finds its way onto your system by bundling itself in with legitimate Mac software and is installed at the same time. So you're going to need to delve into your system files to root out the adware and delete it. You can do this manually or with an adware remover application like CleanMyMac X.
Because of the way a manual deletion works (sending files to the Trash), CleanMyMac X is the preferred option. A file placed in the Trash and removed can leave behind associated files that lie deep inside system files, meaning the pesky adware still exists on your Mac. CleanMyMac X, on the other hand, scans your system for any leftover parts and removes them in full.
Remove adware from Mac with CleanMyMac X
CleanMyMac X can detect and remove thousands of threats, including adware, viruses, worms, spyware, and more. With its dedicated Malware Removal tool, you'll stay safe.
Here's how it's done:
Download the free version of CleanMyMac X and launch it.
Click on Malware Removal from the sidebar menu.
Click Scan.
Click Remove.
Another useful feature of CleanMyMac X is real-time monitoring. It checks your Mac in a background mode and notifies you if any adware app attempts to infiltrate your Mac.

Remove adware from your Mac manually
If you'd prefer to remove potential adware manually before opting for an app like CleanMyMac X, it's easy to do, albeit a little more time-consuming.
From the LaunchPad open Activity Monitor.
Find the suspect applications (Genio and InstallMac are common culprits) and click the Force Quit button in the top left corner of the window.
Go back to your applications and drag the app to the Trash.
Restart your Mac and empty the Trash.
Tip: If your Chrome or Safari browser is infected with adware, uninstall it and download it again.

How to avoid being adwared
Use ClearVPN's handy shortcut to block all ads.
Google the original developer and download the app from that source.
Avoid installing apps in a bundle (an offer that's included with the main app).
Read some independent software reviews beforehand.
Get a Mac antivirus that works in real-time.
Be extremely suspicious of email attachments.
Don't download anything from banners; google it yourself.
Never engage with adware
Adware seeks to steal your money and your personal details and does so by damaging system performance. If you're worried that your Mac could be infected, err on the side of caution and follow the instructions in this post to lock down your browser and delete files. If you suspect that adware has installed itself on your system, get our app, CleanMyMac X to ensure you get rid of it for good. And regular scans are a healthy practice.
CleanMyMac X is recommended by MacStories and MacWorld Magazine as a top Mac utility. Download it today to keep your Mac safe from harmful adware.