⚠️ Before you read this article, please note that since April 19, 2023, MacPaw no longer sells, updates, or develops CleanMyMac 3. You may still use CleanMyMac 3 if you have a license; all details are in this article.
We recommend upgrading CleanMyMac 3 to CleanMyMac X at a 50% discount; learn how to upgrade.

CleanMyMac 3 provides various cleanup and maintenance functionality that can be customized in its Preferences. Here you can speed up scanning process, choose files and folders that must be ignored by CleanMyMac, change privacy settings, enable maintenance notifications, and so on.
Open CleanMyMac 3 Preferences
To get to CleanMyMac 3 Preferences, do the following:
Open CleanMyMac 3.
Click on the CleanMyMac 3 menu in the upper left corner of the screen and choose Preferences.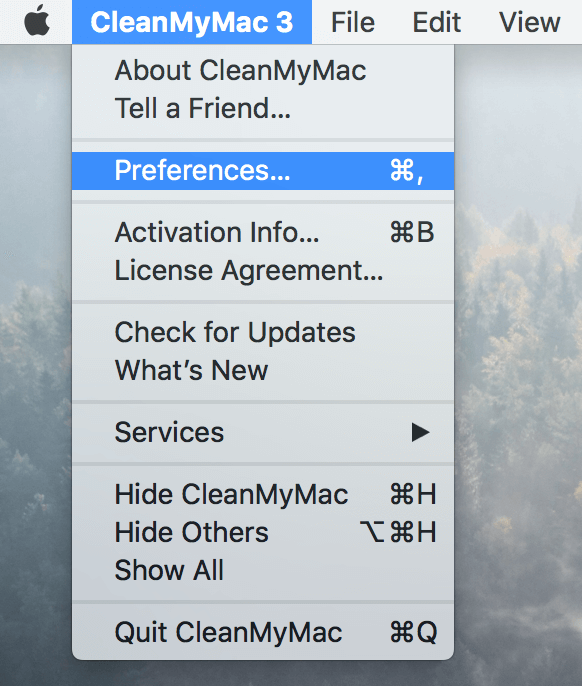 Now, you see the General tab of CleanMyMac 3 Preferences.
Preferences tabs
General
The General tab allows you to do the following :
Manage sounds, animations, and notifications in CleanMyMac 3: Select or deselect appropriate checkboxes.
Reset all warning notifications received earlier from CleanMyMac 3: Click Reset All Warnings.
Configure the languages ignore list (languages that must not be removed from your system and applications).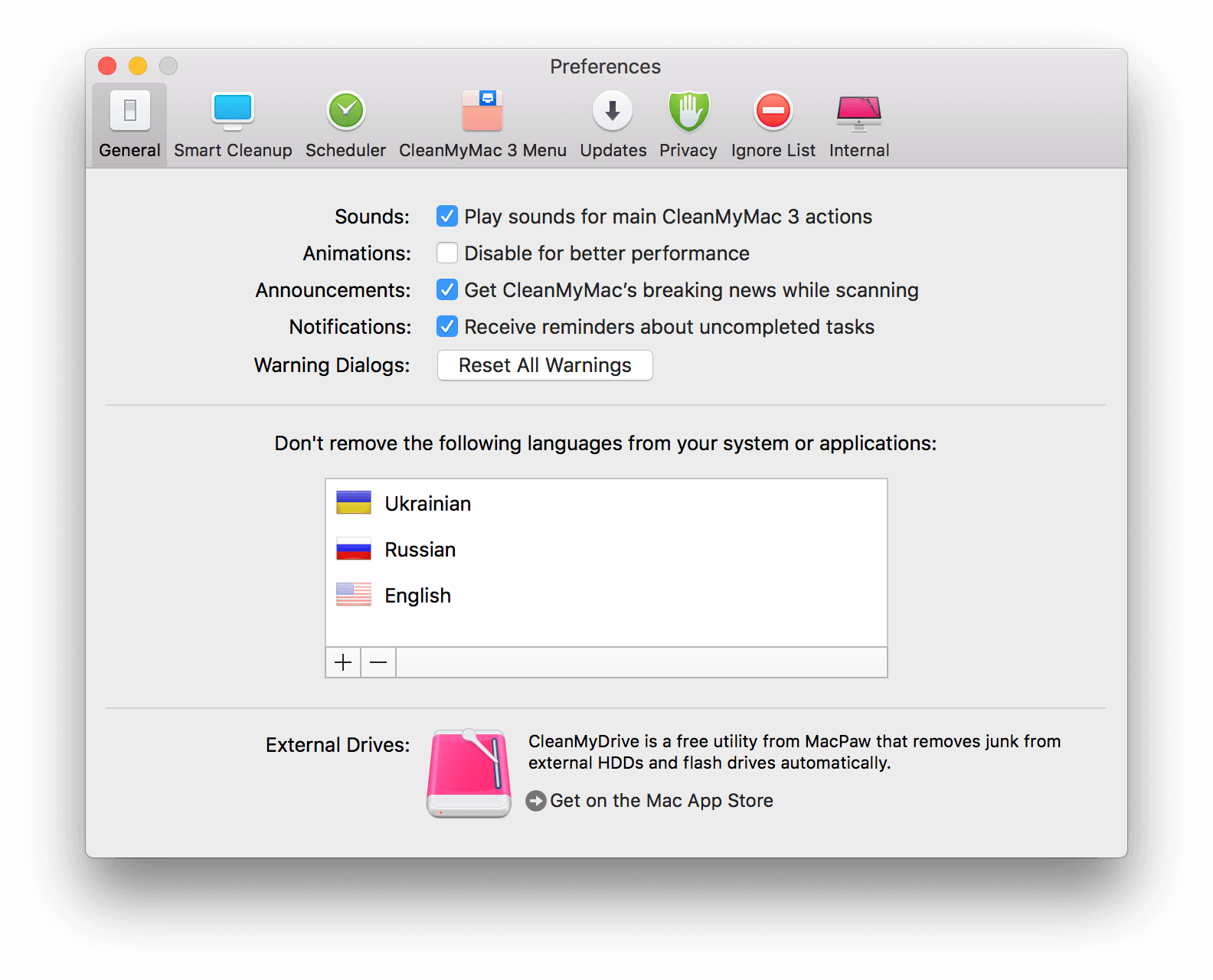 By default, CleanMyMac 3 adds to this ignore list all languages specified in the "Preferred languages" list in the Language & Region macOS preferences: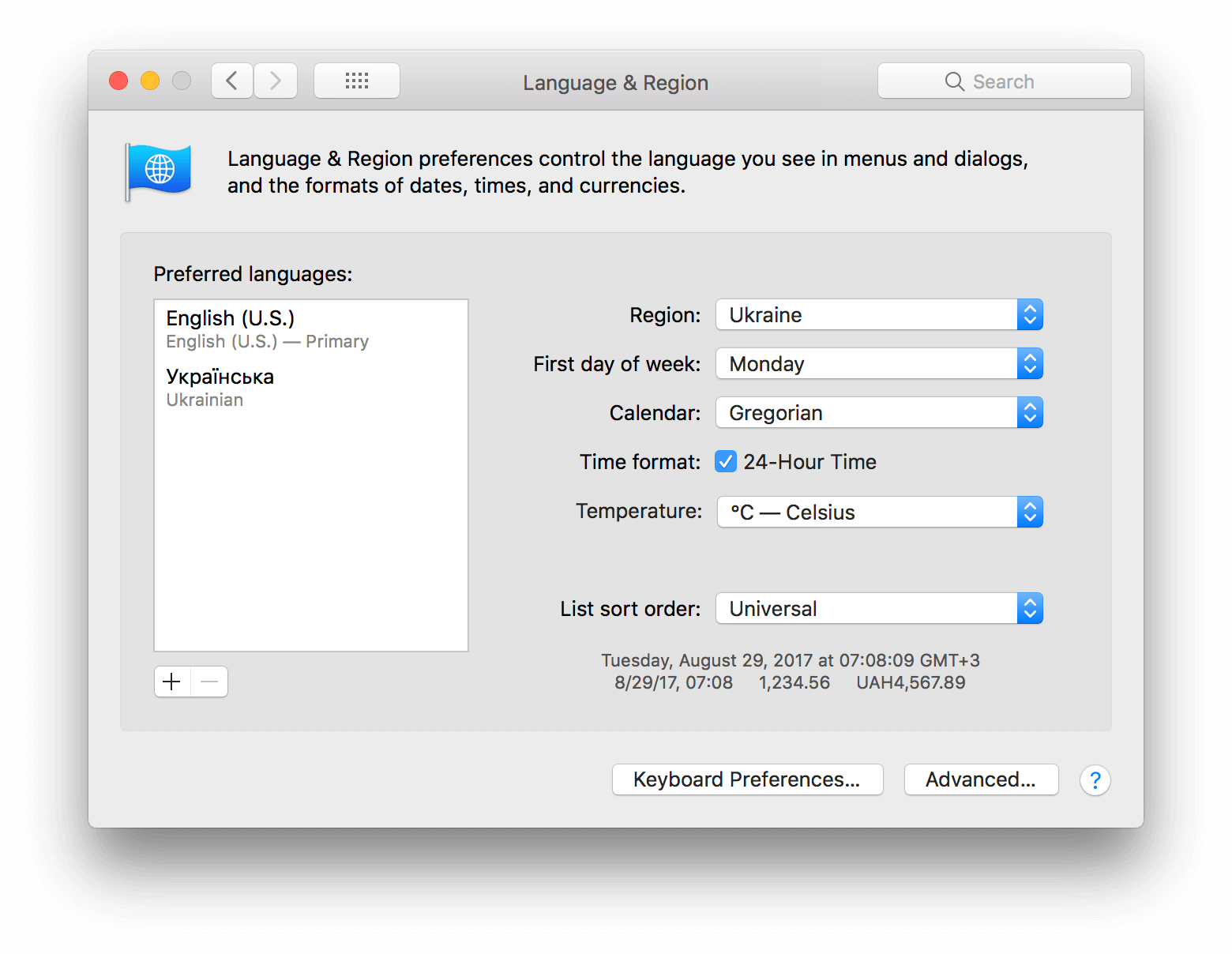 If you'd like to keep more languages on your Mac, do the following:

Open Language & Region preferences (e.g., type "Language & Region" in Spotlight).
Add those languages you'd like to keep on your Mac to the "Preferred languages" list.
Restart CleanMyMac.
Click Add (+) on the General tab of CleanMyMac Preferences.
In a dialog that appears, choose languages you want to add to CleanMyMac's ignore list.
Smart Cleanup
When you initiate Smart Cleanup analysis, CleanMyMac 3 starts all its cleaning modules to find as much junk on your Mac as possible. However, you can change a list of modules and even submodules launched during the scanning. This feature is available on the Smart Cleanup tab of CleanMyMac Preferences and particularly useful if you want to skip some "heavy" modules.
Exclude a module or submodule from a scan list: Deselect the checkbox next to the module/submodule on the Smart Cleanup tab of CleanMyMac 3 Preferences.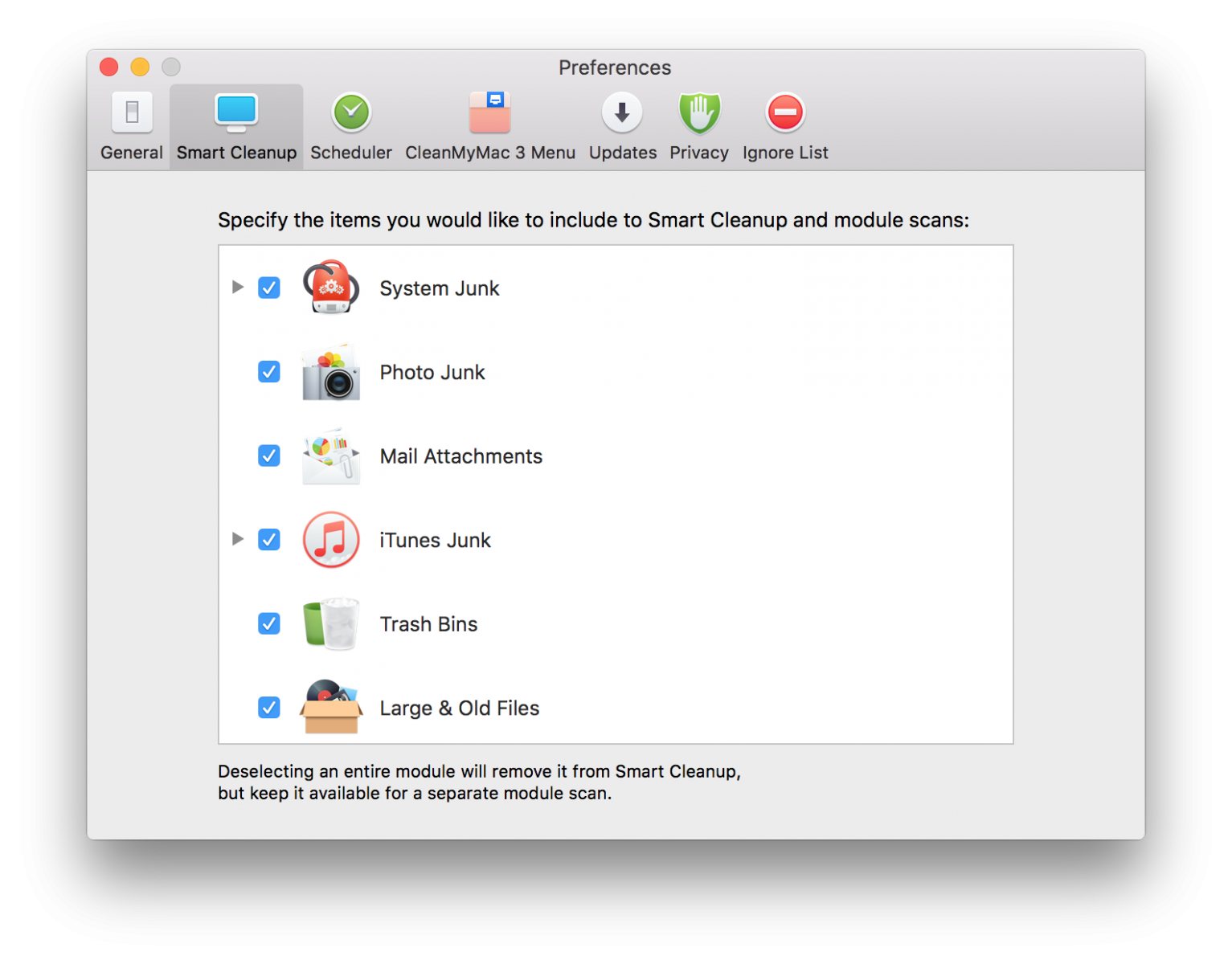 Note that if you deselect a submodule of System Junk or iTunes Junk, it won't be involved in a separate scanning process of the corresponding module too. For instance, if you deselect iOS Software Updates of the iTunes Junk module, CleanMyMac won't launch this submodule during both System Junk and Smart Cleanup analysis.
However, if you deselect the entire System Junk or iTunes Junk module, CleanMyMac won't use it during Smart Cleanup but you still will be able to start it as a separate module.
Scheduler
The Scheduler allows you to choose periodicity of reminds about regular cleaning procedures on your Mac. Also, you can set CleanMyMac 3 to either start a full scan or simply launch the app by the click on the Scheduler notification.

CleanMyMac 3 Menu
On the CleanMyMac 3 Menu tab, you can configure CleanMyMac's menu bar assistant that is usually located in the upper right corner of your Mac.
CleanMyMac 3 Menu monitors health and performance statuses of your Mac and informs you of critical changes. Also, it provides a set of useful tools that helps you free up some disk space and memory without even starting CleanMyMac.
So, that's how you can change CleanMyMac 3 Menu:
Enable/disable CleanMyMac 3 Menu: Click on the switch to turn it on and off, respectively.
Please note that CleanMyMac won't be able to send you important warnings and health alerts if you disable CleanMyMac 3 Menu (unless CleanMyMac 3 is launched).
Set free disk space notifications: Choose an appropriate option from the list of minimum free space thresholds for the startup drive.
Change Trash bin limits: Choose the maximum allowed amount of files in the Trash folder.
Uninstall apps correctly: Select the appropriate checkbox to get reminders about complete app uninstallation when you drop it to the Trash.
Turn on App monitor: Select the appropriate checkbox to get help when some application stops responding.
Reset Health and Monitoring: Click Reset All Warnings to clean up the history of warning and status notifications received via CleanMyMac 3 Menu.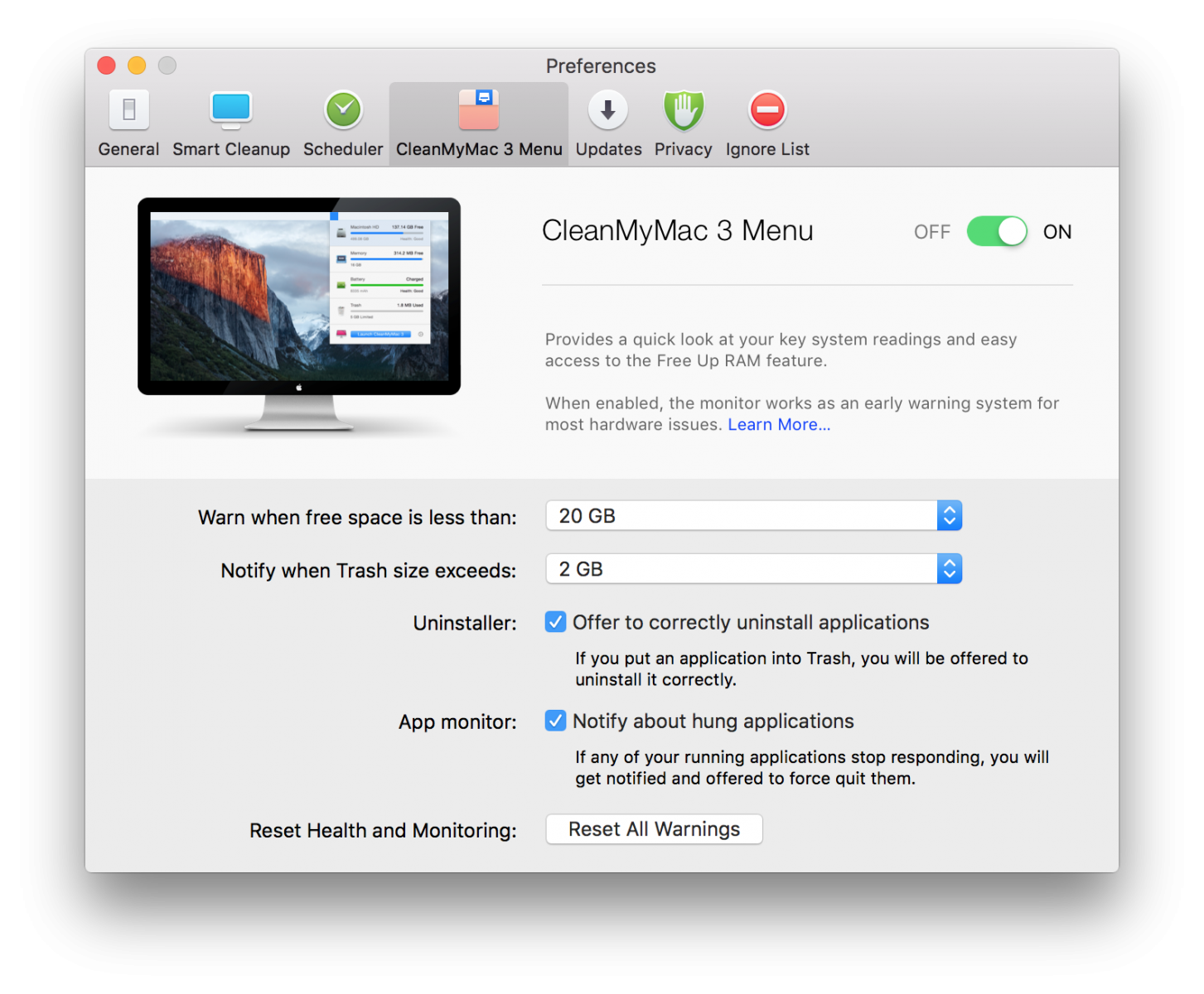 Updates
On the Updates tab, you can configure CleanMyMac's update process:
Get a notification when a new update arrives: Select the "Check for updates automatically" checkbox.
Download and install updates automatically: Keep the "Download updates in the background" selected.
Enable updates of the Safety Database: This option allows you to get recent updates of the Database, which ensures that all apps are treated carefully and none of vital files is removed from your Mac. Probably, you would like to keep this checkbox selected.
Become CleanMyMac's beta-tester: If you want to become one of the first to try our new experimental (and, therefore, sometimes not really stable) features, selected "Update to Beta versions." We'll gladly send you this type of updates but please think twice before selecting this option.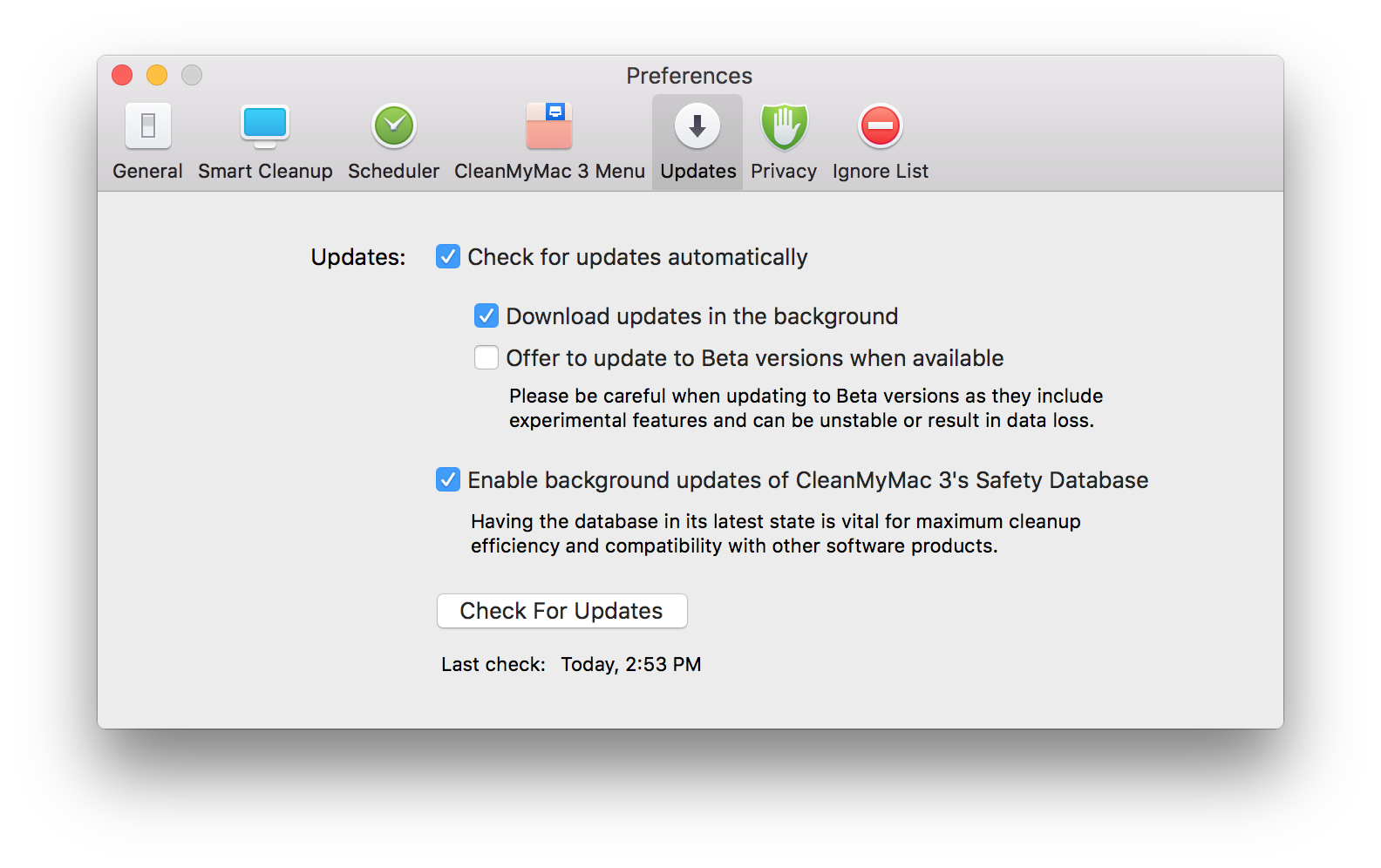 Privacy
On the Privacy tab, you can disable anonymous sharing of technical data. Anyway, we'd ask you to keep this setting as is - we don't get any personal information, only technical details that help us improve CleanMyMac.
Also, this tab contains the Extended Logging feature that allows CleanMyMac to keep a track of all removed items (except those erased securely). This information is used in emergency cases by our technical specialists.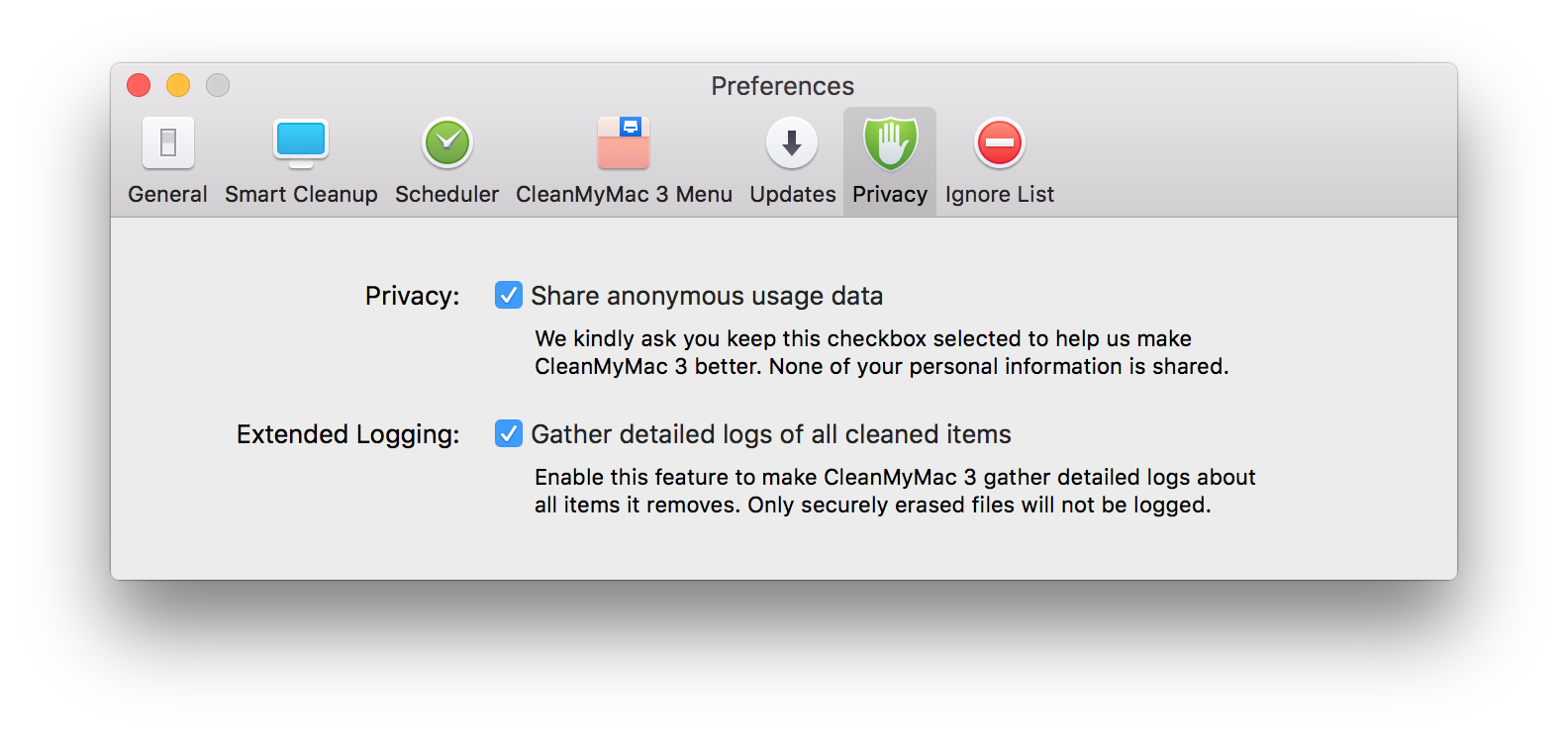 Ignore List
The Ignore List tab allows you to select applications, files, and folders, which you would like to be ignored during CleanMyMac 3 scanning. In other words, when you add items to this tab, CleanMyMac 3 stops displaying them in the scan results so that there was no chance to removing something you need.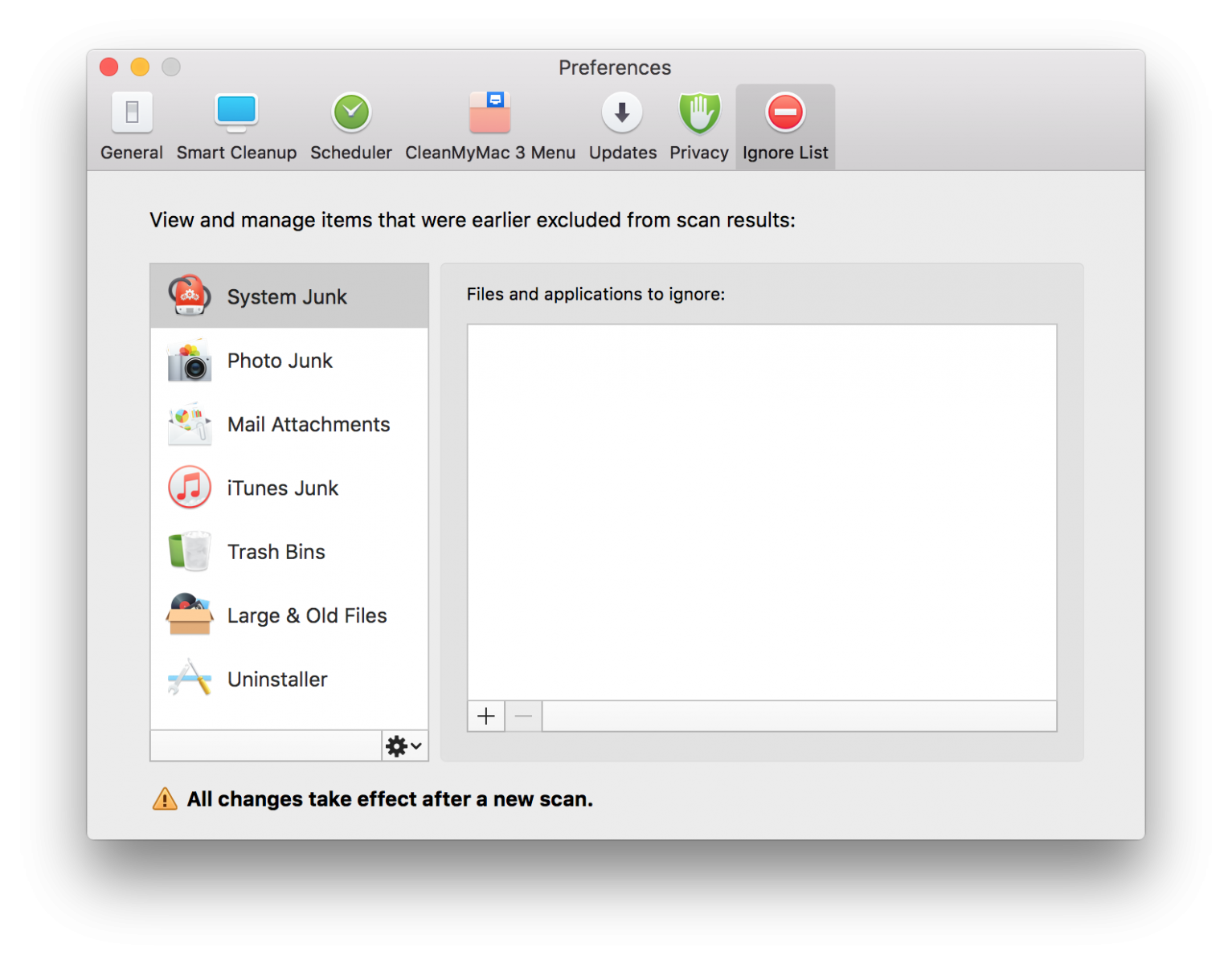 More information about how to configure CleanMyMac 3 is provided in User Guide (Manual).