⚠️ Before you read this article, please note that since April 19, 2023, MacPaw no longer sells, updates, or develops CleanMyMac 3. You may still use CleanMyMac 3 if you have a license; all details are in this article.
We recommend upgrading CleanMyMac 3 to CleanMyMac X at a 50% discount; learn how to upgrade.

Activating CleanMyMac 3
Activation is a sequence of simple steps that adds a license you've purchased to CleanMyMac, and thus removes all limitations of the trial version. To unlock a full version of CleanMyMac, you need to buy its license and enter a unique activation number in the License Activation dialog.
If you already have a CleanMyMac 3 license, simply follow the steps below (otherwise, visit our Store):
Open CleanMyMac 3.
Click the Unlock Full Version button in the upper left corner of the window.

Click the Enter Activation Number button and then paste your activation number in the License Activation dialog.
NOTE
After you purchase CleanMyMac 3, we send a license activation number to your email. Check it and copy your activation number to the License Activation dialog.
Done! If you entered an activation number correctly, CleanMyMac switches you to its full version automatically.
Starting your first scan
If you've already activated CleanMyMac 3, it's right time to check your Mac for unneeded files and find out how much disk space you can free. The easiest way to do it is scan your computer with the Smart Cleanup module.
Smart Cleanup is an essential CleanMyMac 3 module that incorporates capabilities of all its cleaning modules.
Click Smart Cleanup in the upper left side of the CleanMyMac window.

Click Scan at the bottom of the window. Alternatively, just press Return.
The scanning process looks like this: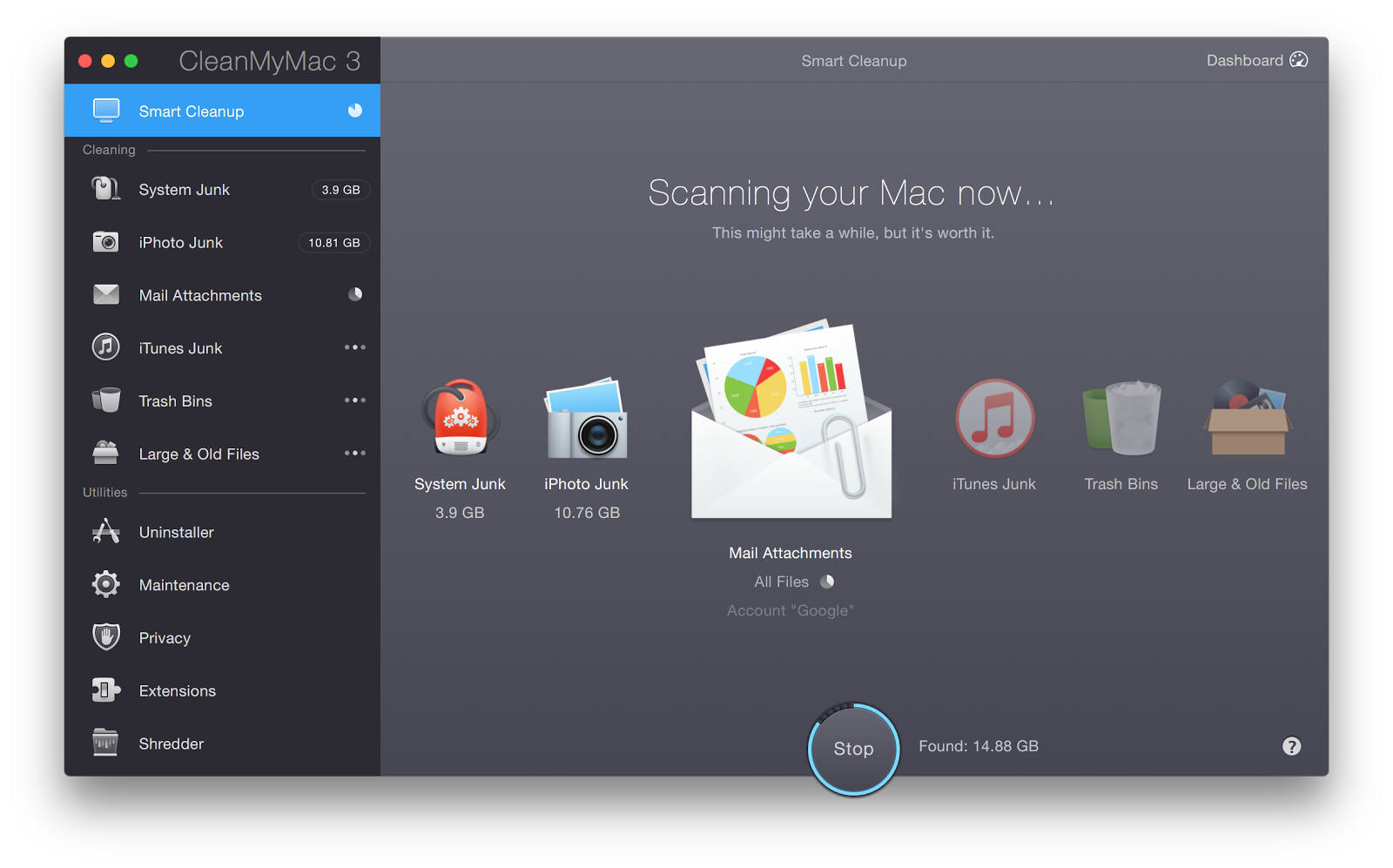 When all of your Mac data is analyzed, you see a results preview screen.
While scanning your Mac, CleanMyMac 3 selects only those files that are absolutely safe for removal: unneeded, outdated or broken files that were created by the system or apps automatically. This approach is called Smart Selection.
Cleaning up your Mac
You can easily remove files selected for you by the Smart Cleanup module using any of this methods:
Click Clean at the bottom of the window.
Choose Action → Clean.
Press Return.
If you want to discontinue cleaning process, click Stop.
Now, your Mac looks much better! You should also try other modules and utilities to make your Mac even cleaner. Using them is nearly as easy as using Smart Cleanup. If you're looking for more information on how to use other CleanMyMac modules, check out our video tutorials and FAQs.