⚠️ Before you read this article, please note that since April 19, 2023, MacPaw no longer sells, updates, or develops CleanMyMac 3. You may still use CleanMyMac 3 if you have a license; all details are in this article.
We recommend upgrading CleanMyMac 3 to CleanMyMac X at a 50% discount; learn how to upgrade.

Sometimes Finder and CleanMyMac may display different sizes of files and folders or even different amount of free and used space on the disk. Moreover, Finder may show the same file having a bit different sizes, depending on where you check it.
Generally, what you see in a Finder window is a file's actual size. However, if you open the file's Info (control-click the file and then choose Get Info), you'll see that it also has a so-called 'on disk' size, which is specified within brackets: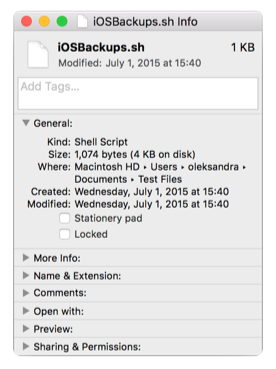 As you see, the size of the iSOBackups.sh file on the disk is nearly three times bigger than its size displayed in a Finder window.

Roughly speaking, all data is written to the disk in small blocks, 4 KB each. This 4 KB block is a minimum unbreakable space unit, and even if a file needs only 1 KB of disk space, its size on the disk will be 4 KB (which is also a minimum possible size of a file). Similarly, if a file weights 13 KB, it will need 16 KB of disk space. So, the size of a file on the disk is always divisible by 4 KB, even if its real size cannot.
Unlike Finder, CleanMyMac always displays the item's size on the disk to be more precise in calculations of free and used disk space.
Another reason for displaying different item sizes is HFS+ compression. Finder calculates the size of files and folders under HFS+ compression as if they haven't been compressed. CleanMyMac, on the contrary, takes into account a real size of items in their current compressed state (in other words, shows the 'on disk' size of files).
We believe that our users would prefer having more accurate disk space estimation and, thus show item sizes based on used physical disk space.