⚠️ Before you read this article, please note that since April 19, 2023, MacPaw no longer sells, updates, or develops CleanMyMac 3. You may still use CleanMyMac 3 if you have a license; all details are in this article.
We recommend upgrading CleanMyMac 3 to CleanMyMac X at a 50% discount; learn how to upgrade.

Your CleanMyMac activation number can only be used on one computer unless you bought a license for multiple Macs.
So, if you want to transfer your CleanMyMac license to another computer, you should cancel the current activation first. You can do it in two ways.
Use the License Retrieval system
If you have already uninstalled the app, or do not have access to the computer anymore, or forgot the activation number, please use the License Retrieval system:
Open the License Retrieval system.
Enter your activation number, activation ID, or email that you used to purchase the license, and click Retrieve.

You'll see a list of all the licenses registered under this email.

Select the license you need and click "Send to email" next to it.

After that, you'll receive an email with your activation number.

To reset your license, just scroll down a little and click the Reset License button.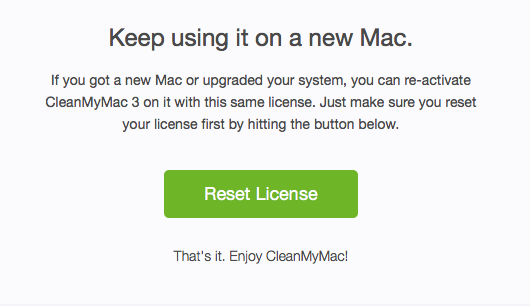 Reset your license manually
Alternatively, if CleanMyMac is still installed on your Mac and you can open it, do these:
Launch CleanMyMac 3 on your old Mac.
Click on CleanMyMac 3 in your menu bar and choose the Activation Info option.

Click Deactivate License in the Activation Info dialog.
Click Disable License in the confirmation dialog that appears.
That's it! Now the license is disabled, and you can use the activation number on your new Mac.
In case you face any problems, contact our Customer Support for assistance.