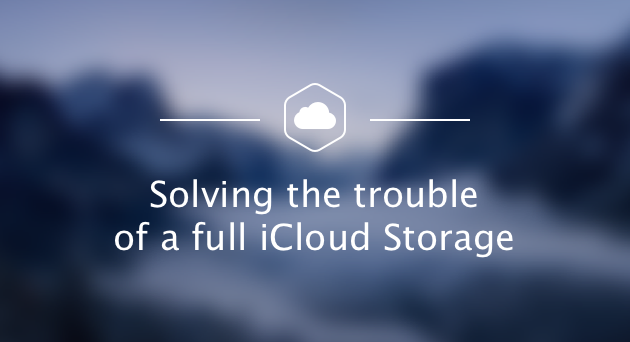 iCloud is a great way to sync your apps and keep the files you need available on any device. But a default account only has 5GB of free storage space and it's pretty obvious that 5GB is hardly enough even for backups. That's why you've probably encountered "Storage almost full" or "Not enough storage" alerts at some point and wondered what you were supposed to do now.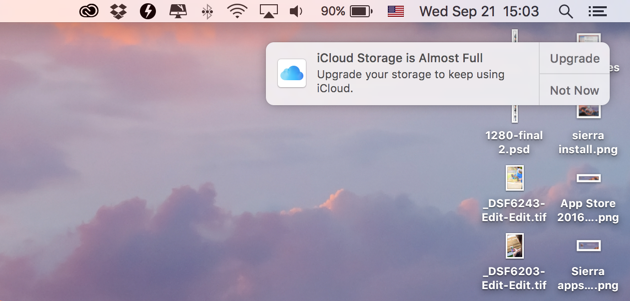 Both alerts mean the same: you've run out of free storage or reached the limit of your paid plan. It might seem like you only have one option at this point, which is to upgrade your plan and purchase more iCloud storage space, but it's not quite true. Here we'll go over your second choice as well.
---
Choice #1. Buy more iСloud storage
This is an obvious way out if you're not too short on budget and don't mind spending money on storage every month. In case you do, proceed to Choice #2.
Also, if you're running macOS Sierra, iCloud has a special place in your heart. Sierra automatically syncs your Desktop and Documents folders with the cloud. And you probably already know that should you lose attention for just a few weeks and leave a bunch of stuff on the Desktop, that's it, your iCloud storage is full. In this case, buying more iCloud space is not always the best solution because you'll have upgrade iCloud storage space over and over again. Maybe reconsider your file-keeping policies or turn off the sync.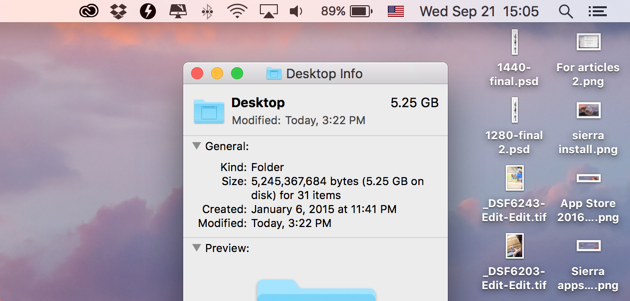 So, how to buy more iCloud storage? Getting more space is easy, and you can do it from any device, including your iPhone. On your Mac go to Settings > iCloud > Manage > Buy more storage. On the iPhone it's almost the same, only from the iCloud app you're going to Storage and Backup and then choosing Buy more storage.
The next logical question you have is how much does iCloud storage cost? Well that depends primarily on your location and how much storage you'd like to get. There are plans for 50GB, 200GB, and even 1 or 2TB. The exact cost is stated right in the menu when you open it, next to the gigabyte plan.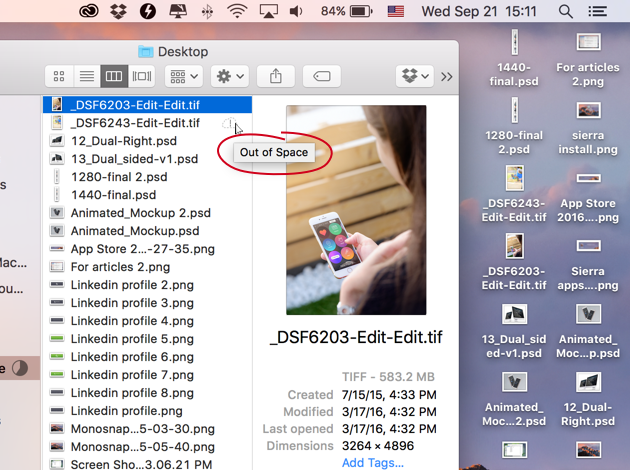 Important notice: Keep in mind that you're getting this storage to fill with your files once, but you'll have to pay monthly to use it. Skipping payment or downgrading may result in loss of data, failed backups, and a number of other issues. So before you sign up for the paid plan, make sure you'll be able to afford it in the months to come without fail.
---
Choice #2. Free up space on iCloud and on your Mac
There is a way to avoid paying for large amounts of storage, but it will only work if you don't need every last file you have in the cloud.
When it makes sense to free up iCloud
1. You're running macOS Sierra. Which means your Desktop and Documents folders are automatically synced across your devices, which means everything in those folders is stored in iCloud Storage.
2. You have Optimized Storage turned on. Sierra automatically moves your old and useless files into iCloud, cluttering it with junk.
3. You're not sure what fills your iCloud, but it's not the files you regularly use.
How to clean up iCloud storage space
Just like everyone else, for some reason I get reminded my iCloud storage is almost full, and no backup can be made. How to turn off an annoying pop up iCloud storage space warning notifications?
To clean iCloud Storage of useless files you need to free your Mac of them first. To get it done you can walk over every folder looking for junk, or you can get a Mac optimizing tool with cleaning tools, like CleanMyMac 3. Everything is easier with the right software.
CleanMyMac has everything you need to remove system junk and find old useless files on your hard drive. Plus, it does a good job in fixing system glitches and keeping your Mac generally healthy. Simply download CleanMyMac for free and run the scan.
Now, open System Settings > iCloud and uncheck every app you don't use regularly. After that, go to the actual iCloud folder in Finder and get rid of the files and folders you don't need.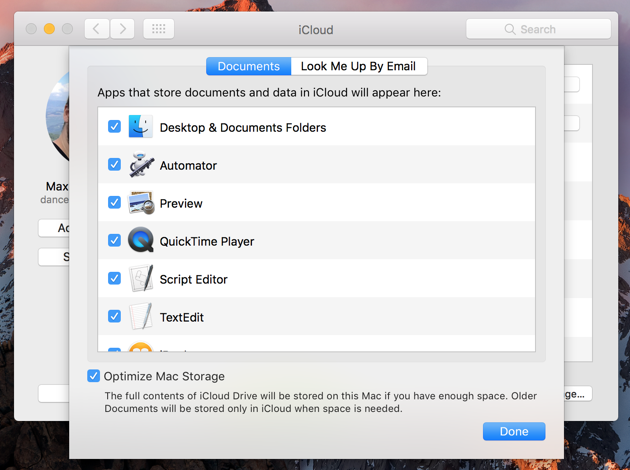 Also, check your Desktop and Documents folders and move every file you don't regularly use to any other folder. After all this, even macOS Sierra will only move to iCloud the files you actually need, so even if you have to purchase the paid plan, you can get the cheapest one.
It's a little sad that iCloud Drive is not free and it's almost ludicrous to see 5GB of good-for-nothing storage in the times when one Blu-Ray movie is twice as big. But, now you know there is a way not to turn your iCloud Storage into another space junkyard. After all, it does feel nice to have your stuff in order.
---