iCloud storage full: How to free up space in iCloud
iCloud is a great way to sync your apps and keep the files you need available on any device. But a default account only has 5 GB of free storage space, which is hardly enough even for backups. That's why you've probably encountered "iCloud Storage is Almost Full" or "Not Enough Storage" alerts at some point and wondered what you were supposed to do now.
Both alerts mean the same: you've run out of free storage or reached the limit of your paid plan. It might seem like you only have one option at this point, which is to upgrade your plan and buy more iCloud storage, but that's not quite true. Before you reach for your wallet, let's try to free up some space by cutting down on the files you store in iCloud.
What you'll need:
---
How to clear iCloud storage
If you sync both your iPhone and Mac data to iCloud, eventually storage will fill up again unless you learn how to use it more wisely. So now we'll go over a few steps you can take to quickly free up iCloud storage now and regularly clean up your iCloud in the future.
Step 1. Weed out unneeded iPhone photos
With iCloud Photo Library enabled on your iPhone, every selfie you take gets automatically synced to the cloud. Each individual photo doesn't take much space, but if you take three-four shots every time until you get the one you like, those megabytes quickly add up.
One way to go is to go rummage through your library and clean out these unneeded photos manually. Another, faster way is to download Gemini Photos. This iPhone app streamlines the process by finding and pre-selecting similar photos, low-quality shots, and screenshots, so you just need to tap Delete.
With iCloud Photo Library turned on, the photos you delete on your iPhone will also be removed from the cloud, so you'll easily free up some iCloud space. The app is free to download, so go ahead and try it on your iPhone.
As an added bonus, it will be much easier and faster to download your photos from iCloud should you ever decide to stop using it. When your photo library isn't bloated because of useless duplicates and old screenshots, it becomes much easier to move to and from cloud storage.
---
Step 2. Find old files in your iCloud Drive
Since macOS Sierra, the system automatically stashes old files — like movies you've already watched — to iCloud, which helps you save storage on your Mac. But the problem is that these files still occupy space, except now it's the precious space in your iCloud. To see what you've got there and what you can delete, do the following:
Sign in to your account at iCloud.com.
Click iCloud Drive.
Go through your files and select the ones you no longer need.
Hit Delete.
Done. If you're using macOS High Sierra, iCloud Drive is also available as a folder in Finder, so you can do the same on your Mac.
---
Step 4. Delete iCloud emails you don't need
If you're using an iCloud email account (the one that ends with @icloud.com), all email messages you get are stored in — you guessed it, iCloud. And while emails themselves don't weigh that much, email attachments do. PDFs, photos, and other files people have sent to you over the months can add up to a few gigabytes, so go over your old correspondence and do some spring cleaning.
---
Step 3. Delete outdated backups
Having iCloud automatically back up your iPhone on a regular basis is a great way to keep your data intact in case something happens to the phone. But the only backup you're going to need in this case is the most recent one, so there's no reason to store backups made months ago.
This is how you access all your device backups and delete outdated ones:
On your Mac, go to System Preferences > iCloud
Hit Manage and then Backups
Select a backup you want to remove and then click Delete
It's important to know that when you delete a backup it switches off the backup feature for this device.
---
Final step. Empty all trashes
It's easy to forget that as long as files remain in the Trash (or in the Recently Deleted folder if we're talking about photos), they still occupy space, be it in the cloud or locally. So after you're done with steps 1-3 be sure to take out the trash.
On your iPhone:
Open Photos.
Go to the Recently Deleted album.
Tap Select.
Now tap Delete All.
In the Mail app on your Mac:
Launch Mail.
Click on Mailbox in the top menu.
Select Erase Deleted Items from the dropdown menu.
Select your iCloud email address.
In the Mail app on your iPhone:
Open the app.
Tap Trash.
Tap Edit and then Delete All.
That's it, this should help you get more iCloud storage, at least for now. Go over these steps every 1-2 weeks to make sure your iCloud doesn't get clogged up again.
---
How to keep iCloud from getting full
It's safe to say that two major reasons you're seeing that " iCloud storage almost full" message are photos that get synced from your iPhone and large files that get synced from the Documents and Desktop folders on your Mac. Using Gemini Photos, the app recommended in step 1, should keep your photo library lean, but you should also keep your Documents and Desktop from getting too bloated.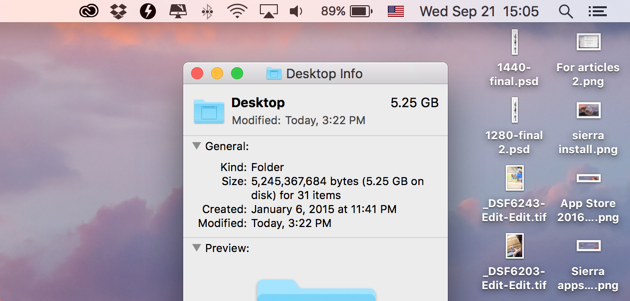 To identify and quickly remove large files you have forgotten about, try a utility like CleanMyMac X. Among many other helpful tools, it has a Large & Old Files module, which is exactly what you need for this job. Here's how it works:
Select Large & Old Files in the left-hand bar
Hit Scan
When the scan is over (it usually takes a few seconds), click Review Files
All files the app deems large and old are neatly grouped by size, so all you need to do is check mark everything you don't want anymore and hit Remove. CleanMyMac is free to download, make sure you give it a go.
Now, not everyone wants to sync everything to the cloud, and given the fact that your Mac has way more storage than the 5 GB you get for free in iCloud, you might prefer to store your files locally.
Here's how to switch off the sync for your Desktop and Documents folders as well as some of your Mac apps:
Go to System Preferences
Click iCloud
Uncheck all folders and apps you don't want synced
And here's how you stop your iPhone data (including photos) from getting synced to iCloud:
Go to Settings
Tap iCloud (or your name and then iCloud if you're on iOS 10.3 or later)
Go over the list of apps that get synced and switch the sync off
Now your data should remain locally, on your Mac and iPhone respectively.
---
How to buy more iCloud storage
This is an obvious way out if you're not too short on budget and don't mind spending money on storage every month.
So how do you upgrade iCloud storage? Getting more space is easy, and you can do it from any device, including your iPhone. On your Mac go to Settings > iCloud > Manage > Buy more storage. On iPhone it's almost the same, only from the iCloud app you're going to Manage Storage and then Change Storage Plan.
The next logical question you have is how much iCloud storage costs. Well, that depends primarily on your location and how much storage you'd like to get. There are plans for 50 GB, 200 GB, and even 1 or 2 TB. The exact cost is stated right in the menu when you open it, next to the plan.
Note: Keep in mind that you're getting this storage to fill with your files once, but you'll have to pay monthly to use it. Skipping payment or downgrading may result in loss of data, failed backups, and a number of other issues. So when you sign up for the paid plan, be sure to keep your payment method up-to-date.
---
Now you know what the options are, and whatever you decide works best for you — freeing up iCloud storage or simply buying more — the rule of thumb is to keep your iPhone and Mac free from clutter. Because nobody wants to be stuck with an iPhone that won't back up and take any more photos.