To get to the CleanMyMac 3 Preferences, open CleanMyMac 3 and click on CleanMyMac 3 in the top left hand corner of your Mac's screen in the Toolbar. In the pop-down menu select Preferences.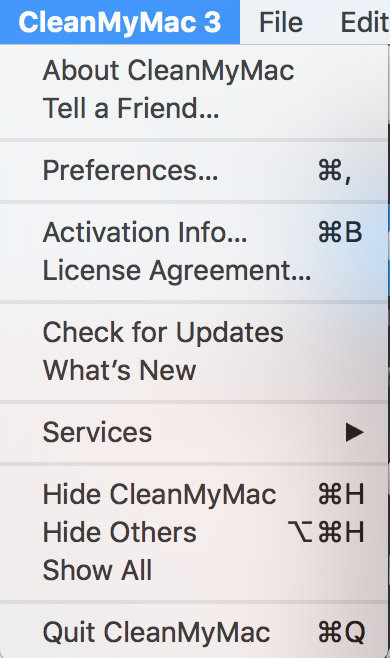 General
The first tab displayed on the CleanMyMac 3 preferences menu screen is the General tab which will help you to control sounds, animations and warning dialogs in CleanMyMac 3. You can also control what languages you would like to remove from your applications. CleanMyMac 3 will automatically save the languages which you use but if you would like to keep more languages active in your apps you can do so in this section of the preferences menu here.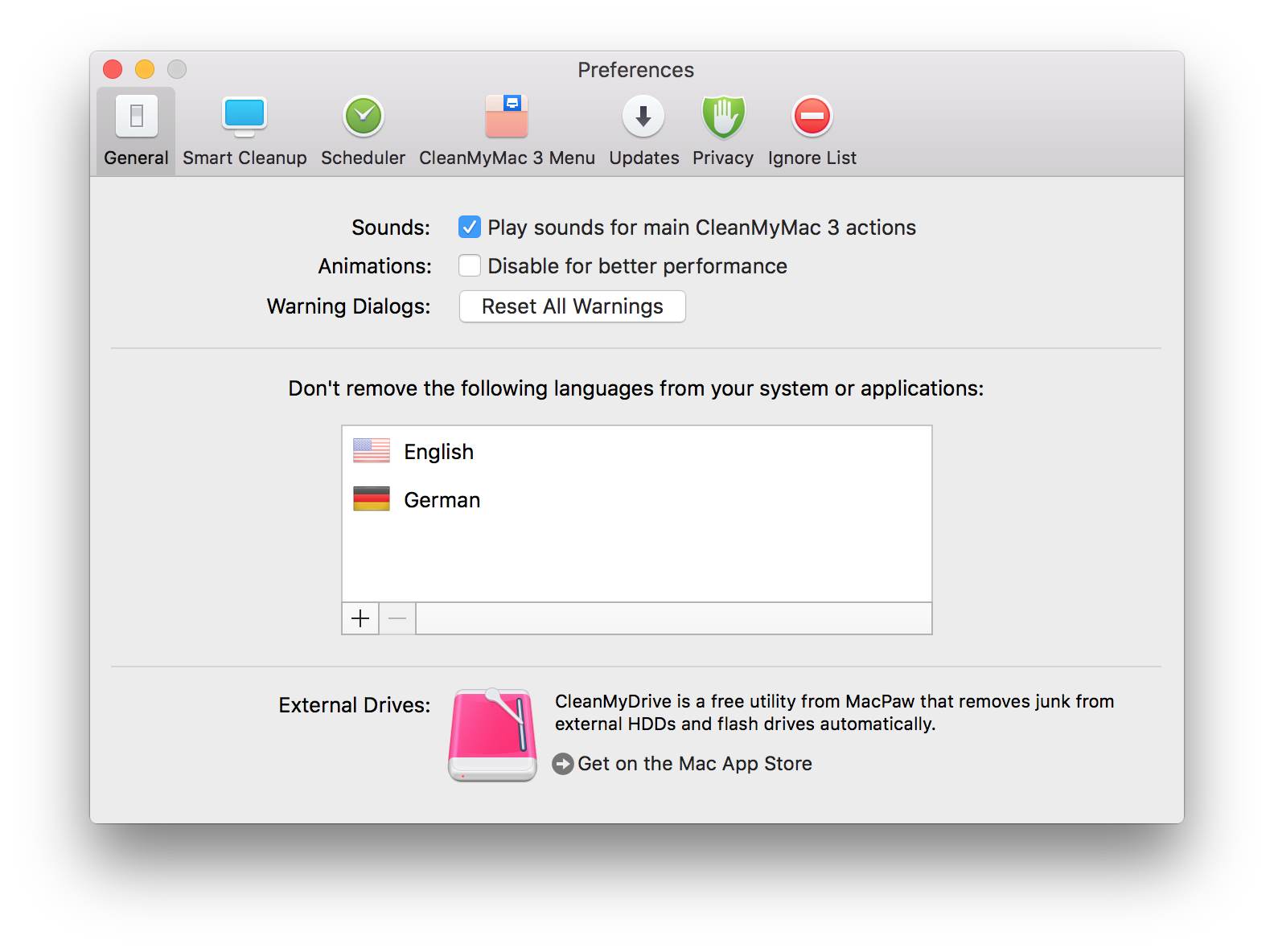 Smart Cleanup
The Smart Cleanup tab is the second in the list of preferences and it will allow you to select which modules of CleanMyMac 3 you would like to run when you initiate the Smart Cleanup module. If at any point in time you would like to have them included again in your Smart Cleanup just recheck their box in this menu here.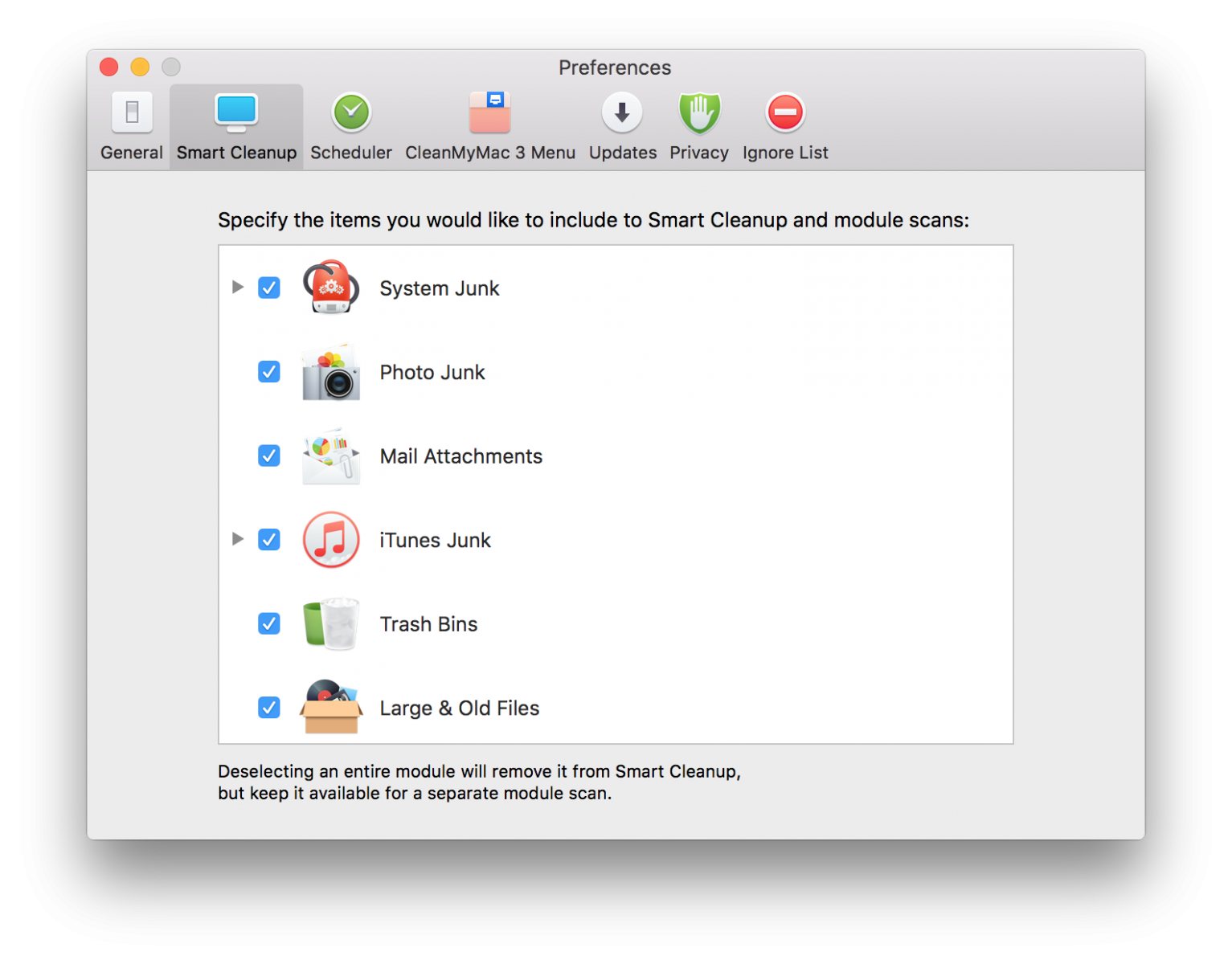 Scheduler
The Scheduler is the third tab on the list and it will allow you to choose how often you would like CleanMyMac 3 remind you about cleaning up your Mac. You can also set CleanMyMac 3 to start a full scan directly from the on screen reminder that you have set.

CleanMyMac 3 Menu
The CleanMyMac 3 Menu tab is the fourth tab in the list and it allows you to activate and deactivate the CleanMyMac 3 helper in the top right corner of your Mac. (We do not recommend this as your Mac's health won't be displayed and you won't receive health alerts)
From this tab you can also set CleanMyMac 3 to warn you when your system is running low on space or your trash bins are getting full. From here you can also have CleanMyMac 3 suggest help with uninstalling apps properly.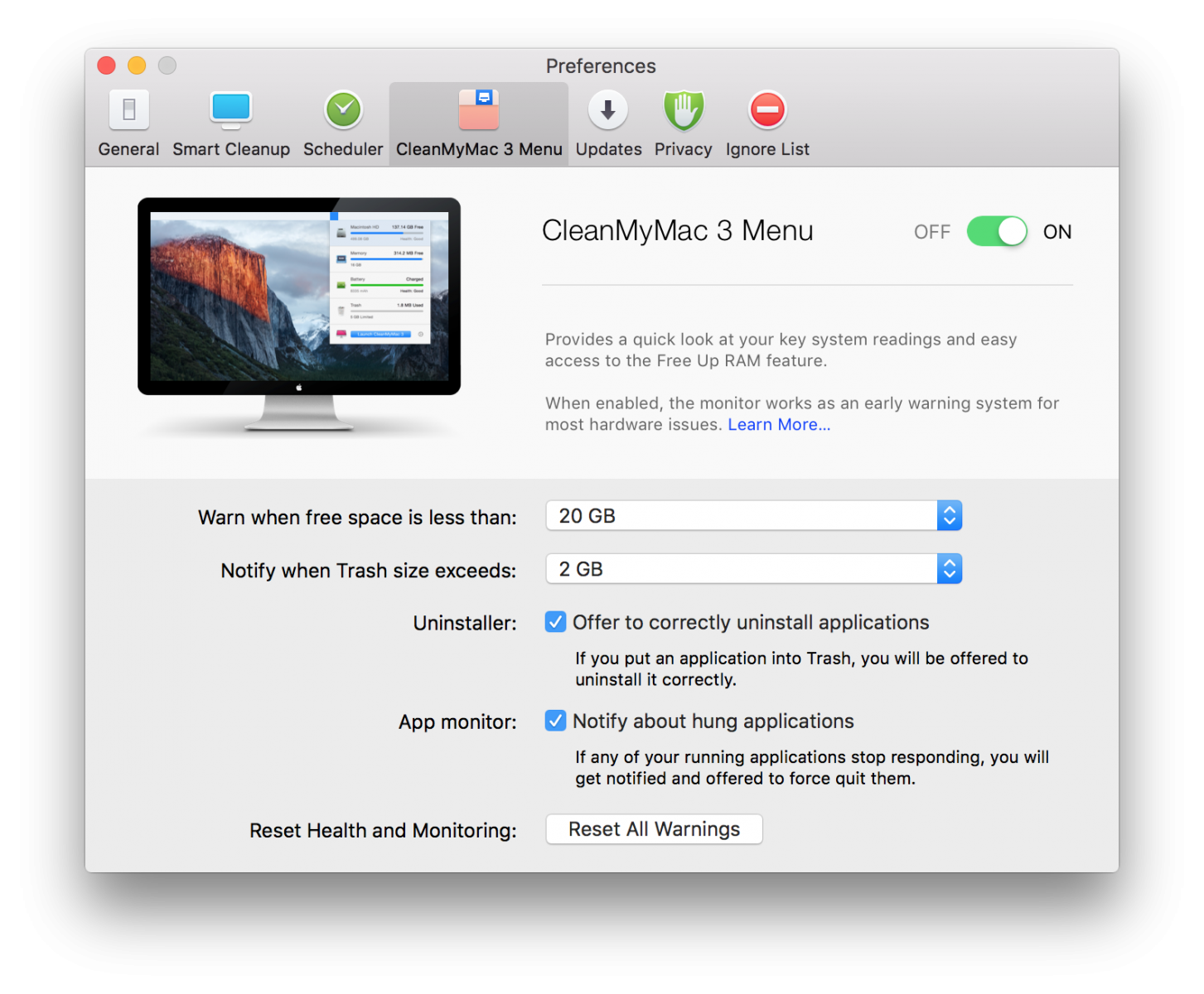 Updates
The "Updates" tab contains configuration options that let you keep your CleanMyMac up-to-date.
If you want to get a notification when a new application update arrives, select "Check for updates automatically." To get update files downloaded and installed automatically, keep "Download updates in the background" selected too.
"Enabled background updates of CleanMyMac`s Safety Database" option allows you to get recent updates of CleanMyMac's Safety Database, which is used to treat your Mac and all apps carefully.
Selected "Update to Beta versions" option lets us know you want to become one of our beta-testers. We'll gladly send you this type of updates but please mind that they contain experimental features, which may be unstable. Thus, think twice before selecting this option.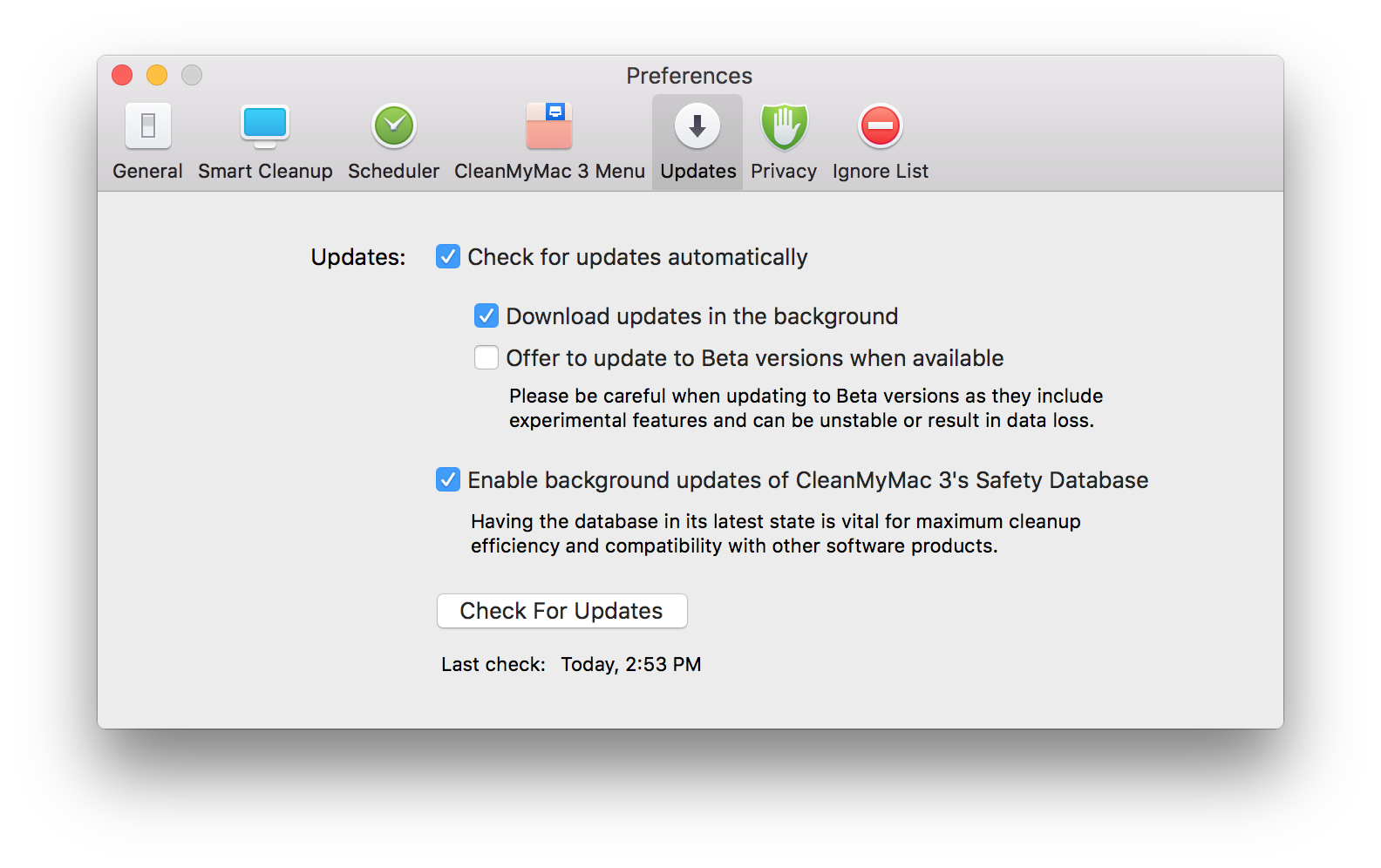 Privacy
The sixth tab on the list is "Privacy." Here you can disable anonymous sharing of technical data with us. Anyway, we ask you to keep this feature enabled because it helps improve CleanMyMac. No worries, we don't get any personal information.
On this tab, you can also disable extended logging of removed items, but we recommend leaving it enabled. This feature is used to keep a track of all items removed with CleanMyMac 3 (except those erased securely), which can be useful in emergency cases.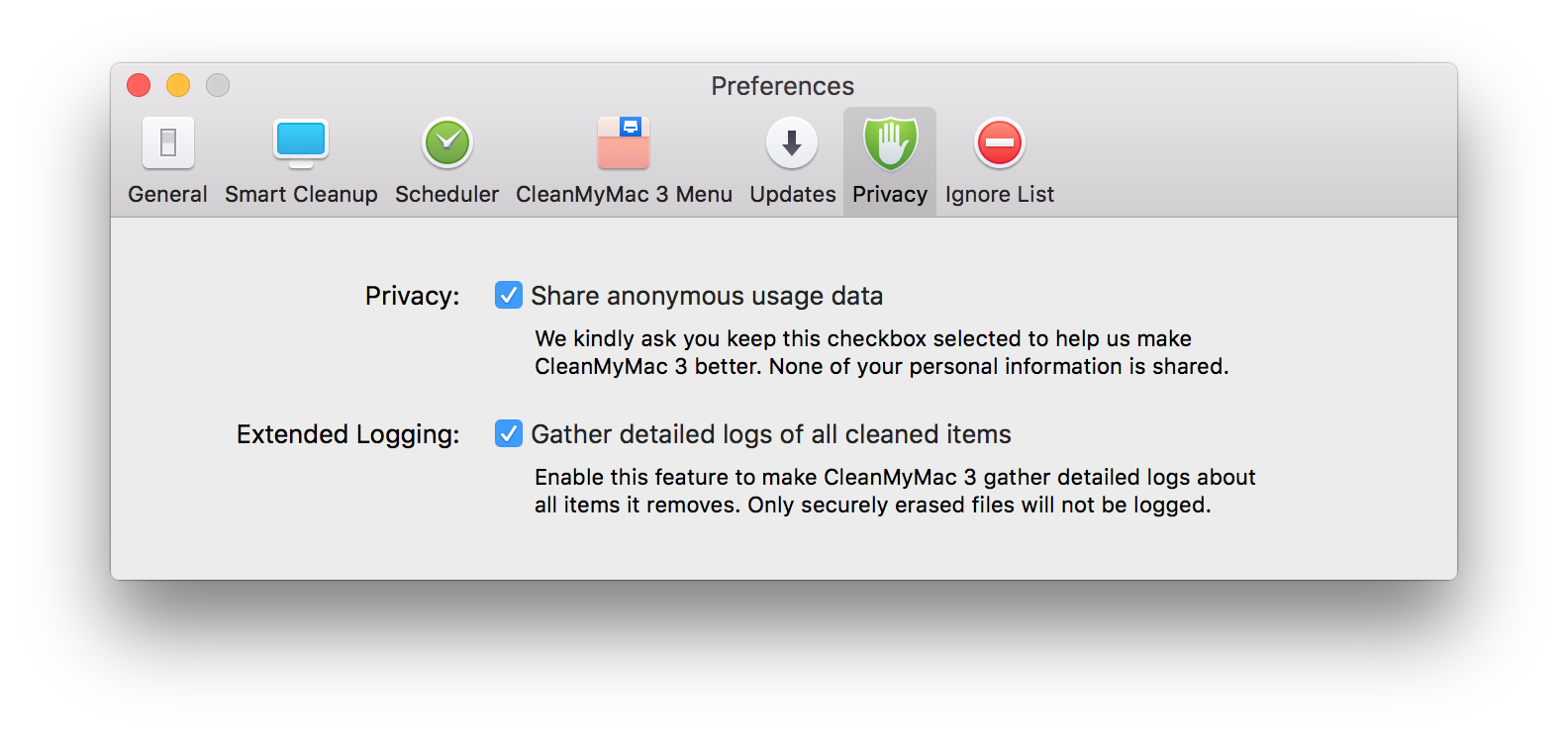 Ignore List
The last tab under preferences, the Ignore List, will allow you to select applications or files which you would like CleanMyMac 3 to ignore. CleanMyMac 3 will not scan or clean any of the selected item in this menu.