Find out what is taking up space on your Mac
In this age of terabyte flash drives and cloud storage, it's easy to forget that storage space is finite. But it is, and as software gets more sophisticated and must-have apps become more plentiful, you can eat through a 1TB SSD in no time at all.
Sure, in theory, if your Mac hard drive gets full you can just upgrade, but at around $800 for a 2TB iMac SSD and $2800 for a 4TB SSD neither option is exactly affordable. Plus, it's not just room for files that you get from a hard drive, it directly affects performance too. Let your hard drive get full and see how sluggish your Mac runs. Actually, don't do that you'll drive yourself crazy.
For optimum performance, you should continually monitor Mac hard drive space to make sure there's always room for your next big download and as a prompt to rid your system of unnecessary junk files that accumulate over time. Both of these things are easy to do: checking storage from the Apple menu and removing files using the Trash or a tool like CleanMyMac X.
How to see storage on your Mac?
The simplest way to check Mac hard drive space is by accessing About This Mac.
Click on the Apple icon and choose About This Mac.
Click on Storage.
Note: If you're running an older version of OS X, you may need to click More Info to find the Storage option.
The Storage tab will show you how much space is being taken up by the System, Documents, Apps, and more. It will also display available space.

What to do when your hard drive is full?
If your Mac hard drive is nearing capacity, your system will let you know with a 'disk almost full' warning prompting you to free up some space.
If you see this warning it's best to act on it. To free up space on your startup disk you'll need to do one or all of these three things:
Delete files.
Move files over to cloud storage or an external hard drive.
Install a second hard drive or add a larger startup disk.
Options 1 and 2 are the easiest, but if you're thinking of upgrading your existing disk, check out our guide.
If you're running macOS Sierra or higher, when the "Your disk is almost full" warning appears, it will pop up with the option to "Manage" storage. This allows you to move files iCloud, optimize storage by removing iTunes movies and TV shows that you've already watched, automatically erasing trash, and removing clutter.

This is a quick and easy way to free up space but it's not ideal. You see, when files are moved to iCloud, junk and useless files are moved too. This means you max out your iCloud storage quicker and end up having to pay for more. For this reason, we recommend using CleanMyMac X to detect junk files and completely remove them from your system.
How to free up Mac hard drive space manually
Deleting files manually is a simple task, but it can also be time-consuming. The best way to go about it is to find old documents, downloads, music, and applications you no longer need and drag them to the Trash.
When you do this you'll need to remember to empty the Trash, otherwise, files will just sit there and free up no space at all.
Ctrl+click on Trash in the Dock.
Select Empty Trash.
Click Empty Trash.
You can also remove old iTunes Library backups, iOS backups and updates, and clear cached files using the Finder.
Open a Finder window and select Go in the menu bar.
Click on Go to Folder and enter one of the following commands:
Caches: ~/Library/Caches
iTunes Library backups: ~/Music/iTunes/Previous iTunes Libraries
iOS backups: ~/Library/Application Support/MobileSync/Backup/
iOS software updates iPad: ~/Library/iTunes/iPad Software Updates
iOS software updates iPhone: ~/Library/iTunes/iPhone Software Updates
3. Browse each of the folders and delete any files you no longer need.
As said, clearing files manually is easy but it comes with one rather sizeable caveat: moving things to Trash leaves behind residue — leftover pieces of files that serve no purpose other than to take up hard drive space. There you are doing your best to remove files only for Mac to be incapable of fully deleting whatever you want to get rid of.
So, what can you do about that? Yep… CleanMyMac X.
Freeing up Mac hard drive space with CleanMyMac X
CleanMyMac X scours your system for all old, outdated, and broken files and completely, 100% removes them from your system. It's the quickest and easiest way to free up a lot of space at once.
If you need to optimize disk space in a hurry, download CleanMyMac X and select the option to clean up System Junk. This will remove old cache files and logs, broken app data, unused languages, and excessive versions of documents in a couple of clicks.
Download and launch CleanMyMac X.
Choose System Junk from the menu.
Click Scan.
Click Clean.
Use this process to remove all photo junk, Mail attachments, iTunes junk, and Trash bin contents too.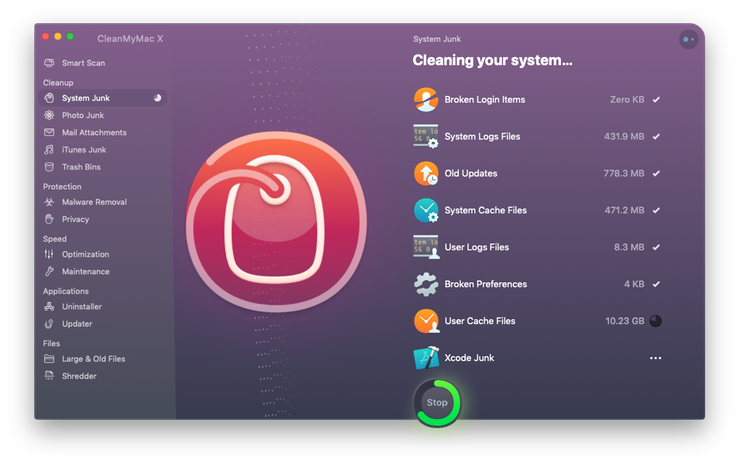 A full disk is something all Mac users experience at some point. Thankfully, it's easy to reclaim space using Mac's own optimization feature or the Finder if you're doing things manually, or CleanMyMac X if you prefer a more comprehensive solution. As you'll likely need to clean up the hard drive a few times a year, we'd suggest going down the CleanMyMac X route but, of course, we're biased. Try the different methods and see what works best for you.
CleanMyMac X is the leading utility tool for Mac, designed to quickly and comprehensively remove junk files from your system. If you need to free up space in a hurry, download the app today.
---
These might also interest you: