How to free up hard disk space on Windows computer
For years, hard disks got bigger and bigger, and operating systems and applications grew larger, taking advantage of the increased disk space by adding new features. Then, hard disks were replaced by SSDs with much lower capacities, and suddenly, space became an issue again.

If you have an SSD that's quickly filling up, or you just need to free space on your hard drive, here's how to give your hard disk a cleanup and get rid of files you don't need.
Empty the Recycle Bin
This is the place to start. The Recycle Bin is a folder, like any on your PC. Files and folders in there take up room on your computer. Only when you empty, the Bin are the files deleted. So the first step in freeing up space on Windows is to empty the Recycle Bin.
Use Disk Cleanup
Windows includes a built-in tool that will clean temporary files and eliminate other data you don't need.
Go to File and right-click on your C: drive
Choose Properties
Go to the General tab and click Disk Cleanup
Wait for Windows to hunt down the temporary file, Recycle Bin items, and anything else it thinks you can safely delete
When it's finished, you'll notice that lots of files are marked for removal, but you can also check the box next to System Error Memory Dump files
Select Clean up system files
In the next window, under System Restore and Shadow Copies, click Clean up.
This option deletes everything except the most recent restore, so if your computer is working fine, you're safe to use that. If it's not, don't press that button.
Activate Storage Sense
If you've been installing Windows 10 updates, you may have noticed that 2017's Creators Update came with a feature called Storage Sense. It automatically deletes temporary files that are no longer needed, as well as removing files that have been in the Recycle bin for 30 days or more.
Click on the Start menu and choose Settings.
Choose System, then Storage.
Toggle the switch under Storage sense to the on position.
Get rid of Temporary files and Downloads
Go to Settings System Storage
Click on This PC at the top.
Check the boxes for Temporary files and Downloads folder.
Select Remove files
Uninstall programs
Uninstalling programs could free up a considerable amount of hard disk space. The exact amount will depend on how much space a program uses, which varies from application to application. Obviously, it makes more sense to start with the largest programs you no longer need.
To uninstall a program:

Click on the application you want to uninstall
Press Uninstall or Change a Program
Follow the on-screen instructions.
That all sounds like a long, frustrating process. However, you can free up disk space using one tool, which will save you much time and decrease the risk of mistakes.
How to free up disk space easily with CleanMyPC
Delete temporary files and other junk
Previously, we've mentioned several ways to free up disk space by getting rid of temporary files, cleaning the recycling bin, and other junk. With CleanMyPC you can get rid of all clutter in one click.
Go to My computer module.
Scan your PC for junk that's taking up your disk space
Clean everything in one click (or choose whatever you want to clean, like Temporary files, Cache and Logs, or Extra Languages)
That's it. In the end, you'll see how much space you've freed up after cleaning and decide whether you need to proceed to the next steps.

Uninstall unnecessary programs with Multi Uninstaller
Click on the Multi Uninstaller module. You will see the list of apps installed on your PC and the space taken by each of them.
Click on those programs you want to uninstall
Click the Uninstall button to start removing programs from your PC
CleanMyPC Multi Uninstaller will now find the uninstaller for each app you've selected and run it. It will take only several minutes, but will definitely make a difference, as it will free up space taken by the programs you no longer use.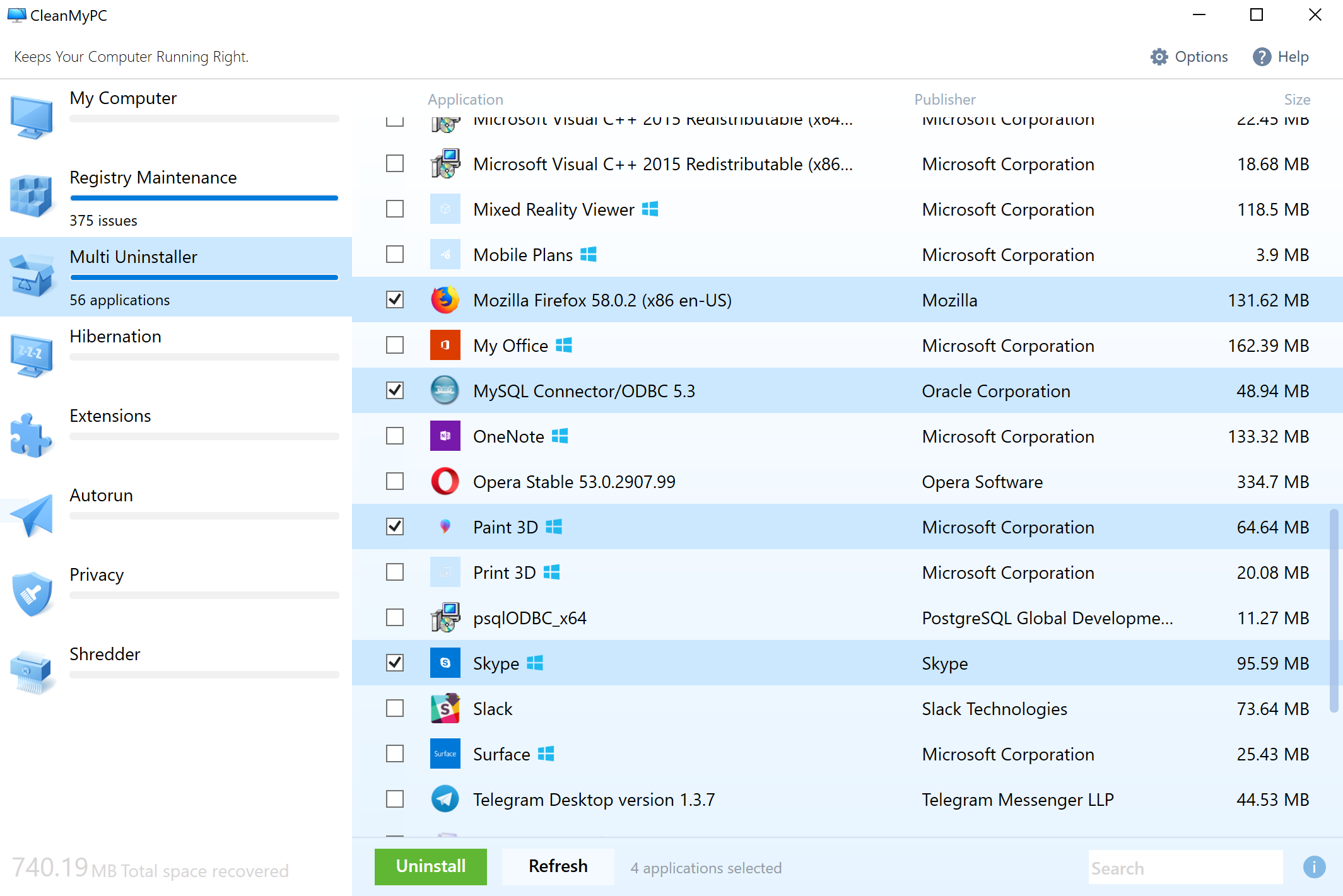 Clean Windows Registry with CleanMyPC
Select the Registry Maintenance utility in the left-hand sidebar in CleanMyPC's main window.
Wait for it to complete its scan.
Choose Fix Registry to clean up the database and free up disk space taken by files you no longer need.
Click Refresh to scan again.
If you see that CleanMyPC needs to carry out another repair, click Fix Registry.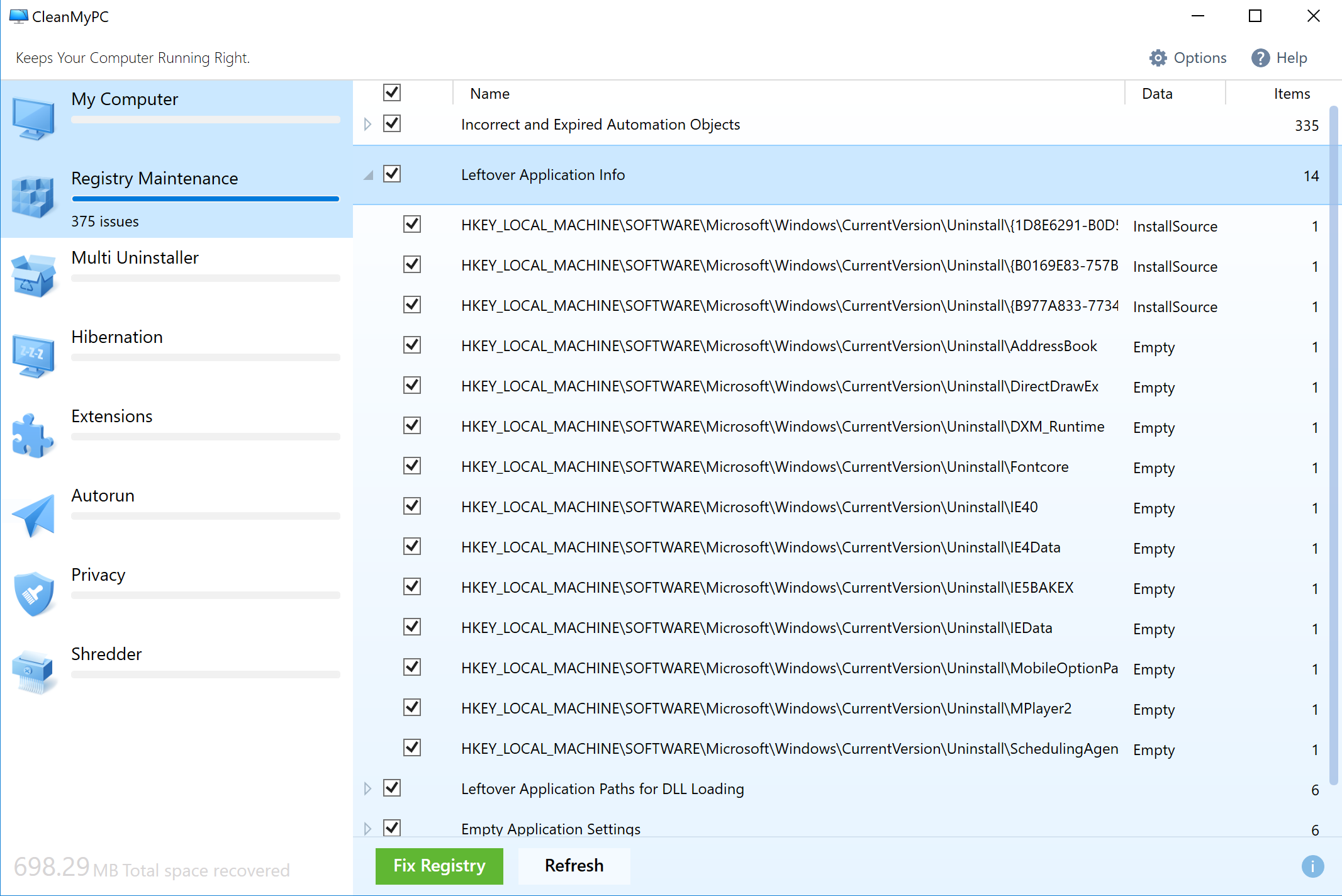 Disable Hibernation
A hibernation file is used to store a copy of the system memory on the hard disk when the sleep setting is turned on. Disabling the hibernation, you may free more than 1 GB of disk space.
To do this, you just have to:
Go to the Hibernation module.
Turn off Hibernation.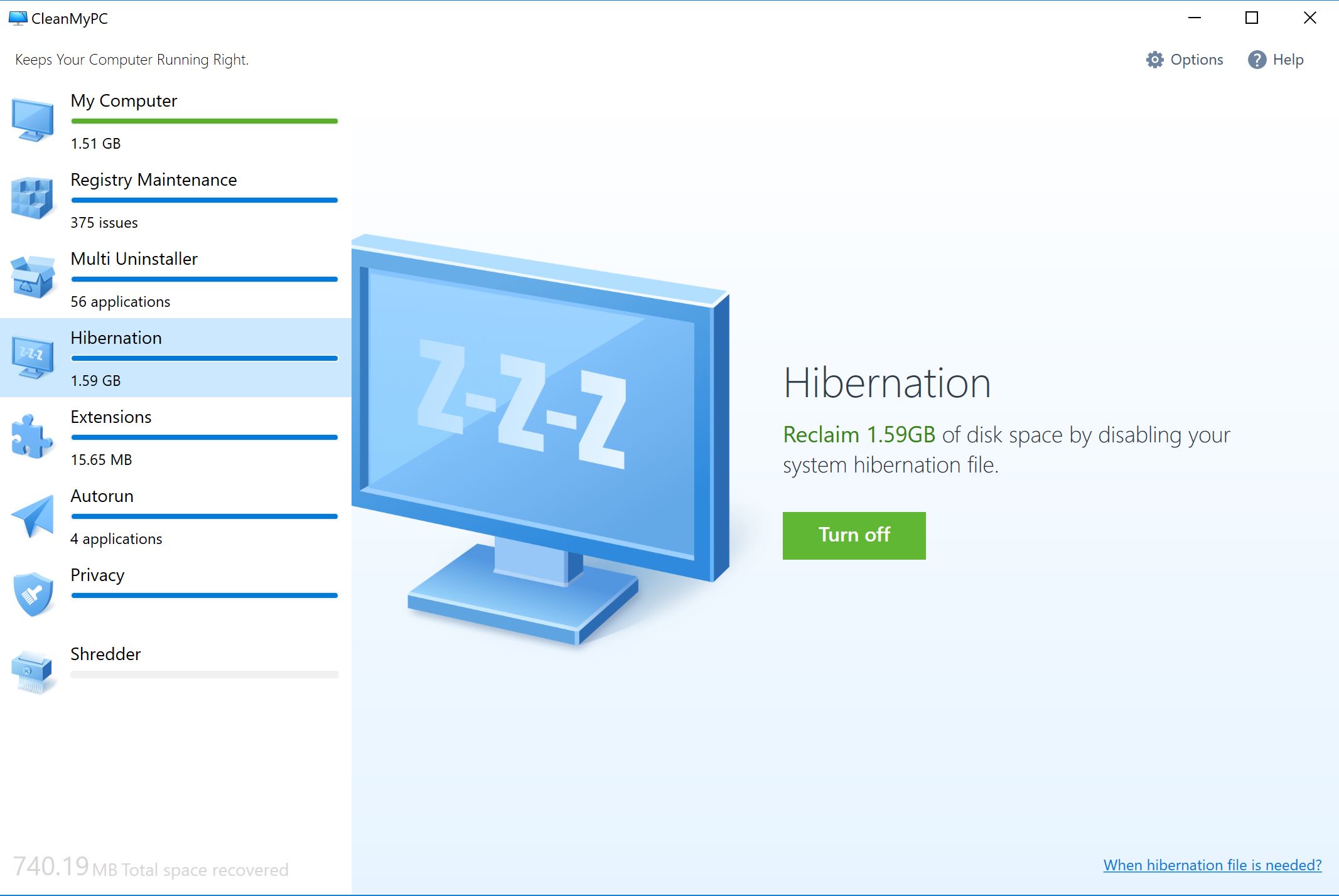 As you can see, there are different ways of freeing up space on Windows. However, some of them may take a lot of your time and effort. CleanMyPC can help you free up disk space with minimum effort and considerable results. Want to free up disk space and use your PC more effectively? Get started by downloading CleanMyPC today.