So you have heard of CleanMyMac 3 but you aren't quite sure how CleanMyMac 3 works on your Mac or what makes it safe to use. Well, wait no longer! Our team has come together to share all of the important details of how CleanMyMac 3works on your Mac.
Here is the CleanMyMac 3 safety 101: Our under-the-hood scoop to keep you in the loop of what gets cleaned with CleanMyMac 3.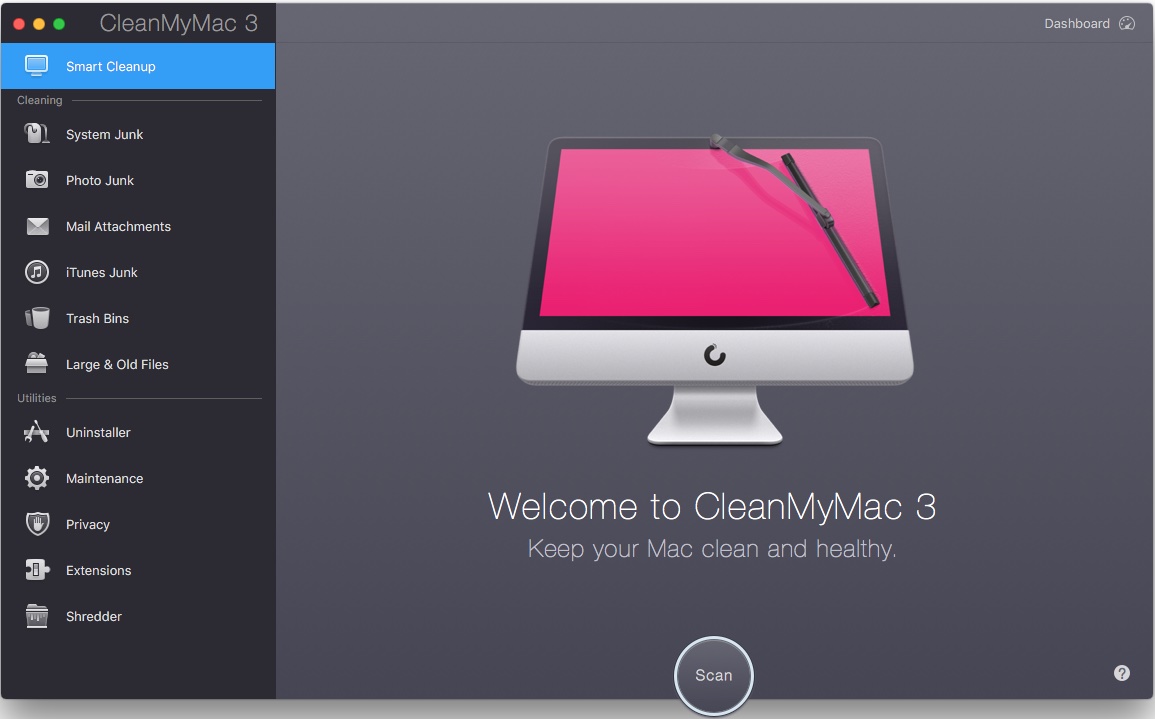 Smart Cleanup
So what happens when I click the Scan button on CleanMyMac 3's Smart Cleanup? This button accesses an organized a bundle of cleaning tools that allows the user to quickly scan all the essential areas of cleaning on their Mac. These tools all clean your Mac using the same set of rules from the CleanMyMac Safety Database.
Safety Database
The Safety Database is a 7 year compilation of app compatibility containing all of the apps available for Mac. CleanMyMac 3 uses it to safely and accurately clean the junk. Our developers continually add new apps to the Safety Database in addition to checking and rechecking current app compatibility every day.
A bundle of cleaning tools
This bundle of cleaning tools analyzes your hard drive for remnants of junk data from general Mac use and daily junk accumulating activities. The bundle is composed of System Junk, Mail Attachments, iTunes Junk, Trash Bins, and Large & Old Files.

System Junk
This first cleaning tool in this bundle is the System Junk. As it begins scanning, CleanMyMac 3 will run through it's specially designed algorithms to find possible junk items on your Mac. Then it will compare these items to its Safety Database to safely filter out the junk and prepare these items for review by the user. As a whole, System Junk consist of temporary files and additional items that are needed to support additional things like languages, configurations and stuff that most users will never need. We will break these items down into the following categories: Caches and Logs, Language Files, Universal Binaries and Leftovers.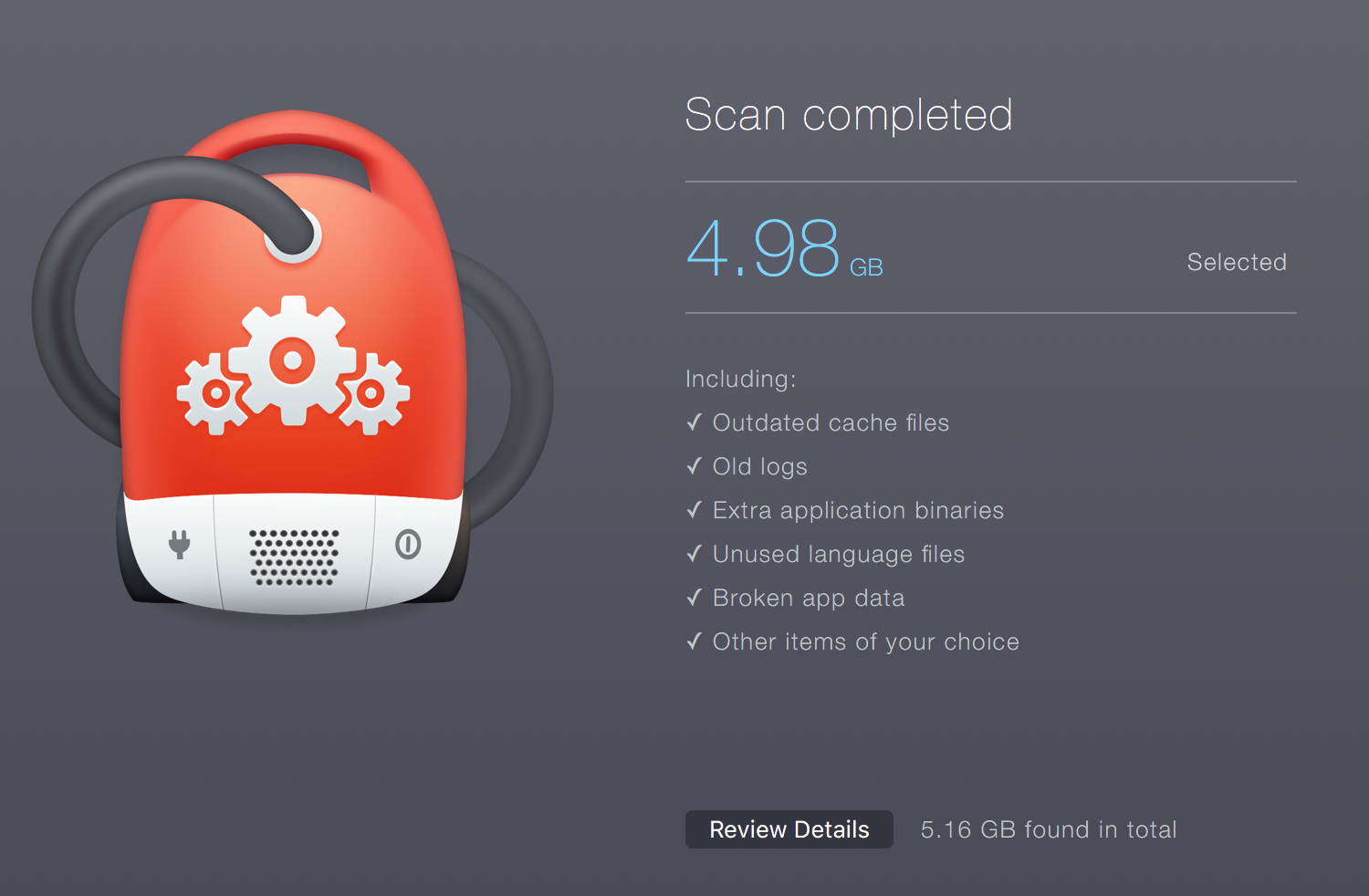 A closer look at Caches and Logs
The first two items on CleanMyMac 3's System Junk cleaning to-do list are the cache files and logs. So— what are these and why should they be scanned for cleaning?
This is basically where your Mac logs data from its apps. This data is temporarily logged and you can think of it like your Mac taking notes on how its apps are running. However, your Mac has to read through previous notes every time it runs apps on your Mac. If your Mac has compiled a lot of old notes it can delay your Mac's startup time.
These notes are used for debugging purposes for recent app performance and deleting them won't affect the performance or stability of your OS X in any way; but removing them will give you extra space on your hard drive. By cleaning your caches you are forcing the application to regenerate new lightweight caches automatically the next time the application launches, and only when the app thinks it is necessary to generate new ones.
Language Files, Universal Binaries and Leftovers, Oh my!
Language Files: There is built in support for over a dozen languages in OS X, which you probably never need. These languages were included just in case you might need them. These languages come preloaded and ready for spontaneous use, allowing users to easily and quickly switch between languages within apps and the system itself. After CleanMyMac has deleted these localizations (language files), your operating system will only have the languages you use.
Next it is time to clean out the files designed for old PowerPC Mac.
Universal Binaries: It is totally safe to keep only the architecture that supports your Mac system in your apps. This means that you can safely clean universal binaries to free up some extra space.
Besides, Macs are now only Intel based, so there is no longer a need to keep Power PC code in any of your apps.
Leftovers: By deleting a widget, extension, application or even a plugin by dropping it in the Trash, it will leave behind some preference files or other similar types of files. These types of were generated by the app after it was installed by the user.
These files are completely useless without the app and, therefore are scanned for the user to review and delete. Another thing CleanMyMac safely cleans out is the broken app data.
Broken App Data: Occasionally your apps can get stuck with data that gets corrupted or no longer works with your app. CleanMyMac 3 can sweep this up from under the junk rug to keep your apps running smoothly.
Photo Junk
RAW vs. JPEG: Photos App naturally stores all of your photos in the RAW file format. This format is useful for photographers who need do professional photo editing but it takes up lots of hard disk space. The Photo Junk module of CleanMyMac 3 will help you economize your precious disk space by converting your photos to JPEG during the Smart Cleanup.
Faces Caches: The Photos app comes with some great new features like Faces but these new features also come with their own caches. Caches are great tools for app performance but they become data logged over time. The Smart Cleanup module of CleanMyMac 3 will help you take care of these with your routine cleanings. These caches are completely safe to clean because they naturally regenerate as you use the app.
The Photo App comes loaded with unnecessary supporting bloat data. CleanMyMac 3 will clean up this junk data to save you disk space without affecting the apps performance.
The Photo Junk module also helps you with the copies of your fixed red eye and rotated photos. It will automatically remove these these extras to slim down the data size of your photo collection.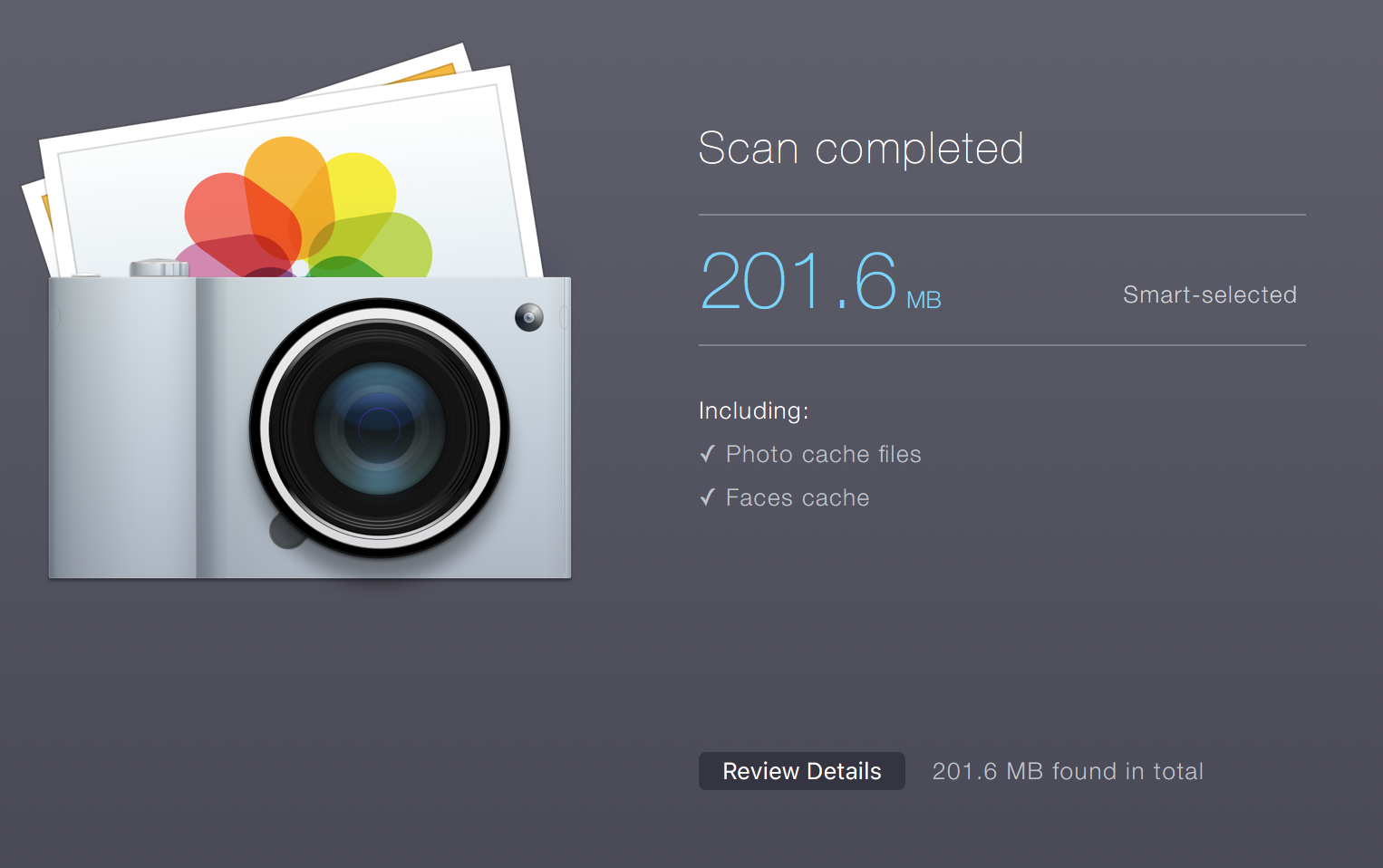 Mail Attachments
CleanMyMac 3's Mail Attachmentssorts all the little extras downloaded via Mail by file type — and then helps you clean them out. It removes gigabytes of copies of attachments, user files and other items attached to your emails. These files have been stored twice, with all these extra items being stored locally on your Mac and the ones that remain accessible online. The mail attachments module is completely safe because in the event that you need to restore a file, you can just reopen the email and then the local email copy will be fully restored.
These are files that are stored in the email itself, like zip files, PDFs, signatures, company logos, and anything else someone sends you. For example, if you've received emails from Facebook, you've probably got multiple copies of the Facebook logo saved to your hard disk.
All the files you open directly from Mail are stored in the Mail Downloads folder. CleanMyMac 3 cleans these locally stored copies out. But again, don't worry — they can still be accessed in the email from whence they came.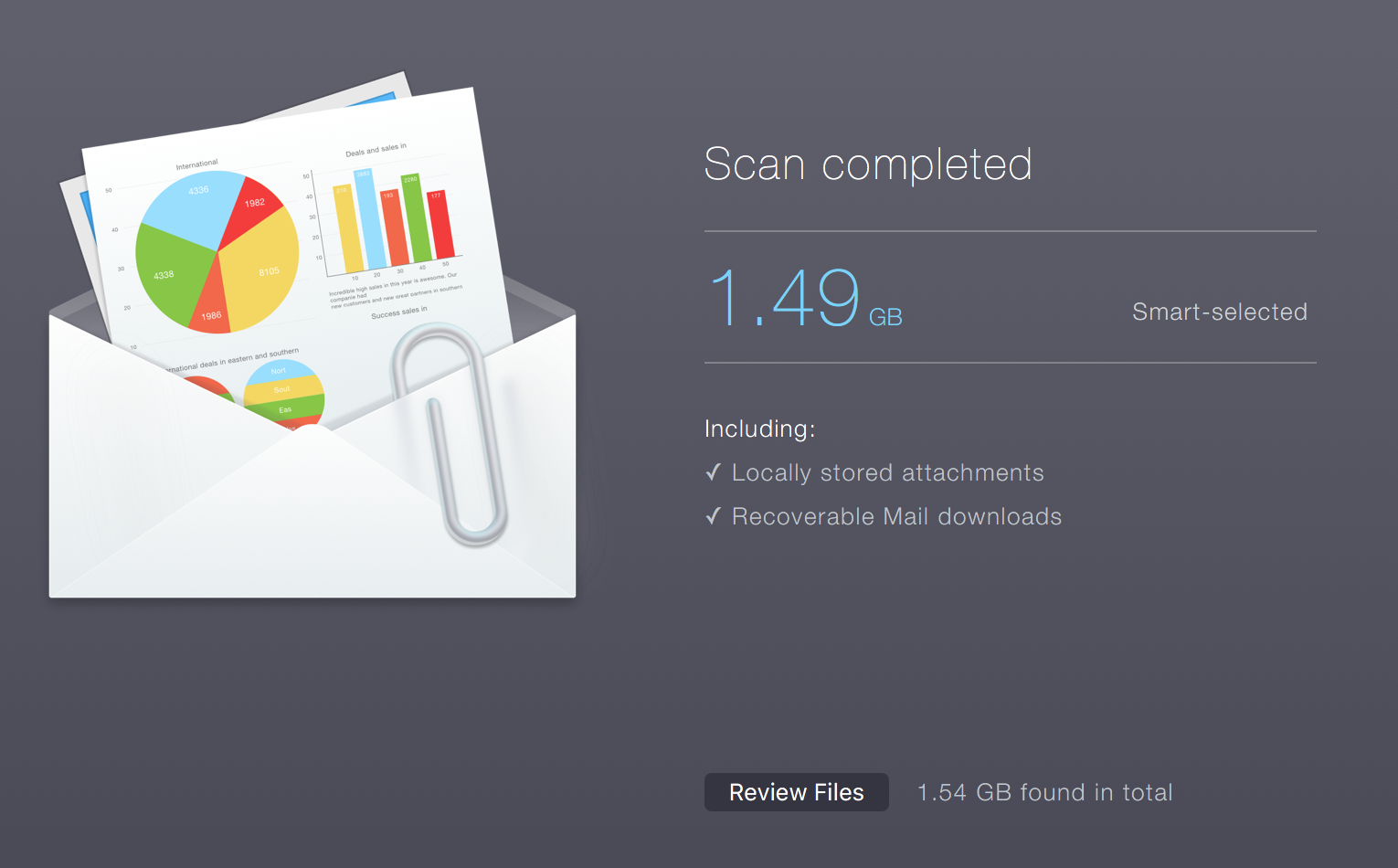 iTunes Junk
The iTunes Junk module targets your iTunes' outdated Device Backups, Broken Downloads, Old Software Updates, and Copies of iOS apps while leaving your music and personal files for you to well — organize them the way you want.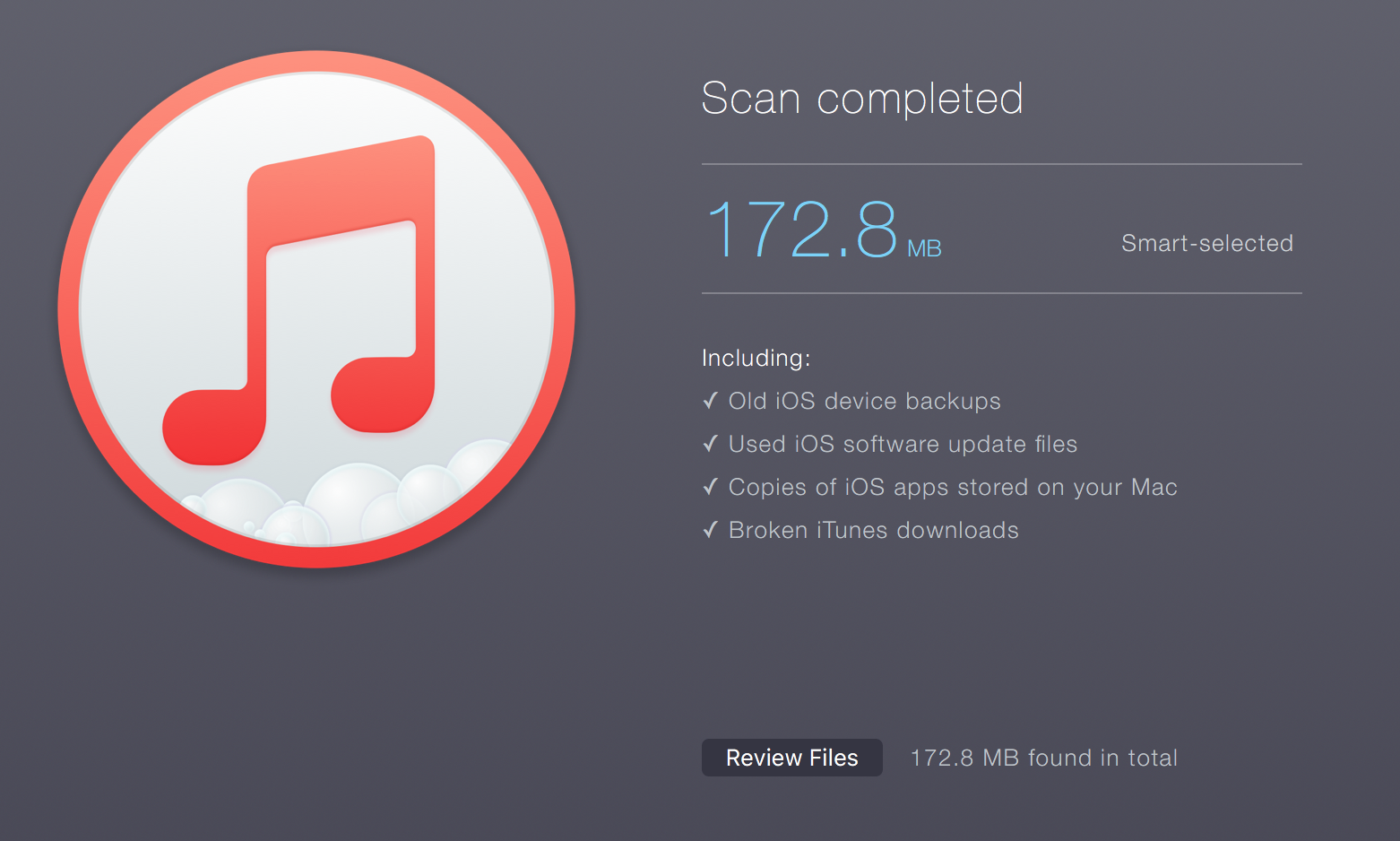 Trash Bins
The Trash Bins module helps you empty all of the application-specific trashes. Individually these can be a pain to find and clean out. CleanMyMac 3's Trash Bins cleaner cleans up all the trashes on your Mac, not just the main Trash in your Dock. This completely safe to do as CleanMyMac 3 only cleans up the stuff in the trash.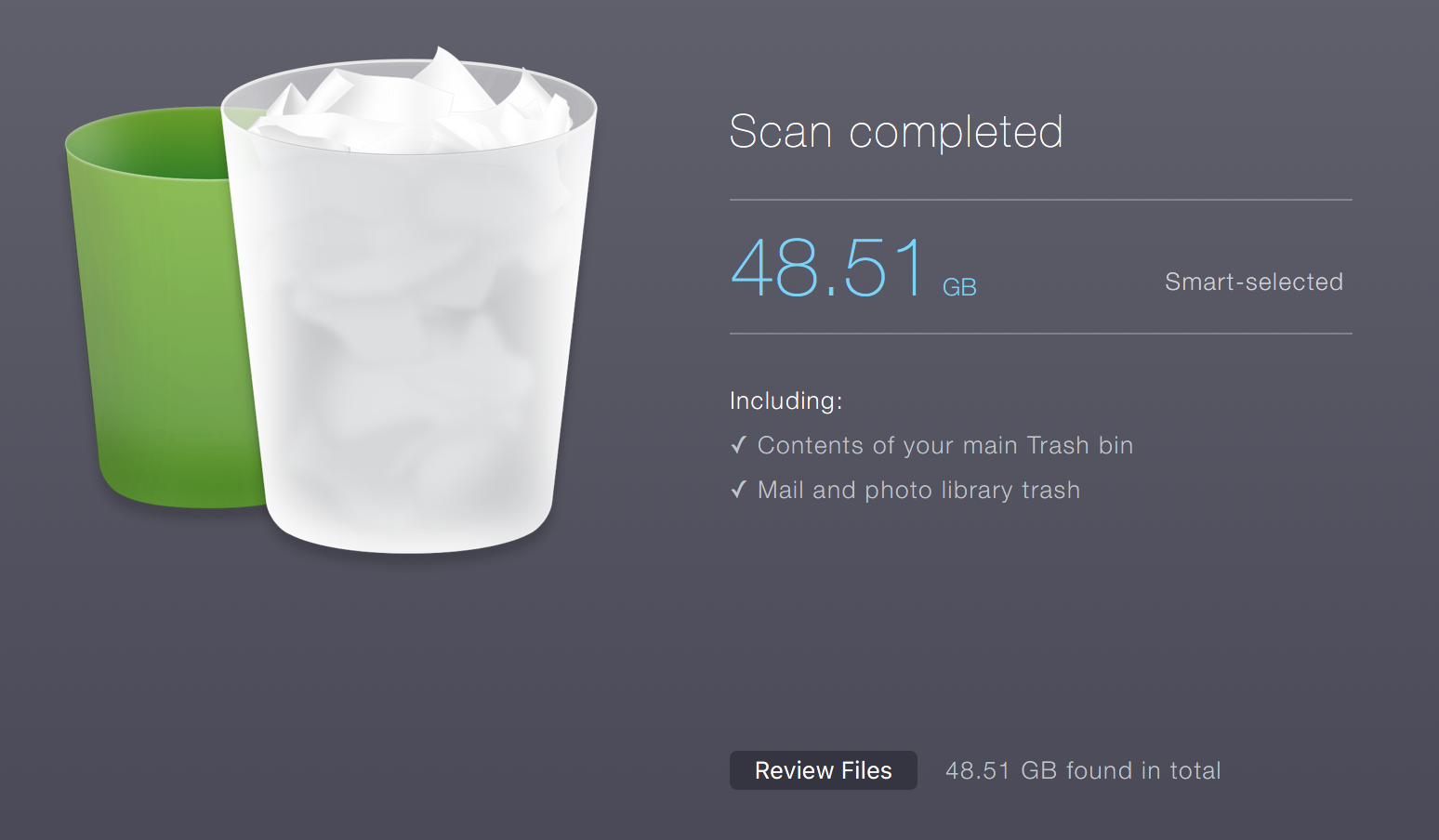 Large & Old Files
The Large and Old Files module organizes all of your Mac's largest and oldest files together based on their age and their size. CleanMyMac 3 will ask for you to approve any files it suggests, making this module completely safe and under your control.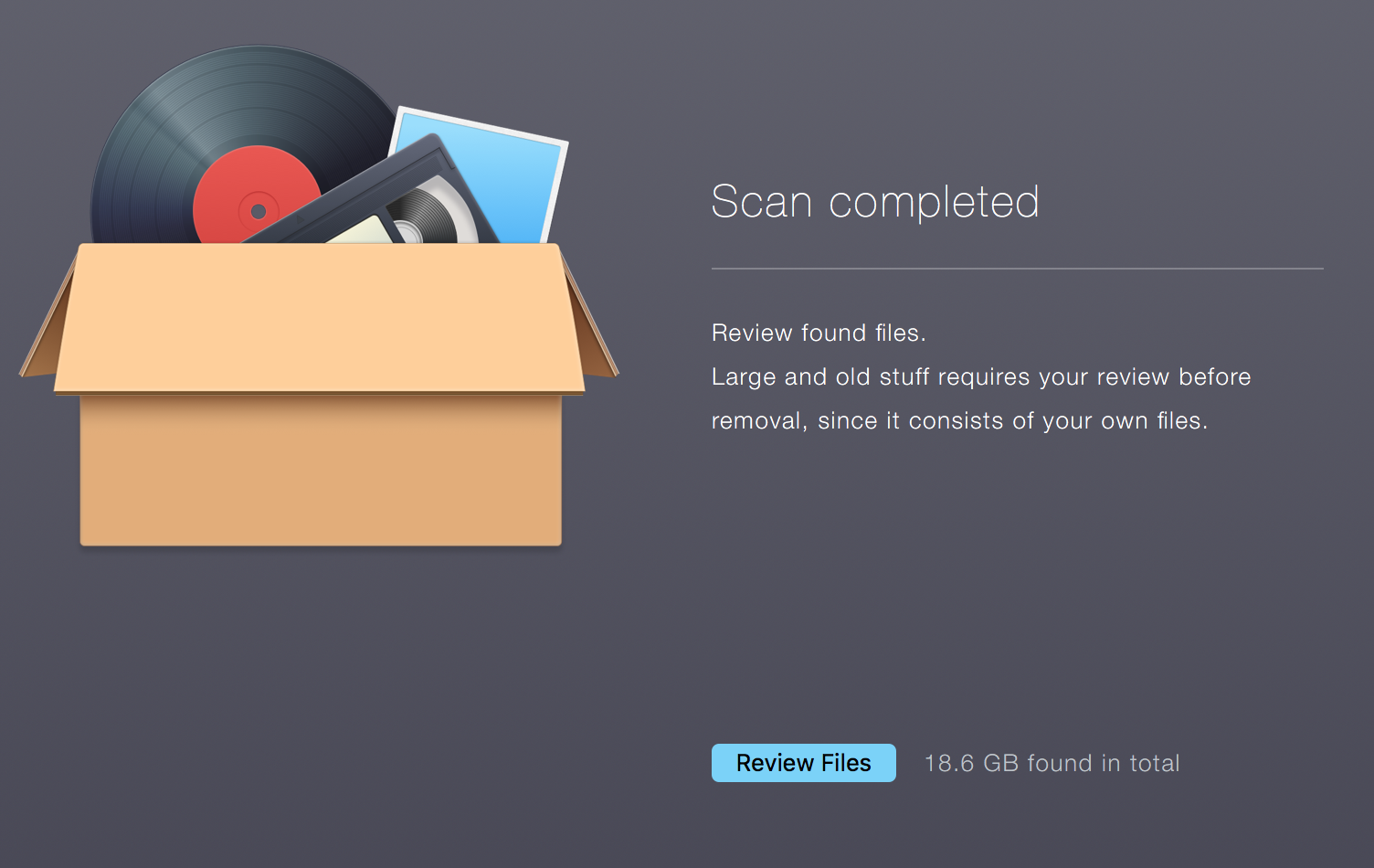 ---
After the Smart Cleanup has finished scanning the user will have the option to review all items and proceed with the cleaning by clicking the Clean button. The user will be able to review the scanned items prior to clicking the Clean button.
Post-scan Review
To do a post-scan review before you clean, click through the Cleaning Tool List and select or deselect specific scanned items. Then simply deselect items which you would not like cleaned. For example if you scan your Mac using Smart Cleanup and you see a language you would like to keep you can deselect it from the list under the System Junk section. After you have deselected the item you can click the Clean button and the rest of the items will be cleaned. If you would like to make permanent cleaning exceptions for your routine CleanMyMac 3 Smart Cleanup, you can do so by selecting Preferences from the list of items under the CleanMyMac 3 Menu Bar.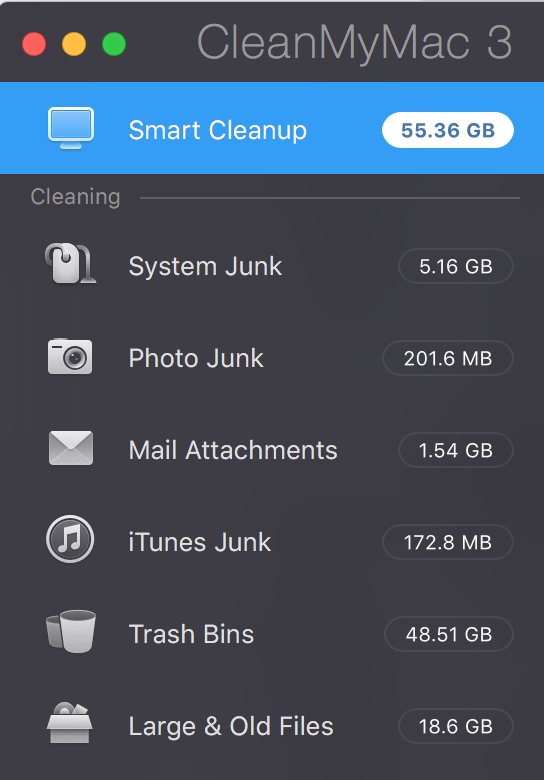 Thanks for reading!