Not enough space for Windows update? Here's how to fix it
Depending on your point of view, Windows updates either open the door to exciting new features, are a necessary inconvenience, or are a complete pain in the neck. However you view them, they are a fact of life for PC users and something we all need to deal with.
There are two main types of Windows updates: patches and service packs, usually released on Patch Tuesday, and major updates like the Windows 10 April 2018 update released earlier this year. If you want to get the most from your PC, installing both is important.
Why install Windows updates
The simplest reason is that they often contain important security updates, such as those designed to combat recently released malware, or patch recently discovered flaws in the OS or in apps. They can also fix bugs and improve performance. If you don't keep Windows up to date, you may be putting your PC at risk from a virus or other malware.
The other reason for installing Windows updates is that they, especially the twice-yearly major updates like the April 2018 one, come with significant new features and improvements that make using Windows 10 a whole lot better.
How much space do updates need?
The space needed for an update depends on the type of update. For example, patches and service packs often need only tens, or at most hundreds, of megabytes. However, major Windows 10 updates like Windows 10 Spring Creators update need much more than that.
Tip: Microsoft plans to release two major updates for Windows 10 every year. Last year it was Creators in spring and a Fall Creators update in the fall (autumn). In 2018 it released the Windows 10 April 2018 update.
While Microsoft's system requirements for the April 2018 update are the same as before — 16GB for 32-bit systems and 20GB for 64-bit; that doesn't account for the additional space you need in order to download the update while running the existing version and maintaining a backup of your current system. The download size for that update varies according to a number of criteria but will be around 3GB. After downloading, the file will extract to an installer that's around 7-8GB. So, to install that Windows update, you'll need a minimum of around 10GB of free space. That's on top of the 20GB minimum needed for Windows 10 and the space taken up by applications, files, and other data on your hard drive or SSD.
How to free up space for Windows update
There are a number of ways to deal with a lack of storage space. You could, for example, download the update on a separate PC and create an installer on a USB stick and install it from that. However, that requires having access to a second PC and is a bit of a hassle.
The simplest solution is to free up space on your PC, either temporarily while you update, or permanently. Fortunately, there are lots of ways to free up hard disk space on Windows.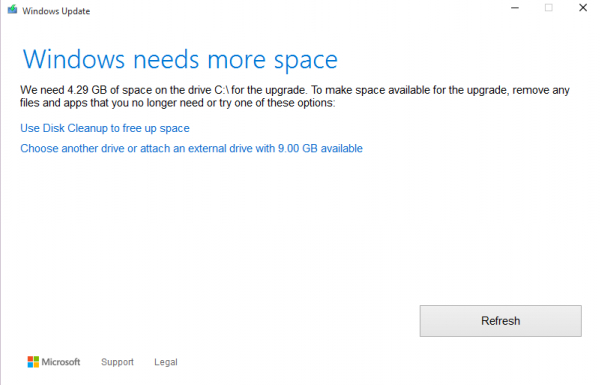 If you've already started to update and see a notification telling you that Windows needs more space, select Free up Space, then:
When Settings opens, select your C: drive
Look through the files to see what's taking up the most space
Delete any large files you don't need
Copy any large files you don't need immediately to an external drive and delete the originals
Return to the Windows needs more space window and press the Refresh button (the circular arrow)
Repeat until it tells you there's enough space
If you haven't already started to download the update, you can use Disk Cleanup to free up space.
Go to File Explorer and right-click on your C: drive
Click Properties
Under the General tab, select Disk Cleanup
Windows will track down temporary files, Recycle Bin files, and other data that can be safely trashed.
Once it's finished, many of the files will already be marked for deletion, but you can also check the box next to System error memory dump files
Choose Clean up system files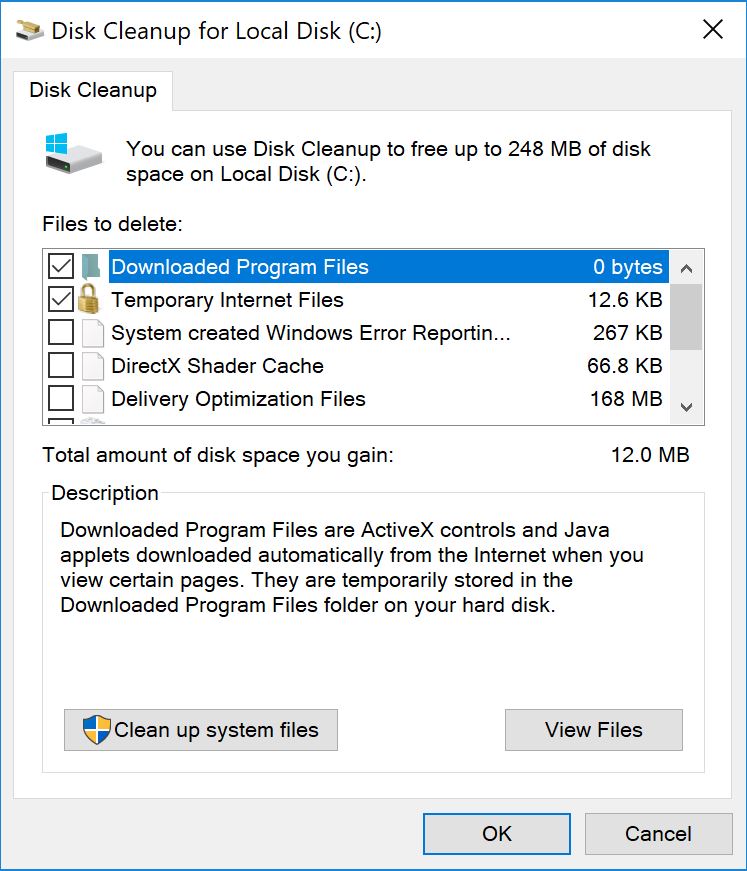 How CleanMyPC helps to free up space for Windows updates
If all the above seems like hard work and a long complicated process, there is an answer: CleanMyPC. CleanMyPC allows you to quickly and easily uninstall apps, and remove all the files associated with them. It can also clean up the Windows registry, which will reduce the disk space it takes up. It also makes it easy to disable the Hibernation file, which can save gigabytes of disk space, and to delete browser extensions and cookies.
To start working with CleanMyPC download it here, and install the utility on your PC. Then, choose the way to free up space with CleanMyPC or go through each step described below.
Cleaning up Windows' Registry will not only save space, it will make your PC run faster too, as it won't spend as much time searching the Registry for the files it needs.
Go to Registry Maintenance
Wait till CleanMyPC completes the scan and press Fix Registry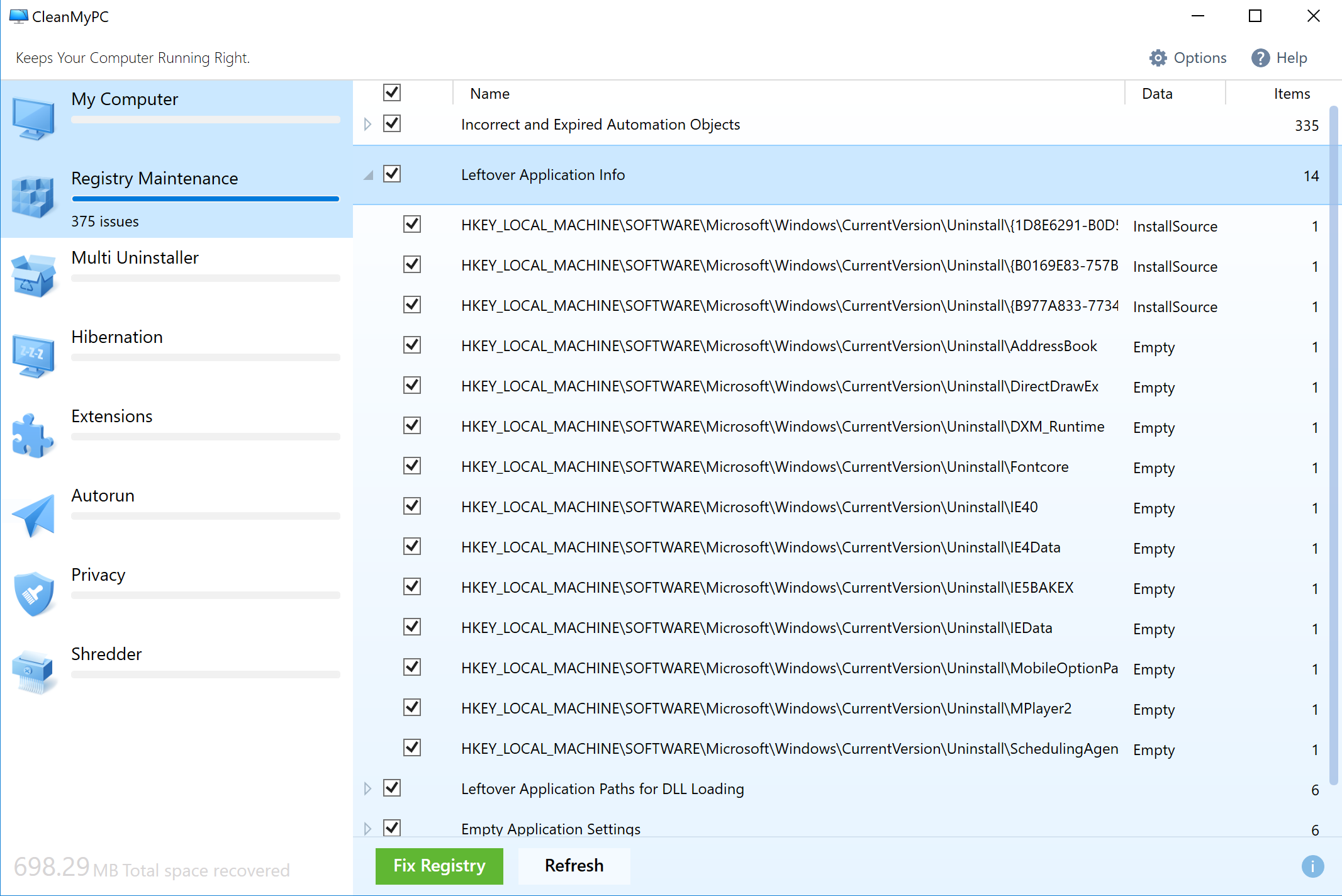 Getting rid of the Hibernation file, which saves a snapshot of your PC as you work, can save several gigabytes of space on your disk.
Go to the Hibernation module in CleanMyPC
Click the Turn off button to disable the hibernation file and free up space.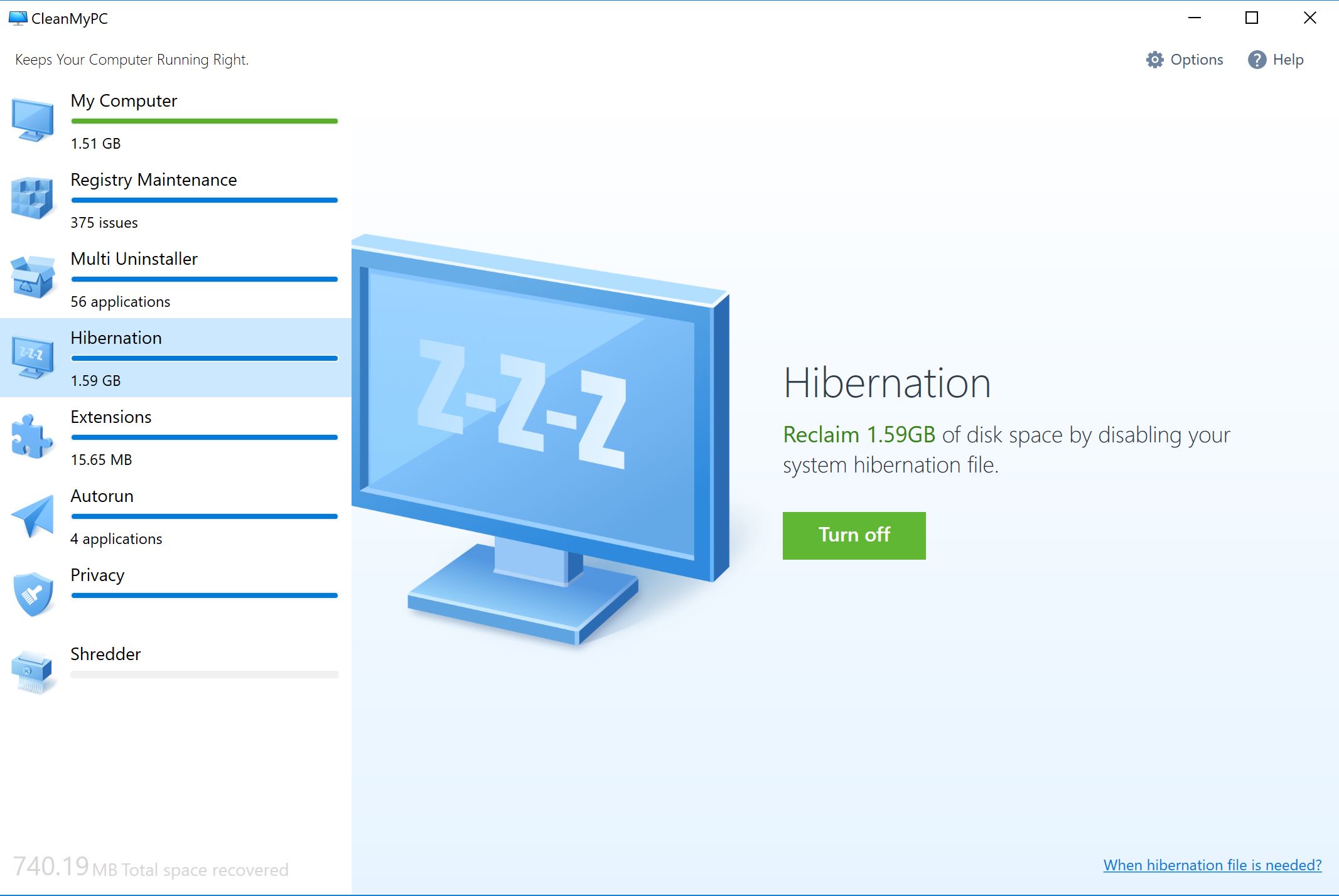 Last but not least, you should uninstall apps you no longer need, but they remain on your PC taking up free space.
Click on the Multi Uninstaller module in the sidebar.
Check through the list of installed apps, then choose the ones you want to uninstall. You can choose up to ten at a time.
Click Uninstall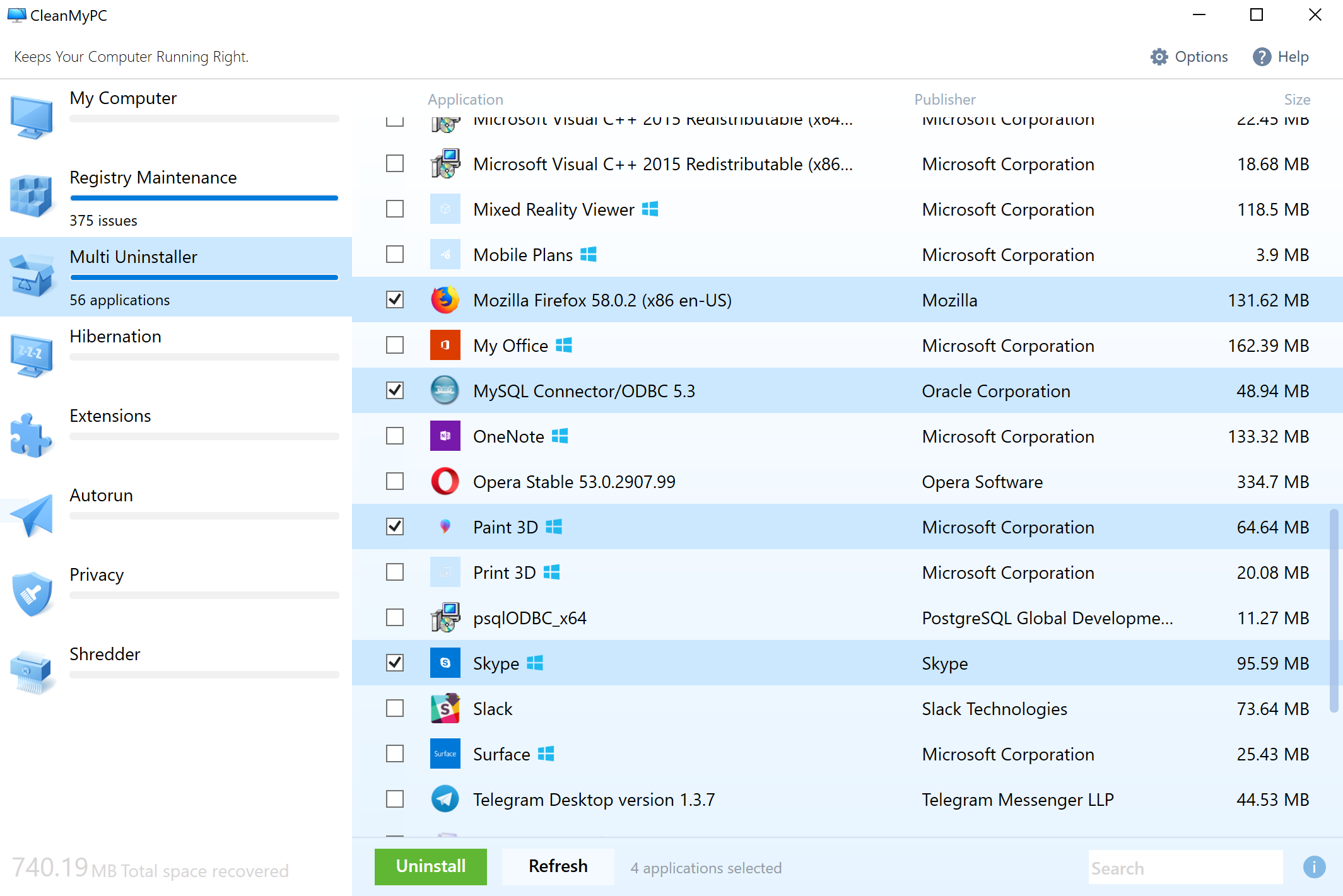 CleanMyPC will run the uninstaller for each app you've selected and at the end of the process you will see the result screen with the amount of space you've managed to free up.

Now that Microsoft has established a pattern of two major Windows 10 updates every year, there's plenty to look forward to in terms of new features and improved performance. In order to make sure you can take full advantage of everything the updates have to offer, you'll need to make sure you have enough disk space to download and install them. By using CleanMyPC, you can easily free up several gigabytes of disk space and make sure you never have to see the 'not enough space to install Windows update' message ever again.