How to clear cookies in any web browser on Windows
Cookies are small pieces of data stored on your computer while you are browsing the internet. Typically, the text file will contain your username for the site (though, not your password), along with details of what you've done while you were on the site. Cookies can be useful – they save you from having to type your username each time and allow you to pick up where you left off on a shopping site. However, there are several reasons why you should delete them regularly.

First of all, cookies may contain private information about you and your browsing process, so if you want to protect your online privacy you should delete cookies on your computer. Second, if you browse the nternet a lot, cookies start to pile up taking space on your computer and slowing it down. Also, if cookies get outdated, they may cause errors. That's why it is strongly recommended to clear cookies for any browser you use.
Delete cookies in any browser with CleanMyPC
CleanMyPC is multi-functional utility that can be used to clean system junk, uninstall programs and what is important in this case - protect online privacy. The Privacy function of CleanMyPC allows you to remove cookies in any browser you use from one place. To do that, you should first download CleanMyPC and install it on your Windows computer. Then follow several easy steps:
1. Launch CleanMyPC
2. Choose Privacy in the left hand sidebar
3. For each of the web browsers CleanMyPC displays, make sure the box next to Cookies is checked
4. If you want to delete your browsing history, cache, or usernames (authorization), go ahead and check the box next to those entries, too.

5. Click Clean.
Once it's finished, press Refresh to make sure you've deleted everything. That's it. You can clear cookies in several browsers at a time from one place and be sure your online privacy is protected.
Of course, there is an option to delete cookies in each browser's settings, so you can do it manually. However, as far as you will have to do it regularly it will require your time and attention.

How to clear cookies in Chrome
1. Open Chrome and click the menu button (three horizontal lines) at the top right of the window
2. Choose Settings
3. Click on the Settings menu on the left-hand side and choose Advanced
4. Select Privacy and Security, then Content Settings
5. Click Cookies, then See all Cookies and Site Data

You'll now see a list of all the cookies Chrome has stored. To remove them individually, click on the trash can next to a cookie. Or, chooser Remove All to get rid of them all.

Tip: To navigate quickly to the Cookies section and eliminate steps 1-4 above, paste this into Chrome's address bar: chrome://settings/content/cookies
How to clear cookies in Firefox
1. Click on the three horizontal lines at the top right of a Firefox window and choose Options from the drop-down menu
2. In the Preferences tab that opens, choose Privacy and Security
3. Scroll down to the Cookies and Site Data section and choose Manage Data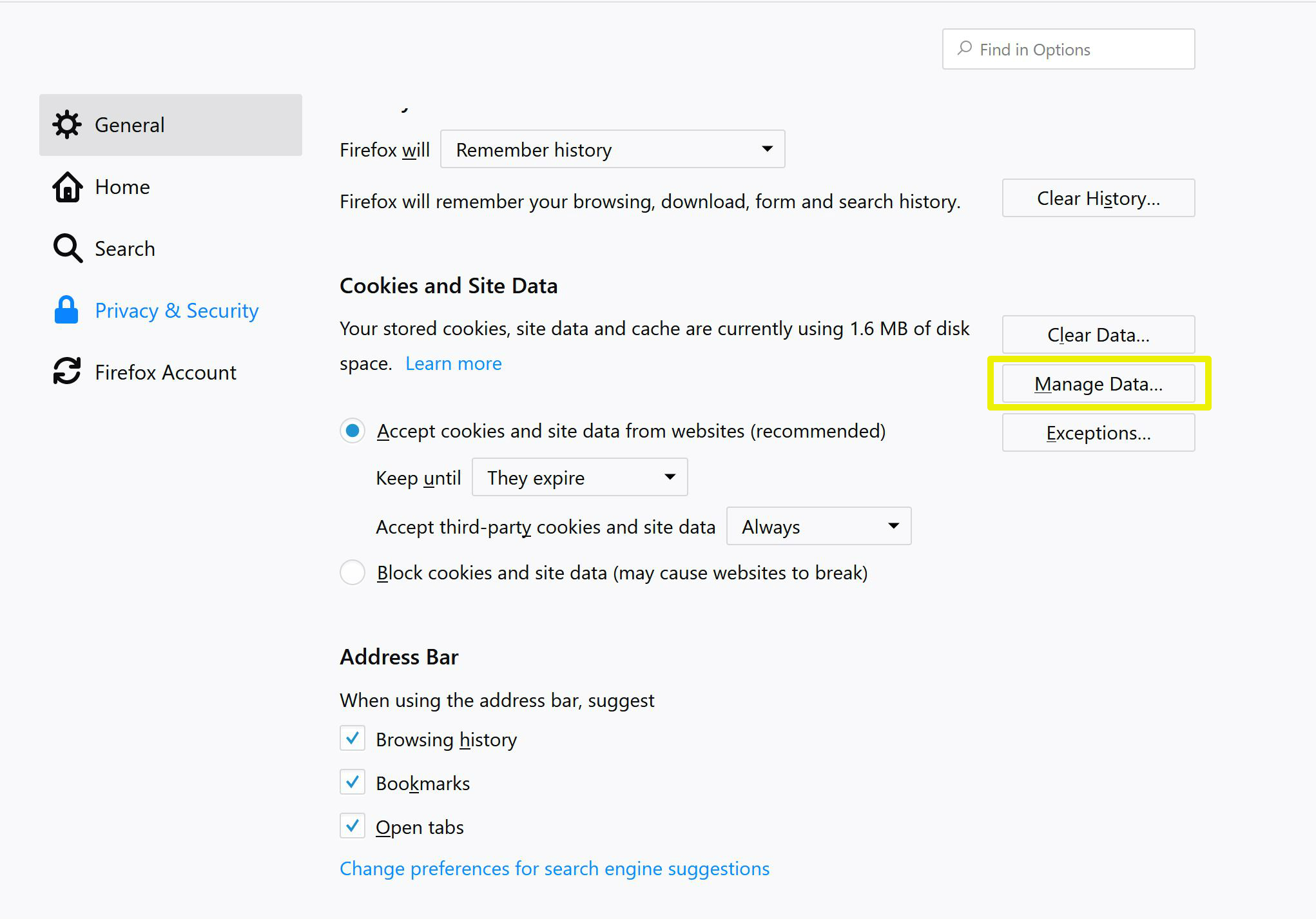 4. When the window opens, you can either review the list of cookies and click on the ones you want to remove and then choose Remove selected, or just press Remove all to delete all of them

5. Click Save Changes and the "x" at the top right corner to close the window
How to delete cookies in Windows Edge
Windows 10's integrated web browser, Edge doesn't provide as many options for managing cookies as Chrome and Firefox, but it does allow you to delete them. Here's how to clear cookies in Windows 10's Edge browser.
1. Open a new window in Edge and click on the three buttons at the top right corner
2. Choose Settings from the drop-down menu
3. You'll be taken to a section called Clear browsing data
4. Select Choose what to clear
5. From the menu, check the box next to Cookies and saved website data
6. Click Clear
Edge will now delete all the cookies that websites you've visited using it have stored on your PC.
As you can see, if you use multiple web browsers, you'll have to launch each one and remove the cookies it has stored. However, there is an easier way to delete cookies in multiple web browsers from one place, using CleanMyPC. Why not download it now and give it a try?
---
These might also interest you: