A correct way to delete Flash Player from Mac
How to Delete Flash on Mac OS X | How to Remove Flash on Mac OS X
With the recent news about Adobe Flash Player's vulnerability, most Mac users are scrambling to find out how to uninstall Flash Player on their Macs. Normally, uninstalling Flash on Mac can cause a bit of a headache. But, with CleanMyMac 3, you can get rid of it in just a few clicks. To uninstall Flash with CleanMyMac 3, just:
Download CleanMyMac 3 and launch it.
Click on Extensions in the left menu.
Click Preference Panes in the center list and checkmark Flash Player in the subsequent right-center list.
Click Remove at the bottom of the CleanMyMac 3 interface.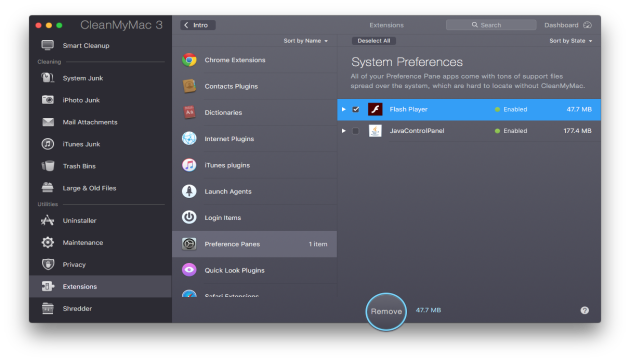 That's it! Uninstalling Flash Player with CleanMyMac 3 really just takes only a few clicks. And not only can you remove applications and extensions, but you can also reclaim gigabytes of space by cleaning up junk files on your Mac. CleanMyMac 3 safely scans your system for to remove the excess you just don't need, like foreign language packs (a.k.a localization files). Download CleanMyMac 3 now and get yourself a faster, cleaner Mac right now.