Here's everything you should know about uninstalling apps on your computer. You'll see, your PC will thank you for all the care!
What is Uninstall?
It happens all the time. You want to remove a program because it's old, unusable or outdated. What now? There are two ways to dump the unwanted app. One is to use the default Windows apps uninstallers. Probably that's what you do all the time. Another way, however, is to use the Uninstaller module of CleanMyPC software. And right now we'll show you the obvious advantages of the second method.
Why it's important to uninstall apps completely?
Okay, let's say you have a bunch of apps and programs installed on your computer. From time to time you delete some of them, hoping that you free up precious space on your PC. But did you know that most uninstallers that come with Windows apps don't remove the entire program, leaving behind useless cache files and toolbars? These files take much disk space, and there is no chance to find and get rid of them afterward. However, when you remove apps with CleanMyPC, you uninstall them completely and don't clutter your computer with useless leftovers. Simply put, you wipe every trace of an app, even the files that are usually overlooked.
How to use Uninstaller module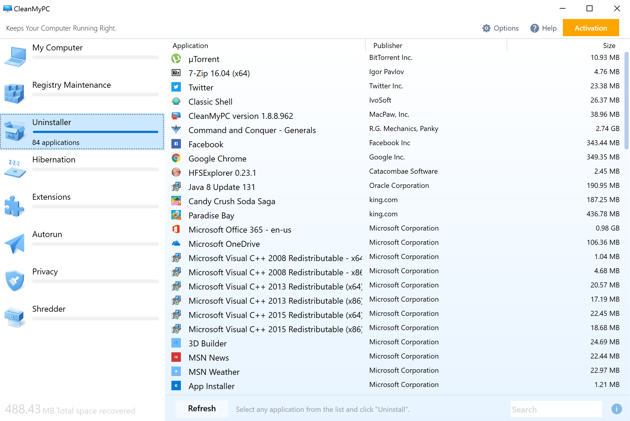 CleanMyPC has an Uninstaller tab that displays all the apps and programs that occupy space on your computer. Here you can find and delete the ones you no longer use or need. Here's how to do that:

Launch CleanMyPC
Click Uninstaller tab
Select the app you want to remove from the list
Click Uninstall
You'll proceed to Step 1: run the original uninstaller which removes basic parts and file structure. Click Uninstall.
Then you'll see Step 2: CleanMyPC scans for whatever is left behind by the app and cleans up the remains. Note that we don't look for leftovers in your personal folders, such as Documents or Downloads.
7. Click OK to complete the process.

That's it! The application has gone from your computer forever.

When you should use Uninstaller
Now when you know what a new Uninstaller module is, why and how to use it, probably you wonder when it can help you best. Here are some of such cases:
your computer is not as fast as it used to;
you need more free disk space for newer apps and programs
you are a responsible user and don't want to clutter your PC with leftovers
Try it out! Launch Uninstaller right now, move through the apps and get rid of all the useless files!

Don't have CleanMyPC? Download it using the link below.